Amber Rose Tattoos on Face - Everything You Need to Know
Published Wed Mar 04 2020 By Matthew
Amber Rose tattooed her forehead alongside her boyfriend Alexander AE, and they couldn't be more proud to show it off!
Amber Levonchuck, better known by her stage name, Amber Rose, made her mark as an American model and actress. Born October 21, 1983, in Philadelphia, to Dorothy Rose and Michael Levonchuck, Amber's first appearance in Young Jeezy and Kanye West's "Put On" video in 2008 caught West's attention. And popping up in a Louis Vuitton print advertisement featuring West's sneaker line only cemented her place in the industry.
Watch: Young Jeezy - Put On (Official Music Video) ft. Kanye West
The spark between the budding model and the famed rapper was enough to heat a flame between the two, and they dated for two years starting in 2008. Right after the fling with Kanye, Amber found solace in another rapper in the music industry as she began dating Wiz Khalifa in early 2011. This relationship seemed like it was meant to last as the pair got married almost a year after their engagement on March 1, 2012.
Amber Rose is no stranger to tattoos.
Source: WuzupNigeria
Amber Rose is no stranger to tattoos, and that's no news. The 36 years old model and actress's body looks like a canvas, and her designs, the artworks on it. Her inks regularly became the topic of hot gossip on the internet, and now the New York Fashion Week model has added one more to the collection. This time in the part of her body that's impossible to miss.
Amber Rose's New Face Tattoo
Adding on to her previously existing collection, the mother of two, Amber Rose, tattooed the first names of her children right on her forehead. The tattoo reads Bash and Slash in quite a sizable font. Bash is a reference to her oldest son Sebastian Taylor Thomaz, who was born out of her previous marriage with Wiz Khalifa.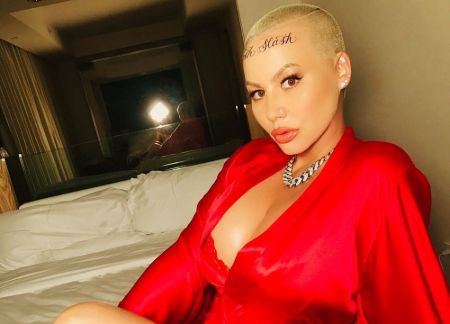 Amber Rose tattooed Bash and Slash on her forehead.
Source: Celebrity Insider
The other part of the same tattoo shows the birth name of her second son Slash she gave birth to with Def Jam record label executive Alexander 'A.E.' Edwards. Full name Slash Electric Alexander Edwards was born on October 2019. Slash's father, Alexander, showed his support towards the mother's choice and got the birth dates of Amber's both kids inked on his temple separated by a lightning bolt.
The Inspiration behind the Tattoo
Amber explained that she always wanted to get a face tattoo, but what finally pushed her to go ahead with the decision is entirely plausible and endearing to some extent. Rose revealed that she was inspired by the passing of the basketball legend Kobe Bryant and his daughter Gigi Bryant. The father and daughter lost their lives in a helicopter accident.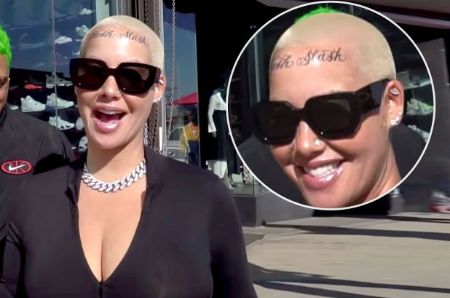 Amber Rose was inspired to get a face tattoo from the death of Kobe Bryant and his daughter.
Source: Page Six
In an interview with the Fox Soul T.V. last week, Amber said, "I gotta be honest, and I don't want this to sound corny, but after Kobe died, it made me reflect on my life. I thought about my dad, and my dad had cancer when he was 40, and he went through remission and he's good now but he almost died. And I'm 36… I've been wanting this tattoo for a long time… life is so short, just do it. Just live your best life with no regrets. That's how I felt and I'm happy I did it."
The Split Reaction from the Fans
While Rose listened to her heart and tattooed her brow, she received mixed reactions from her fans. Wendy Williams expressed her dismay on Tuesday's episode of her self-titled talk show and uttered, "Amber, you know I love you girl, but, why would you ruin your forehead? I don't understand why she would do that. Like to me, she's a little bit too old to be rock and rolling with tattoos on her face."
Watch: Wendy Williams Judges Amber Rose's New Face Tattoo
For the courageous model, however, it took little to no time to fire back at the haters. On a comment in her post, Rose explained how it wasn't what was on the outside that counted but what's on the inside that mattered.
You Might Also Like: Asap Rocky Tattoos - Learn the Entire Meanings
For more articles on celebrity tattoos, head on over to Glamour Fame, and don't forget to sign up for the newsletter.
-->