Oh No! Amy Roloff of 'Little People, Big World' Sidelined From Family Pumpkin Patch
It's really sad, Amy Roloff was sidelined from the family pumpkin patch.
The 'Little People, Big World' star, Amy Roloff, has been through a lot lately. Her mom passed away, which broke her both mentally and physically.
There were some good times as well like she got engaged to her boyfriend, Chris Marek, and she also announced the news of the new season, which will start airing from next year.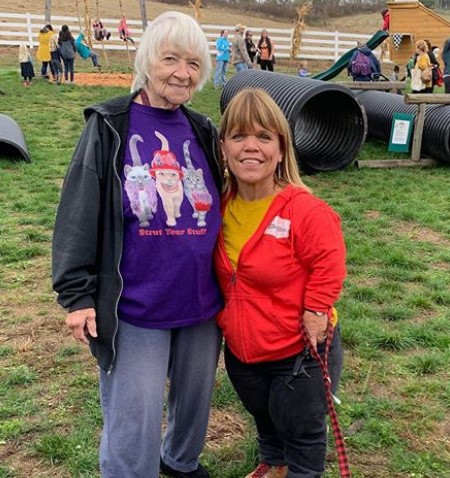 Amy said she missed being on the family farm.
Source: Amy's Instagram
The LPBW star announced the news from the pumpkin patch, while she was having a great time with Chris.
Amy, 55, however, could not enjoy the good ol' pumpkin patch for too long. According to the reports, the 55-year-old TLC star was sidelined from the family pumpkin patch business.
Amy took to her social media to let out her frustration as she wrote, "Even though I wasn't really a part of Pumpkin season this year (various reasons), I truly missed meeting so many of you and dressing up. Enjoy this amazing time of year—Fall."
The 'various reasons' she suggested could be, she is no longer a Roloff now; moreover, Matt's girlfriend, Caryn Chandler, is always there.
Meanwhile, even Matt Roloff took to his Instagram and uploaded a picture of him and Caryn cuddling in from of the famous pumpkin patch and Halloween maze at the family farm.
Matt's said there are lot of things for sale suggesting he needs to clear Amy's stuff.
Source: Matt's Instagram
Matt's caption read, "Look who came out and helped at the pumpkin patch today. @rolofffarms @carynchandler1 We overheard one little boy tell his mom on the way out 'mom. That was the best day of my life.' Now that made us smile! #funfun #lovelove." As RadarOnline.com readers know, Matt recently revealed that he and Caryn left the family farm quickly for Phoenix, Arizona, after the shocking auction of his family items on September 14."
He further added, "tons of random things for sale," suggesting bits and pieces of his ex-wife, which are still lying around the farm.
Moreover, one of the news outlets reported Amy sold off her portion of the property to Matt for a whopping $667,000. Well then, it's pretty much clear why she was sidelined, and also Matt is busy clearing Amy's stuff.
For more information on your TVs and Movies, stay tuned to Glamourfame.com, and don't forget to sign up for the newsletter.
-->