Amy Schumer Pregnancy Struggles; Cancels Rest of her Tour Date
Published Mon Feb 25 2019 By Jessica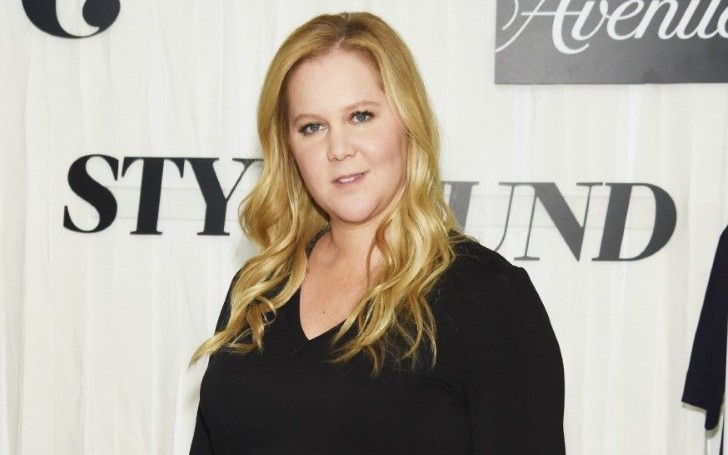 Hollywood actress Amy Schumer cancels rest of her tour dates due to hyperemesis.
It appears that Amy Schumer, who is expecting her first child with husband Chris Fischer, has not had an easy pregnancy experience.
The soon to become mother got honest with her fans as she revealed she is struggling with pregnancy issues. Schumer says her difficulties with pregnancy is what led her to cancel the remainder of her tour dates.
The 'Trainwreck' actress announced on her Instagram that she will be taking care of her health after dealing with difficulties caused by hyperemesis gravidarum, a condition that causes continuous vomiting, nausea, dehydration, weight loss and a build-up of toxins in the urine or blood during pregnancies.
Amy Schumer cancels rest of her tour dates due to hyperemesis

SOURCE: So Mello Yello Twitter
Sharing a screenshot post of a long paragraph, the 37 years old comedian made the announcement to her nearly eight million Instagram followers.
You may also like: Kim Kardashian Took To Social Media To Shut Down Talk of Sister Khloe Going on 'The Bachelorette'
The statements read:
"Due to complications from hyperemesis I am not cleared to fly for the next couple weeks I am going to cancel the remainder of my tour."

"Refunds are available at the point of purchase."
She continued:
"The baby and I are healthy and everything looks good. But I am in my 3rd trimester and I am still nauseous all the time and vomiting. I vomit mostly every time I ride in a car even for 5 minutes."

"I have a pretty good attitude about it and some days I feel good for a couple hours. But mostly it's(sic) sucks. I wanted to push through and do my shows. Because I hate letting people down and I do love stand up and money!"

"But more than that I have to think about my health and the baby. I know you guys get it and people are like, 'Bitch, are you ok? Take it easy' but it's still embarrassing to have to cancel."
Thankfully, Schumer's fans were understanding of the star's situation and supported the soon to be a mother by writing a load of positive messages and well-wishes on the comment caption.
Don't miss: Smokepurpp Claims He Wrote and Produced All of Lil Pump's Early Songs
One of her fans positively commented:
"Proud of you for the self care you're doing & setting a great example. Well done m'lady, looking forward to seeing you another time. ♥️💨"
Whilst another wrote:
"Amy it's AOK. Take care of yourself and that little punkin! ❤️♥️❤️"
A third fan sweetly said:
Take care of yourself. You're doing the right thing. Take it from this 50+ year old dad if 2....it will be worth it ..."
As per her official website, Amy was supposed to attend four left shows all in the cities of the US including Austin, Houston, Phoenix and Dallas.
Schumer and her husband, Fischer married in February last year and announced in October that the couple was expecting their first child together.
See too: Cardi B is our Instagram Queen Of The Week: Check Out Cute Videos of her Daughter as well as Snaps of her Sexy Looks
Last year in December, Schumer shared a footage update of herself vomiting in a public bathroom on Instagram shortly after the cancellation of her tour in November.
Amy Schumer's second stand-up comedy special, titled Amy Schumer Growing, will be airing on Netflix from 19th March.
-->