Smokepurpp Claims He Wrote and Produced All of Lil Pump's Early Songs
Published Sun Feb 24 2019 By Tess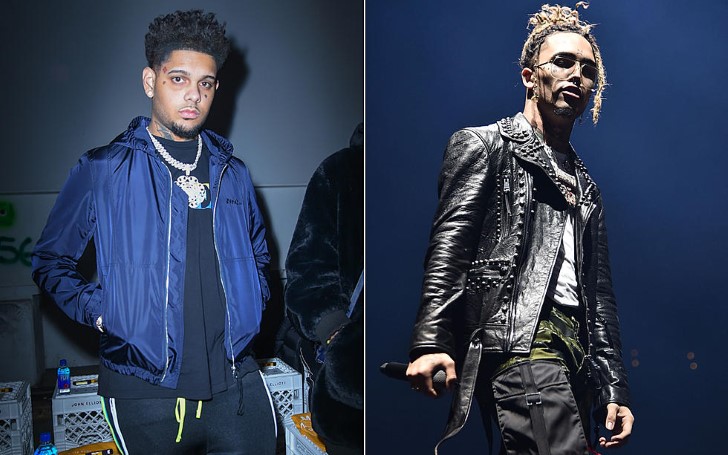 Lil pump and Smokepurpp feud over who wrote famous song Gucci Gang's lyrics.
The best friend duo Smokepurpp and Lil Pump are seemingly feuding over who wrote and produced all of Lil Pump's early songs.
On Friday, Smokerpurpp took to Instagram live to claim credit for the lyrics and production of Lil Pump's early songs, including 2017 hit song Gucci Gang.
"Boy, you better stop playin', n**ga. I wrote and produced all your first songs, n**ga," Smokepurpp said in the broadcast. "[...] Man, listen. I'm not playing with you no more, n**ga. I need all my royalties, man. I need all my money, n**ga [...] 'Gucci Gang,' that was my song, n**ga. I gave you that song. I gave you your first big hit."
Shortly, after Lilpump fired back at his friend through his own Instagram story.
"Smokepurpp, stop playin' with me, man. I created Soundcloud!" Pump said on Instagram. "Purpp, stop f**king playing with me, bro. I'm the first person to introduce you to fucking Ronny J, DJ Carnage, and Travis Scott. Stop playing with me [...] That's my flow, that's my song!"
Though the apparent bad blood between the once best friend might look nasty. However, some of the fans suspect the feud is just a publicity stunt for Pump's newly released sophomore album, Harverd Dropout.
Also read: Kendrick Lamar and SZA Won't Perform 'Black Panther' Song at the Oscars
The long-delayed project finally hit streaming services Thursday night and boasted guest appearances by Kanye West, Lil Wayne, 2 Chainz, and Smokepurpp.
Don't miss: 'The Bachelor' Colton Underwood Releases New Song With O-Town
Smokepurpp, Pump and Gucci Mane are set to perform as the rap trio Gucci Gang at the upcoming 2019 Coachella Music and Arts Festival in April.
-->