Kim Kardashian Took To Social Media To Shut Down Talk of Sister Khloe Going on 'The Bachelorette'
Published Sun Feb 24 2019 By Jessica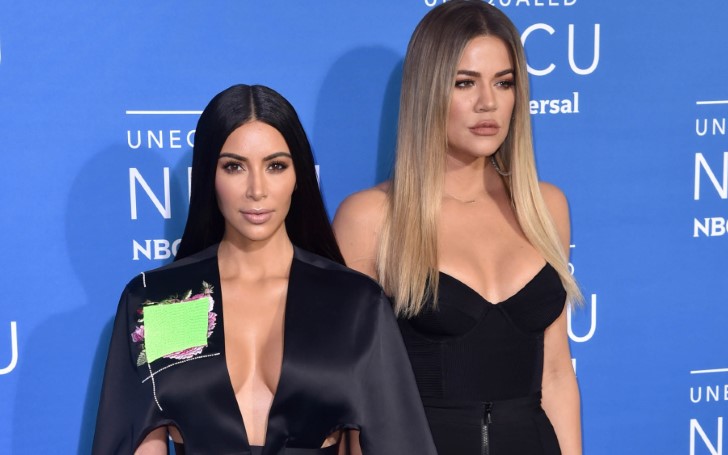 'Fake fucking news big time!!!!' Sister Kim Kardashian shuts down the rumor of Khloe Kardashian joining the next Bachelorette series after being cheated on by now ex-partner Tristan Thompson.
Put some respect on Khloe Kardashian name.
The 'Keeping up with the Kardashians' star aka Khloe recently only split from the father of her daughter, Tristan Thompson after he cheated on her with sister Kylie Jenner's best friend Jordyn Woods. And just in less than a couple of days after the news surfaced, many reports claimed Khloe would be joining on the next season of the Bachelorette, a reality show where one search for their potent life partner.
SOURCE: Pop Crave
The show's creator Mike Fleiss took to his Twitter account strongly claiming several times that he was in talks to bring the newly single star on his show.
You may also like: Cardi B is our Instagram Queen Of The Week: Check Out Cute Videos of her Daughter as well as Snaps of her Sexy Looks
Fleiss wrote on his Twitter on Friday mentioning momager Kris Jenner as his dear friend:
"I have already been in contact with my dear friend @KrisJenner about @khloekardashian as #TheBachelorette . Stay tuned!!!
Shortly after the news broke, sister Kim Kardashian West angrily denied the statements from Mr. Fleiss addressing the entire concept "Fake fucking news big time!!!!"
The franchise's creator confidently hit back to Kim saying that he knows more about the situation than Khloe's own sister.
Mike replied Kim by quoting the tweet saying:
"How would @KimKardashian know??? This is between me and @KrisJenner — and most importantly @khloekardashian !!!"
Annoyed with the response, this time Kim pulled out evident that clearly claimed Fleiss was clearly lying and making fake stories.
See more: So What Will Happen To The Friendship Between Kylie Jenner and Jordyn Woods?
Proving Fleiss wrong, the star shared a screenshot photo of a conversation between mama Jenner and sister Kardashian. The conversation read Kim asking in the group chat:
"Are u guys in talks w the [Bachelorette]?"
To which Kris simply replied:
"No lol,"

SOURCE: Kim Kardashian Twitter
Khloe too confirmed the news she had no intention of joining the show. In fact, the 34 years old star seemed outraged with the news.
Don't miss: Fans React To Khloe Kardashian's Break Up - Check Out Their Responses Including These Hilarious Memes
She said in the chat:
"Ewwww I mean put some respeck on my name,"
The mother of True Thompson herself later clarified the speculations on the topic. She replied to a tweet made by Mike saying:
"I'm not fucking clickbait right now. Stop or you will be hearing from my lawyers. How insensitive!!"
The public drama comes shortly after Kardashian recently made her first public appearance at the new opening party of PrettyLittleThing's Los Angeles office on Melrose Avenue.
-->