Are We Likely To See A Simpsons/Stranger Things Crossover In The Future?
Published Thu Jul 18 2019 By David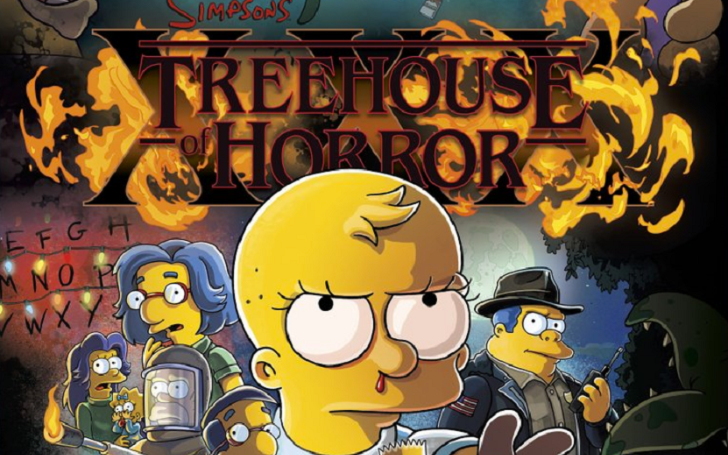 20th Century Fox's "The Simpsons" seems like its intending to feature a big crossover with Stranger Things.
America's yellowish favorite family, "The Simpsons" is returning for a record-breaking 31st season and another set of episodes.
As the long-running animated series nears its Episode #666, fans can hope this year's Halloween Special to be even frightening or chilling than usual. Show creators have teased that it was "always the plan" to make the 666th episode a Halloween Special.
Releasing an artwork for the spooky romping, a glassy poster features some serious Stranger Things aesthetics. Lisa Simpson assumes prime stage as a satirical of Millie Bobby Brown's 'Eleven,' Chief Wiggum is David Harbour's 'Jim Hopper,' and Luann Van Houten is Winona Ryder's frenzied 'Joyce Byers.'
Also Read: The Simpsons Predicted This Episode Of Game Of Thrones In 2017
Rounding off the graphics, the Scoop Troop is portrayed by Bart (Finn Wolfhard's 'Mike'), 'Nelson' (Gaten Matarazzo's 'Dustin'), and 'Martin' (Caleb McLaughlin's 'Lucas'). Stranger Things is more famous than ever, and as one of 'Netflix's' best-adored shows, it's understandable why The Simpsons want a piece of the action.
It isn't just "Stranger Things" that's getting the yellow adaptation in Season 31. The top portion of the publication is also a reference to Guillermo del Toro's The Shape of Water and includes either Kang or Kodos having a moment Selma Bouvier.
What the upcoming episode entails remains a mystery for now, but by the looks of it, The Simpsons will be improvising off sci-fi culture in the upcoming "Treehouse of Horror."
Stranger Things recently wrapped off its third installment, leading to an odd theory that it could have a mix up with HBO's Chernobyl. Either way, The Simpsons confrontation should help us have a chance to see '80s nostalgia until Stranger Things eventually returns with new stories.
Recommended: Hurry Up! You Can Now Visit Starcourt Mall From Stranger Things But Only For A Limited Period!
Regardless of whether The Simpsons isn't what it used to be, the Halloween Special is as yet a feature of each season. Gifting fans three horrendous yarns, Halloween Special apogees have contained "The Homega Man," "The Shining," and fan-favorite "The Raven."
You May Also Like: Netflix Revealed Some Mind-Blowing Stranger Things Facts!
The upcoming Halloween Special, "Treehouse of Horror XXX" airs Oct 20.
-->