The Simpsons Predicted The Latest Episode Of Game Of Thrones In 2017
Published Wed May 15 2019 By David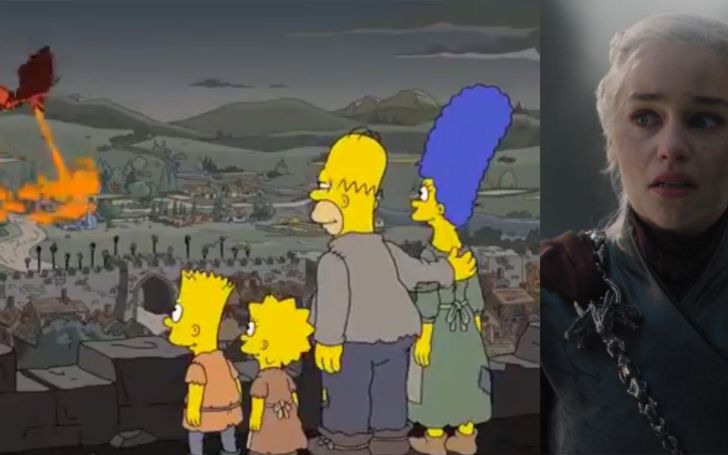 Disappointed with the latest episode of Game of Thrones?; Simpsons warned you!!
Renowned cartoonist Matt Groening and his team have done it again. The Simpsons creator and his genius staff have a knack for predicting the futures –they forecasted US President Donald Trump's shock election way back in 2000, Disney's takeover of Fox in 1998, and in a 1997 episode, they even featured Germany win the FIFA World Cup, 2014.
Now one more prediction from The Simpsons have come to fruition; and it's related to none other than a scene from a hit series, Game of Thrones; a plot twist delivered by Daenerys Targaryen.
Two years ago, the famous yellow family spoofed GOT in an episode entitled, 'The Serfsons'. At the end of the 2017 episode, "Homer", "Marge", "Bart", and "Lisa" gather atop a castle to be astonished by the scenario where a crazed dragon is wrecking the town of Springfield, much in the fashion of "Daenerys" (Emilia Clarke) scorching the Kings landing.
Daenerys and Drogon left a path of destruction in last Sunday's episode of "Game of Thrones."
The episode is about how Lisa is coerced to use illegal magic when Marge's mother is turned into an Ice Walker. Towards the end of "Serfsons," there's a scene where Homer, Marge, Lisa, and Bart look on from a distant fortress on a hill as a red dragon breathes fire onto a town — and much like Drogon, leaves it in a blaze.
"Look, the dragon is burning our village," Bart yells in the episode.
The semblance between this episode and the latest GOT episodes are hard to ignore. On Monday, viewers were in for an absolute shock as Daenerys, the mother of dragons, lost the plot and ruthlessly burned the capital of Westeros to the ground.
Also Read: Have The Simpsons Done It Again? It Appears They Correctly Predicted Jordan Peele's Us Ending
In 2016, The Simpsons showrunner, Al Jean, spoke to Esquire about the show's ridiculous ability to foretell the future, and he said they weren't prognosticating the future at all, but rather using common sense.
"You know, I think it is a little bit of just in seeing coincidences. There's usually a logical explanation," Jean told the magazine. "For Trump, it was that he was talking about running for president as a reform party candidate in 2000. So the idea that he would be running for president was not a complete [fiction] -- it was a joke that had a basis.
Al further added, "We predicted that Germany would win the world cup because we thought it would be funny if Brazil lost in our show. And then, if they lost, Germany was the likeliest winner. So that made sense, too."
-->