Ariana Grande Claims Pete Davidson Was "An Amazing Distraction" During Their Relationship!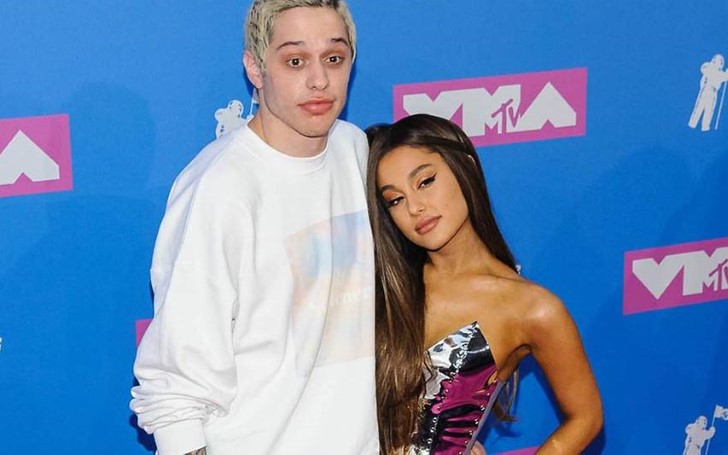 "Then, I met Pete, and it was an amazing distraction", Ariana Grande shared with the magazine.
Everyone is pretty much aware Ariana Grande enjoys a successful music career. However, the singer faced a lot of ups and downs when it came to love.
The 'Break Up With Your Girlfriend, I'm Bored' singer was in a relationship with Mac Miller for two years but the singer called it off.
After splitting from Mac, the 'Break Free' singer began dating SNL comedian, Pete Davidson. The two got engaged soon, and we thought their relationship would last.
See Also: Saturday Night Live' Star Pete Davidson is Reportedly Dating Again After his Split From Ariana Grande
The singer, however, eventually split from David, and now she is opening about their short-lived romance.
The singer is featured on the cover of American Vogue along with her model dog, Toulouse, for the August issue.
Talking to the magazine for her cover story, the 26-year-old singer revealed she initially did not know Davidson. Ariana admitted their romance was highly unrealistic and merely an 'amazing distraction.'
The singer further explained it was probably a summertime last year, her friends invited her to New York for some fun time; that's where the singer met Pete and found him as a fantastic distraction.
"Then, I met Pete, and it was an amazing distraction. It was frivolous and fun and insane and highly unrealistic, and I loved him [Pete], and I didn't know him. I'm like an infant when it comes to real life and this old soul, been-around-the-block-a-million-times artist. I still don't trust myself with the life stuff.", Ariana Grande shared.

Though Ariana's engagement to Pete did not last very long, the singer said being with him made her happy.
Read Also: Pete Davidson is 'Cursed' as he Covers Up Matching Ariana Grande Tattoo
However, the singer agreed moving a little too fast in their relationship was not the right thing to do.
After the split, the 26-year-old singer remained pretty much determined and said she is just focusing on her career now.
Recommended: Ariana Grande Cancels Las Vegas New Year Eve Concert Due to Her Health Issue
Last year did not go easy on Ariana, but seeing how far the singer has come shows that the hard times cannot get the best of her.
-->