Ariana Grande Headlined At Lollapalooza This Past Weekend With The First Performance Of 'Boyfriend'
Published Tue Aug 06 2019 By Eden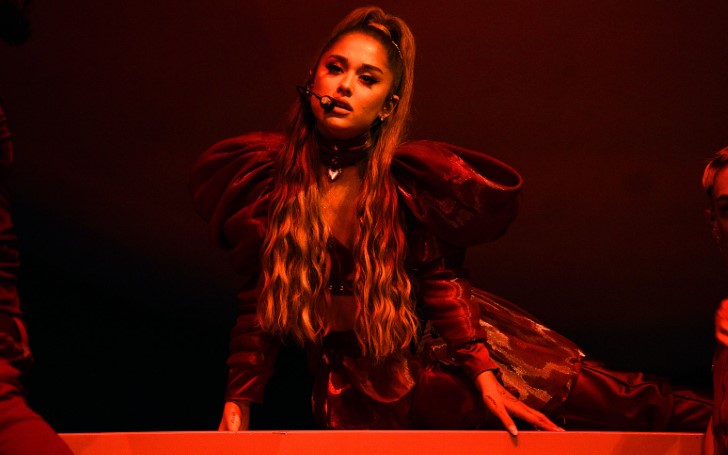 Ariana Grande pulled off a major surprise at Lollapalooza this past weekend.
Ariana Grande performed her single 'Boyfriend' for the very first time while headlining Lollapalooza last weekend. For the special show, the singer brought her collaborators, Social House.
Impressively, the fans in attendance seemingly knew every word despite the song coming out only a few days ago.
Ahead of the performance, Grande made an announcement to the crowd which brought about huge cheers and screams, "I don't know if y'all know but, a couple of days ago, I dropped a new single."
The '7 Rings' hitmaker then proceeded to laugh as she described the tune, "That awkward moment when you get him to break up with his girlfriend and then he still doesn't want a girlfriend."
The singer under vivid pink and blue lighting then danced in sync with Social House upon calling them on stage.
The 26-year-old who made an adorable tribute to Mac Miller at Coachella in April clearly enjoyed the special moment at Lollapalooza as she took to Twitter with a snap of the show from the stage, captioning it, "thank u lolla. u have my heart."
Ariana followed up the tweet by looking back at her huge year and she appeared to be pretty emotional about it.
Grande released 'Boyfriend' just last week on August 2. The music video shows the singer in a make-out session with Social House's Mikey Foster. Moreover, there's even heart-shaped lasers firing from her boobs. You'd definitely wanna check it out!
Watch: Ariana Grande, Social House - Boyfriend
Meanwhile, Grande is keeping her tour dates closer to home to help with her mental health. She previously dropped a claustrophobic video for 'In My Head' last month with Vogue.
-->