'Bachelor in Paradise' Alum Jenna Cooper Reveals She is Pregnant
Bachelor in Paradise alum Jenna Cooper came with another big revelation.
'Bachelor in Paradise' alum Jenna Cooper is truth bombing us all, and we don't know how to react to the whole situation, however, the news is good, we suppose, at least for the star herself.
A while ago, Jenna unveiled her secret boyfriend, who happens to be Karl Hudson, and now she reveals she is pregnant with him on her social media.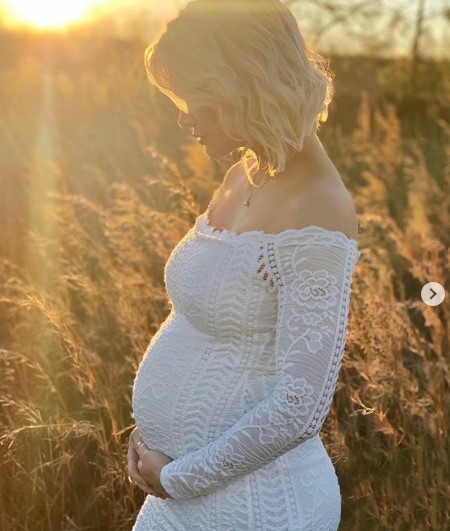 Jenna Cooper revealed she is pregnant with her boyfriend, Karl Hudson.
Source: Jenna Cooper Instagram
Jenna, 30, taking to her Instagram posted a series of photos, where her baby bump was clearly noticeable. One of the pictures featured a pig, and it's caption read, "I am going to be a pig sister! May 2020."
On the post, Cooper wrote, "Dear Baby, I hope you know that I already love you more than I could have imagined possible. I hope you chase all of your dreams, and I'll be there supporting you the whole way. I hope you get my spirit and sense of humor, and never stop laughing."
Jenna Cooper's pet pig, Princess Pear Pig.
Source: Jenna Cooper Instagram
Jenna further added, "I hope you get your daddy's thoughtfulness and work ethic, and never stop being curious. I hope you can ignore the negativity of the world, and always stand up for yourself. I hope you love Jesus with all your heart, and never forget how special you are. See you in a few months. Love, Mommy."
Also See: Who is YouTuber Jaystation's Girlfriend?
News of her pregnancy came almost a week after Cooper went public about her love with Karl Hudson, which she kept a secret for a really long time. Karl is, apparently, a real estate broker whom she met a year ago.
Jenna Cooper introduced her boyfriend a week earlier of her pregnancy announcement, a year after they started dating.
Source: Jenna Cooper Instagram
The Bachelor in Paradise alum said she found her happiness in Karl, and he has been the reason for her smiles and Hudson never fails to inspire more happy life. Seems like the couple met their soulmates, and we hope all the good for them.
You May Also Like: Who Is Mattia Polibio Dating? Who Is His Girlfriend?
For more information on your favorite celebrities' lifestyle, stay tuned to Glamour Fame, and don't forget to sign up for the newsletter.
-->