Bebe Rexha Shares Screenshot of a Text Sent By Her Father; Claims "My Dad Hates Me"
Published Thu Feb 28 2019 By Jessica
Bebe Rexha defends her father despite being slut-shamed by him who claimed she makes him embarrassed to go in public.
Just a few days ago, American singer Bebe Rexha shared a screenshot stating that her father Flamur Rexha hates her. Rexha shared a screenshot conversation with her father on her Instagram story shortly after she released her latest single 'Last Hurrah.'
In the shared picture that displays the singer's derogatory conversation with her father and it's observed that Flamur compares his daughter's recent music video with 'pornography'.
The text message read Flamur saying:
"You better stop posting stupid pornography because you make me sick I can't take this anymore embarrassed to go in public everywhere I can go i'm very upset with you i can't believe it"
Putting the screenshot on her story, Bebe captioned the post saying, 'My dad hates me' along with a facepalm emoji.
Bebe Rexha performing Last Hurrah
SOURCE: SounDarts
Immediately after the 29 years old posted the picture, Rexha's fans didn't hesitate to criticize her father for his slut-shaming comments to his own daughter.
You may also like: Extended Edition of 'A Star Is Born' To Hit Theaters with 12 Minutes of New Music
One of his supportive fans tweeted the singer with a message that confronted her father's perception:
"totally disagree with your father, you are just being yourself and he must understand and support this, clearly you are confident with your body, happy with yourself, say something like that, to his own daughter, it's disgusting"
Similarly, another one wrote:
"An "amazing father" would've never slut shamed his daughter specially you're old enough to know what's wrong and what's right, he really should sincerely apologize to you.."
The 'Meant to be' hitmaker then later removed the screenshot from her IG after receiving backlashes for his father. As a matter of fact, she even went on to her official Twitter handle account so she could defend her father.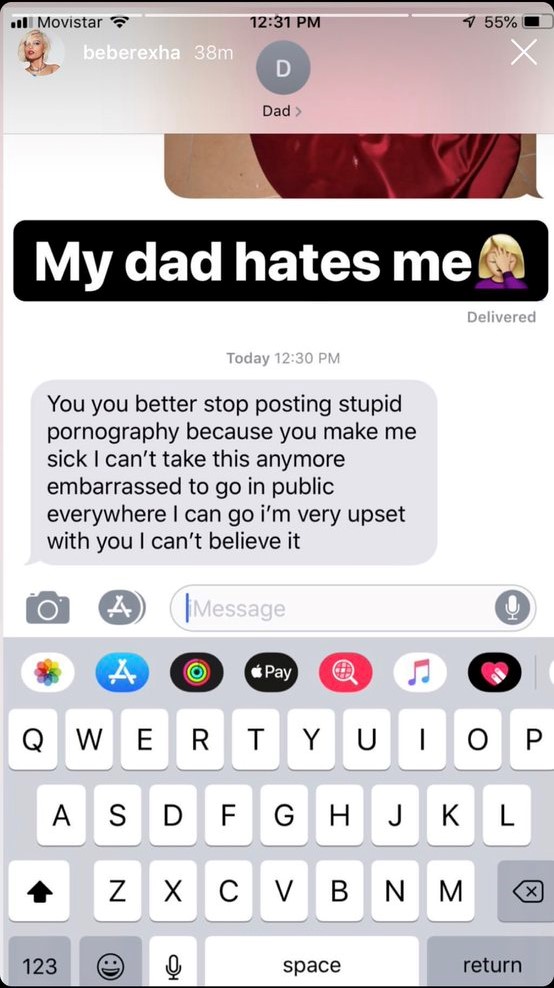 SOURCE: Bebe Rexha Instagram
In a now-deleted tweet, the singer said:
"Don't say mean things about my dad please he is an amazing father,"
Her tweet also reveals that her father isn't talking to her anymore.
The tweet continues exposing that she now regrets sharing the screenshot publicly:
"I should of never have posted that screenshot,"

"I'm disappointed in myself. I was being sarcastic. I understand where he is coming [from] as a father and that's why the text was a bit harsh. I am upset that he still isn't speaking to me, but he is still my father."
Meanwhile, it's not just the singer's father who didn't like the 'Last Hurrah' video. The video-sharing largest platform app, Youtube, flagged the video marking it as 'sensitive'.
Don't miss: Oscar-winning Director Spike Lee has Unveiled his Next Project Featuring Hollywood Star Michael B. Jordan
This time too, the singer didn't hold back to share her stances on her music video. Following the news of her video being red-flagged, Rexha tweeted:
"I am woman who is living unapologetically. I'm not gonna be made to feel bad about making ART. And yes art to me is my beautiful ass out, boys kissing boys, girls kissing girls, crosses on my body. IF A MALE RAPPER PUT OUT THAT VIDEO OUT IT WOULD BE FINE."

"Trust me I bet people would rather go to a porn site to get off then watch my video. At least they will get full frontal on the porn site."

"If I would of known I would of put the rated r version of the video out, where the nun was smoking weed."
She then concluded the series of tweets by saying:
"The only person I would apologize to for this video is god if I offended him in any way. But I wrote this song with a pure heart. And wanted to portray how We are all fighting our temptations. No one is perfect. Thats why we turn to god. God created sex. And I like sex."
However, the singer is now enjoying the success of her career as she recently collaborated with Lays.
See more: Secret Wedding Ceremony! Ed Sheeran Married Cherry Seaborn in a Secret Ceremony
The potato chips company's newly added three tastes inspired by different music genre including the one Rexha teamed up with will be released on 4th March.
-->