Billie Eilish Faced Stalker Problem and Filed a Restraining Order
Seven Time Grammy Award winner Billie Eilish is a popular American singer. She is a global phenomenon with a huge amount of followers. Pop singer Billie gathered recognization through her 2016 song Ocean Eyes while she was still a teenager. Her debut EP, Don't Smile At Me, even doubled her fan in the music world.
After that, there is no turning back for the singer, and she still makes headlines through her incredible songs and singing tone. Furthermore, the first studio album, When We All Fall Asleep, Where Do WE Go?, even topped both UK Albums and Billboard 200 charts.
Billie Eilish Faced Stalker Problem and Filed a Restraining Order
With so much popularity, the celebrity often faces several consequences. Recently, pop artist Billie Eilish also faced a stalker problem, which grabbed the massive attention of the internet world. On January 2023, she requested a restraining order against a suspected burglar who tried to break into her home in Los Angeles.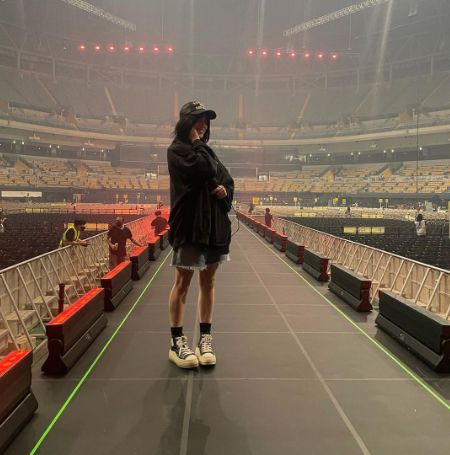 That particular incident even led the singer to cause anxiety and fear over her family's safety. According to the report, the suspect, Christopher Anderson, jumped over Eilish's childhood home fence. There were no injuries, and the authorities took Christopher.
Billie has claimed that the accused tried to enter her property several times from December to early January. Moreover, the said man expressed his love to her during the incident. This further fueled Eilish's anxiety and eventually led to her filing for a restraining order.
The masked intruder was wearing all black in the backyard of Billie's Highland Park home. During this, the house sitter received an alert which led her to call the cops. Later he was caught one block away from the house. Authorities have stated that the suspect took nothing from home without any property damage.
I Love You; Singer Billie Eilish is Dating Jesse Rutherford
The gorgeous singer Billie is now dating her handsome boyfriend, Jesse Rutherford, who is also a pop star. Jesse is the lead singer of The Neighborhood, best known for their hit single Sweater Weather, which reached #1 in Billboard's alternative chart in June 2013.
Taking a glimpse into their love life, the pair started dating back in mid-2022. However, the successful kept their relationship certain private time. On October 2022, they officially announced their dating life through social media. They were seen enjoying Halloween outfits on that particular post and grabbed the media and public attention. Later they were spotted enjoying date nights at Lal Mirch and Crossroads.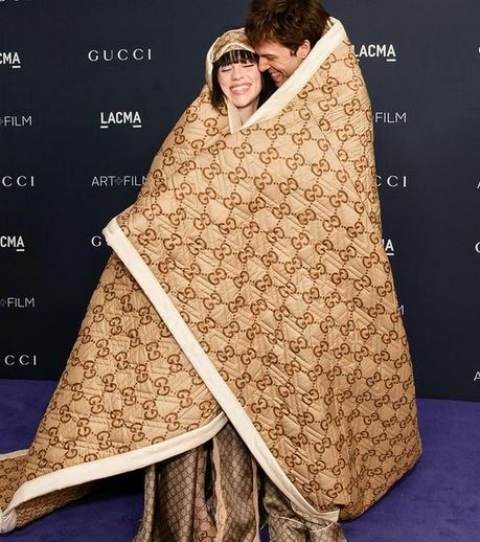 Their first red carpet debut was at the 11th Annual LACMA Art = Film Gala, and they stole the show with their incredible matching looks. The musical duo wore Gucci outfits during the event and even posed in a Gucci blanket. Rutherford wore trousers button-down top with a set of slippers, while the singer wore silky lingerie along with a lace trim skirt.
Although the pair have a management gap of ten, they seem very happy with one another and love spending time together. Eilish brother, Finneas O'Connell stated that their age difference makes their relationship exciting and fun. Her brother even defended her after social media user criticized their age gap, stating I want my sister to be safe and happy, and she is 21 years old and capable of her life decisions.
Break Up With Matthew Tyler Vorce
Before having an eye-catching relationship with Jesse, Billie faced several ups and downs the relationship. She recently faced a split with TV actor Matthew Tyler Vorce, who is also ten years older than her. Their love story started speculating in April 2021 after the former duo was spotted together in Santa Barbara, California. Soon the couple started appearing in several public places as a couple.
They even made mesmerizing appearances in the horror films Little Monsters and Mother, May I Sleep with Danger? However, within a year, they called it to quit their relationship and surprised the world. Many of Eilish's fans even accused Vorce of cheating on her. In the response, the actor stated Nobody Cheated on anyone. Relationships end. Simple as that through his Instagram story.
However, neither of the parties from the singer's side has broken the silence regarding the split. Further, Bad Guy also dated American rapper 7: AMP but later broke up with him. She has shared that her split with the rapper gave her lots of trauma and anxiety, which took a long time to cover up.
How Rich is Lovely singer Billie Eilish? Know About Billie's Net Worth and Earnings
Talented singer and songwriter Billie is one of the most successful American personalities. Her songs are viewed and listened to by millions of millions around the world with incredible feedback. So from her triumph, she has amassed both name and fame. As of 2023, she holds a net worth of $30 Million. Between 2019 and 2020, she made over $50 million a year.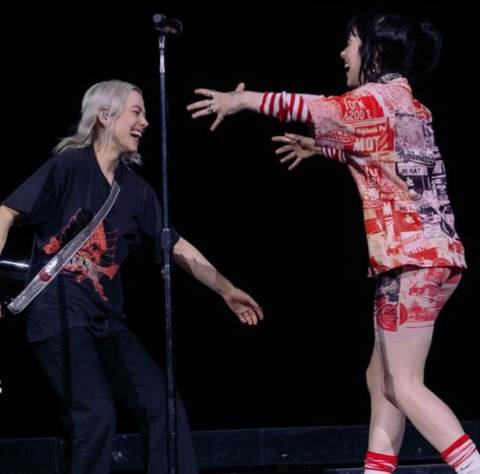 Forbes even listed her in the 30 Under 30 Class of 2019 with her earnings. In April 2019, she launched a clothing line with Takashi Murakami. That same time, Billie even appeared in ads for Clavin Klein and partnered with Freak City. By partnering with Apple, she made $25 Million on a documentary about her life. The singer still makes over $5 Million per annum through her involvement, including tours, concerts, endorsements, and so on.
At seventeen, she bought a ranch property in Glendale, California, for $2.3 Million. As she is young and full of talents, she will surely enhance her wealth in the future. For now, she is living a lavish and quality life.
Also See: Billie Eilish, BTS and Taylor Swift Lined Up To Perform In Grammy 2021
Multi Millions of Followers on Social Media
California native songwriter Eilish is a popular star among young people. Many of them even consider her their idol and inspiration. From her deeds, the singer has many followers on social media accounts. Currently, her official Instagram account holds over 108 Million followers, and she has shared 751 posts on it.
She shares her daily deeds on her Instagram account, and her fans fill the comment section with crazy comments. In October 2013, she joined the Twitter account, with over 7.1 Million followers. Furthermore, she runs a Facebook account with over 32 Million followers.
Recommended: Billie Eilish Tattoos - Grab All the Details
Stay Connected To Glamour Fame For More Related Contents
-->