Amidst the Controversies and Sad News, Billie Eilish Wins the Big Four at the 2020 Grammys, But Did She Fall into the Christopher Cross Curse?
Published Mon Jan 27 2020 By Sea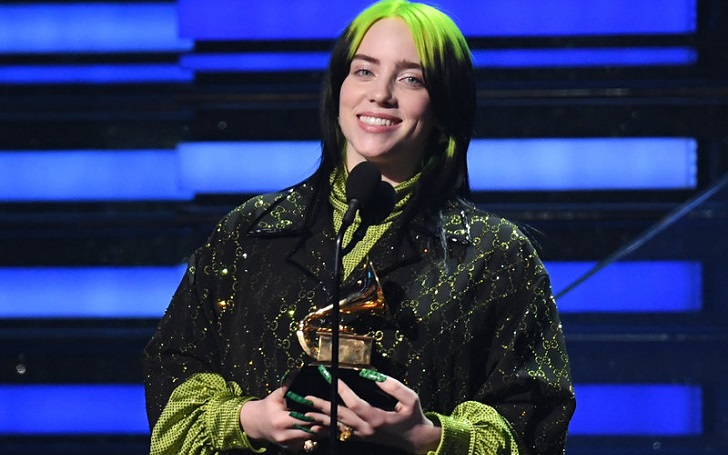 Billie Eilish may have won the Grammys' Biggest Awards, but she's hoping she won't go downhill as Christopher Cross did when he made that history.
There's a lot to take from the Grammy Awards 2020 on Sunday (January 26) night. While the news of Kobe Bryant's death hours before the show started did sting everyone there, the award-giving organization, 'Recording Academy', itself was shrouded with controversies with several explosive allegations, sexual misconduct and financial & voting improprieties surrounding recently suspended CEO, Deborah Dugan.
But onto the good part (maybe ominous again), 18-year-old Billie Eilish swept the floor winning the four biggest Grammy Awards there were — 'Best New Artist', 'Song of the Year', 'Record of the Year' and 'Album of the Year' — along with an additional for 'Best Pop Vocal Album'. And don't worry, Bryant was commemorated during the ceremony.
Watch: Billie Eilish Received Her 'Song of the Year' Award with Brother Finneas O'Connell
Meanwhile, her 22-year-old brother, Finneas O'Connell also became the youngest recipient of the Producer of the Year, Non-Classical award, in a night of records for the sibling.
No other Grammy-attracting modern artists, like Amy Winehouse, Adele, and Sam Smith, have pulled off such a feat. The only one who's ever achieved it was Christopher Cross back in 1981. But there's a catch.
Watch: Just Something for Kobe Bryant - Grammys and Lakers Fans Pay Tribute to the Legend
While Eilish just became the youngest winner of the 'Album of the Year' (replacing Taylor Swift) and 'Record of the Year' awards and the first female artist to sweep all 'Big Four' categories, Cross wasn't like that. But what happened to him after winning the 'Big Four' could only be an artist's nightmare in the music industry.
Since the 1981 Grammy record, the soft-rocker's career went downhill. O'Connell noted the bad omen with an Instagram post. "I don't think that sweep did him any favors. It kind of put a target on his back, and I would hate for something like that to happen with Billie," Billboard's awards editor and Grammys expert, Paul Grein, stated after the event.
"Downhill from here," Finneas O'Connell captioned the photo on Instagram.
Source: FINNEAS, Instagram
While two sides of the 'Bad Guy' hitmaker have already fractioned, it'd be a shame for an artist to succumb to the audience pressure. But considering her 'I don't care' personality, only time will tell. She won't stop making music altogether because she is just enjoying it too much right now.
Stay tuned and connected to GlamourFame for more Entertainment content. Check out the contents from clicking the tag-links below.
-->