Blake Shelton Claims Gwen Stefani Has Helped Him "Calm Down"
Published Mon Jun 24 2019 By Jessica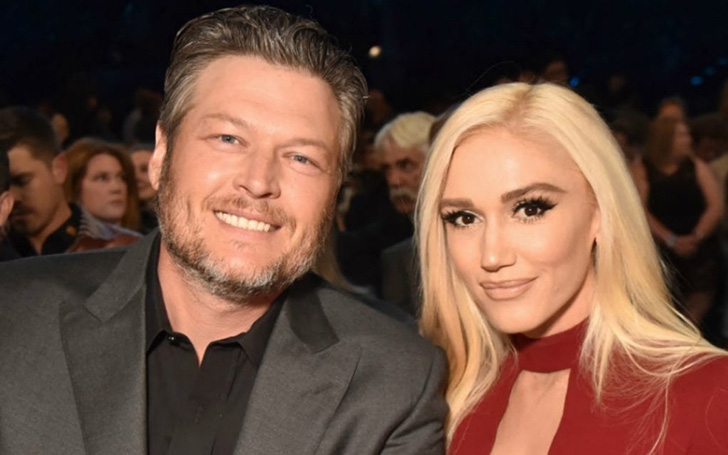 Gwen Stefani helps her boyfriend of three years Blake Shelton calm down.
Someone shall already hand over the best girlfriend Award to Gwen Stefani.
Blake Shelton who's head over heels in love with his partner of three years; Stefani, recently sat down with ET where he spilled some tea on their relationship including his stance in the secret marriage rumors of the two.
Speaking of the speculations that Shelton and Stefani secretly tied the knot, the country singer says that he doesn't get mad at them but rather finds them funny and 'complimentary'.
Related: Richard Speight Jr. Announces Episodes He's Directing On 'Supernatural' And 'Lucifer'
Explaining to his interviewer, the 43-year-old musician said: "If I am somehow, and Gwen is somehow, newsworthy enough that they have to make up stories about us just to have something to say, then I guess that's a good problem to have. You know, I gotta say that we couldn't be happier, and we've never been doing better."

Gwen Stefani and Blake Shelton.
SOURCE: In Touch Weekly
Claiming that Gwen Stefani is his supporter and cheerleader, Shelton went on to reveal that Stefani is the 'most encouraging person' he's ever had in his life.
"It's unbelievable how supportive she is," says Blake Shelton before adding: "I tell her this all the time, and she doesn't realize it, but Gwen's one of these people that I learn so much from, because no matter what the situation is, she has a way of looking at something from every angle possible, and understanding if there's turmoil or something going on, instead of just jumping to conclusions or reacting, it's, 'Well, here's why they may feel that way. I've learned a lot from her -- to not be so reactive as I used to be."
Also see: Los Angeles Rams Coach Sean McVay Marries his Girlfriend Veronika Khomyn
"She's definitely helped to calm me down, for sure," praised Shelton.
View this post on Instagram

@blakeshelton this is pretty cute thanks to whoever make this ❤️gx

A post shared by Gwen Stefani (@gwenstefani) on Mar 7, 2019 at 3:46pm PST
Shelton and Stefani first appeared in public whilst performing for 'The Tonight Show Starring Jimmy Fallon' in October 2015.
Both of them were newly single at the time as they recently separated from their former spouses.
Whilst Shelton divorced from his former second wife, Miranda Lambert, Stefani split from husband of thirteen years, Gavin Rossdale.
In addition, Gwen Stefani shares three children; Kingston Rossdale, 13, Apollo Bowie Flynn Rossdale, 5, Zuma Nesta Rock Rossdale, 10, with Rossdale.
Don't miss: Sophie Turner And Joe Jonas Shared A Romantic Kiss In Paris Ahead Of Second Wedding!
Not long after their first on-screen encounter, the duo stepped out as a couple the following month and has been together since then.
Over the past three years, Shelton and Stefani's bonding has only grown more, something the country singer claims that it will lead to something special.
Speaking of their future wedding plan, Blake says it will happen but their fans won't have to worry and find out about it through some 'grocery store trash magazines'.
-->