Bollywood Star Anushka Sharma Tied The Knot with Indian Skipper Virat Kohli, Is Anushka Sharma Pregnant?
Published Tue Dec 18 2018 By Jessica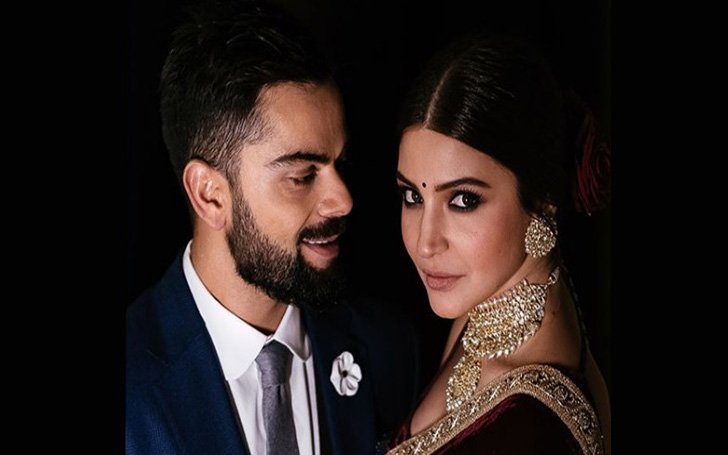 Bollywood star Anushka Sharma who is married to famous Indian Cricketer Virat Kohli is rumored to be pregnant.
The Diva of Bollywood aka Anushka Sharma is reportedly speculated to be pregnant with famous cricketer husband, Virat Kohli. The speculation on the rumor has been going on for a quite time now.
And whilst the couple only recently celebrated their first wedding anniversary earlier this month, Anushka is reportedly thought to be having her first child with Virat. However, Anushka opened up on the rumor spilling the true and false regarding the speculations. Scroll below to find out whether Mrs. Kohli is actually pregnant or not.
Virushka on their wedding in Italy
SOURCE: Instagram
Anushka and Virat who are also considered among one of the best and gorgeous couples in Bollywood met each other for the first time at the set of Head&Shoulder shampoo's advertisement in 2013. That was when the spark between these two stars started to ignite.
You May Also Like: TVB Actor Lai Lok Yi Announced To Have Himself Another Baby in 2019
The couple even hid their relationship from their fans and public. But, after Anushka was spotted at Virat's game numerous times, the couple had no choice but admit to the rumors that they were in fact together in a relationship. Since then, the pair has been known with their ship name as Virushka.
After going through an on & off relationship, the couple finally tied their knot in Italy in 2017 inviting only their close friends and family to the wedding. Nevertheless, when their wedding's grand reception took place in India, almost every celebrity was observed there including the current Prime Minister of India; Narendra Modi.
Also See: The Bachelor's Matty J and Laura Byrne Announced They Are Expecting Their First Child Together
And now after being married for only a year, Anushka is rumored to be pregnant with her first child. The rumors have been going on non-stop for the past several weeks.
Anushka celebrating her first Karva Chauth
SOURCE: Instagram
But, the frustrated Anushka with the speculations finally decided to speak on it.
In a recent interview with a daily, when Anushka was asked about the rumor and whether she is looking forward to start a family with Virat or not, then Anushka answered:
"I got married at a young age for a reason. If you are having a baby, it is something that no one can hide. You can still hide a marriage, but not the fact that you are pregnant."
The actress further added:
"People can keep speculating, and then after four months when they realise that these stories are false, they will feel silly and say, 'Let's go after the other one who got married, let's talk about her now'! This is done to generate news."
Proving her thoughts on it further, she stated:
"There is absolutely no truth to it and it's not something that's being planned in the near future.''
Read As Well: News Anchor Jack Laurence and Wife Becky Welcomed a Baby Girl
So there you go guys, the stunning Rab Ne Bana Di Jodi actress is neither pregnant at the moment nor she plans to get pregnant anytime soon.
The hectic actress is currently working on the promotion of her new movie 'Zero' with her two Big Hollywood co-stars she worked with on the movie; Shahrukh Khan and Katrina Kaif.
-->