Breaking Bad? Todd Chrisley's Son Kyle Arrested For Possession Of Meth!
Published Tue May 14 2019 By Chester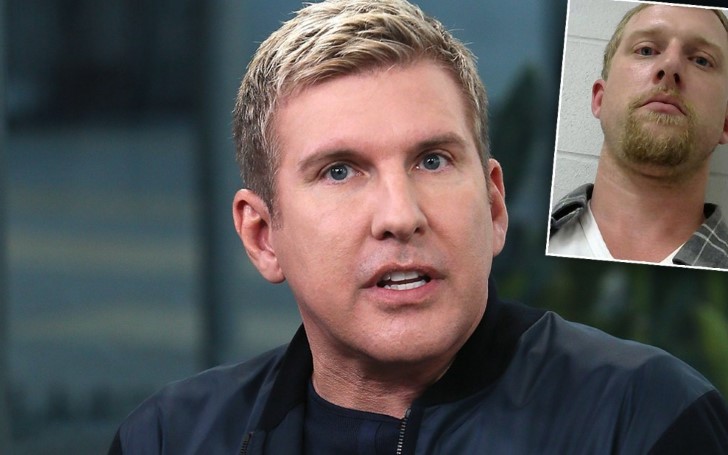 Hollywood reputed actor Kyle Chrisley's son gets arrested for possession of psychedelic drug 'Methamphetamine' slangily 'Meth'.
As per sources from TMZ, it was reported that actor Kyle Chrisley is currently locked behind the bars in Okmulgee, Oklahoma prison since last week following the possession of illegal drug 'Meth'.
Kyle is, in fact, the oldest son among five offsprings of prominent Hollywood star Todd Chrisley. Chrisley has been recently accused of several illegal charges including the possession of 'meth'.
"Chrisley Knows Best" star Todd Chrisley's oldest son was picked up by cops in Oklahoma on drug charges.
SOURCE: TMZ
However, it's unclear whether Kyle is still in custody or in any medical rehabilitation. Father Todd has so far not shared anything regarding the matter.
You may like: Must Watch? The Legend Of Cocaine Island Is Coming To Netflix
Well, this is not the first time the actor has been found guilty for using drugs as previously he was rumored to be involved in medications possession during the tapings of his hit USA series 'Chrisley Knows Best' and consequently was sent to rehab for his sobriety from his drug addiction.
American Actor Todd Chrisley, Kyle (Pink Sweater) and family.

SOURCE: Daily Mail
Chrisley was also arrested back in May 2014 for hitting his wife Angela Johnson and threatening her sister with a knife. As a matter of fact, the duo shares a daughter together named Chloe.
In addition, Kyle, 27, was also alleged for a threatening message that he sent to his wife writing 'Kill Her' in a text message.
Kyle had an open arrest warrant from wife Georgia following the disturbing text messages and harassment.

SOURCE: DailyMail
Kyle's inappropriate and threatening behaviors are witnessed from a long period of time now. Sometimes threatening his wife, getting arrested for drugs, fighting with members in the family and so forth.
Better Call Saul Featurette Explores The Origins Of Gus' Meth Super Lab >>>
Analyzing his psychotic activities it definitely would be better and safe for both family and Kyle if he is sent to rehabilitation and enrolls in some addiction therapies for balancing peace between his mental health and drug addiction.
-->