British Swimmer Duncan Scott Refused To Pose With Sun Yang During Their Medal Presentation
Scottish swimmer, Duncan Scott, refused to step on the podium with Sun Yang during their 200m freestyle ceremony on Tuesday.
Duncan Scott denied sharing a podium with Sun Yang during their World Championship medal ceremony because of the controversy over Chinese athlete's doping history.
Though Duncan was not the only one to boycott the Olympic Champion, earlier in the competition, Mack Horton also refused to share a podium with Yang for the 400m freestyle medal ceremony.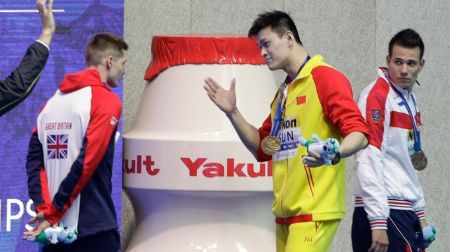 The Australian swimmer Mack Horton labeled Sun Yang a 'drug cheat,' for which FINA warned Horton for his actions.
Also See: Prince Harry Dubbed 'Hollywood Harry' After Allegedly Declining An Invitation To Attend A Memorial Service
After Horton, Scottish swimmer, Scott, refused to step on the podium with Yang during their 200m freestyle ceremony on Tuesday.
Sun was accused of smashing a blood sample after a doping test last year but was allowed to compete in the world championships in South Korea.
Recommended: Why Is Jenelle Evans Sticking With David Eason Despite His Psychopathic Behavior?
Yang has already served three months suspension in 2014 for taking drugs, which the champion claimed was medication for a heart problem.
Sharon Davies, who is the former British Olympian, said Yang could be seen celebrating after his win while the crowds were booing him.
Also Read: Rapper Tay-K Sentenced to Prison for Deadly Robbery; Top Five Facts to Know About the Rapper
We don't know what action FINA will take for Scott, but his friends and fellow swimmers have shown massive support for Duncan.
Siobhan Marie O'Connor tweeted her support for Scott, while one of Duncan's coaches at Stirling, Steven Tigg, aimed at Sun Yang with his tweet.
Steven tweeted that his swimmer won a "joint 'bronze'" while including the emoji of the silver place medal.
-->