Rapper Tay-K Sentenced to Prison for Deadly Robbery; Top Five Facts to Know About the Rapper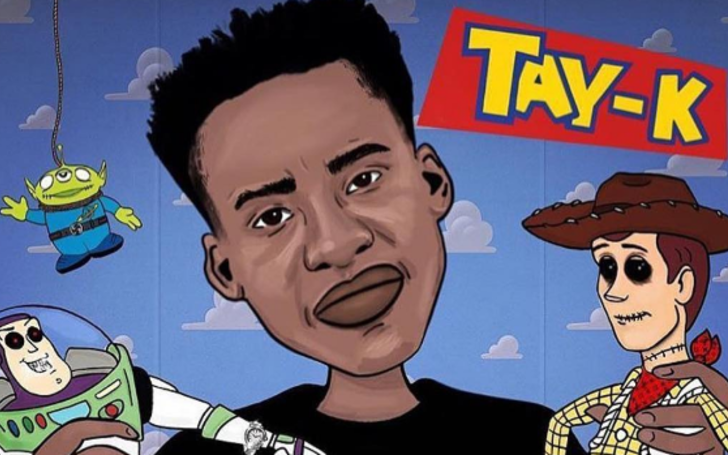 Taymor Travon AKA Tay-K is probably one the most controversial rappers in America, as he was recently sentenced to prison for deadly robbery.
The rapper and songwriter, Tay-K, made his debut with the song 'BIFF XANNEN' which he released on his SoundCloud account.
Here are the top five facts about the most controversial rapper, Tay-K.
5. Tay-K released A Song While On The Run
Tay-K released his song 'The Race' while on the run from the police, it became a massive hit.
Also See: Rapper Tay-K Incarcerated for 55-Years For Deadly Robbery That Led To Death of a 21-Year-Old
The song peaked at number 44 on the US Billboard Hot 100 chart, later was also remixed by various artists and received millions of views on video-sharing platforms.
4. Tay-K Is Always Associated With Crimes
Though Tay-K is a successful rapper and a songwriter, he is always linked with crimes.
Read Also: Rap Mogul Diddy Disclosed what Kim Porter Said Before She Passed Away
In 2016, the rapper was under house arrest after being charged with murder. In the year 2017 again, case of murder was filed against Tay while he was still in a trial for 2016 murder charge.
3. Tay-K Parents Were Members Of Crips
Both of Tay-K's parents were members of crips, which is an Afro-American gang based in the coastal regions of southern California.
Don't Miss: Billie Eilish Reveals She Used To Be 'Terrified Of Eminem' Growing Up
Tay-K was living with his mother and a sister while his father was locked up for most of his childhood.
2. Tay-K Was Born In Long Beach, California
Rapper Tay-K was born in Long Beach, CA as Taymor Travon McIntyre; later his family moved to Las Vegas, Nevada for a few years before finally relocating to Arlington, Texas.
1. Tay-K's Net Worth
Tay-K's net worth is $250k at present which he gained all from his exceptional music career; However, the question remains, will he continue his music career?
When asked about the rapper's plans for future releases, Tay-K's manager Ezra Averill did not provide us with enough details.
-->