Learn the Story Behind Carson Daly Tattoos
Published Wed Dec 18 2019 By Matthew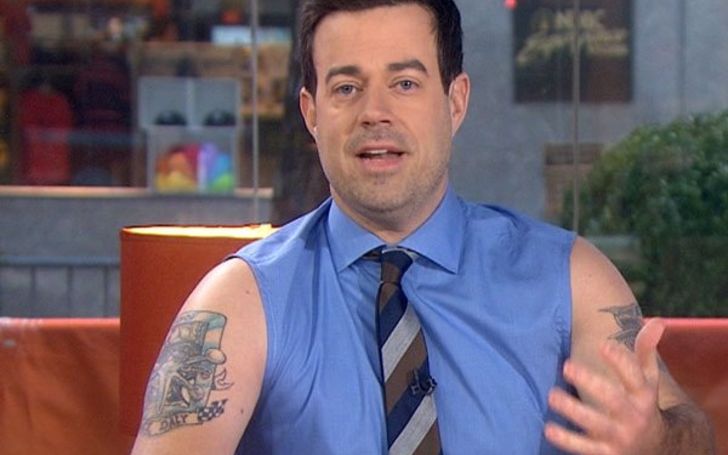 America's one of the most loved T.V. hosts Carson Daly rocks quite a few tattoos on his body. Here's what all of his symbols mean.
The T.V. host, producer, and personality Carson Daly was born Carson Jones Daly on June 22, 1973, in Santa Monica, California. The former V.J. for MTV's 'Total Request Live' joined NBC in 2002, where he began hosting and producing the late-night talk show titled the 'Last Call with Carson Daly.'
Daly is well known as the host for the reality music competition 'The Voice', which he joined in 2011 and has continued to play his part for the show to this day.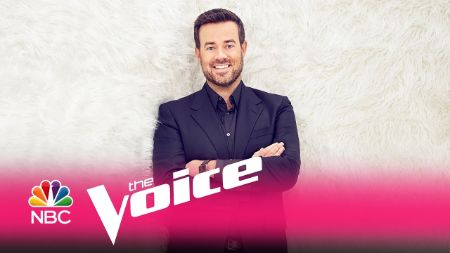 Anchor Of The Voice Carson Daly.
Source: The Voice Youtube
The 46 years old orange room anchor on 'The Today Show' sports a considerable number of tattoos in his body, which he isn't quick to show but doesn't hide either. Every one of his symbols depicts a significant anecdote, most regarding his family. Let us tell you the stories behind Daly's tattoos.
His First Tattoo: Corvette Hood Ornament For His Dad
Paying respect to his late father, James Daly (J.D.), who was a car salesman, Carson got his first tattoo. It was the hood ornament of the 1977 Black T Top Corvette that James left Carson in his will. James's initials J.D. is carved right below the two crossed flags.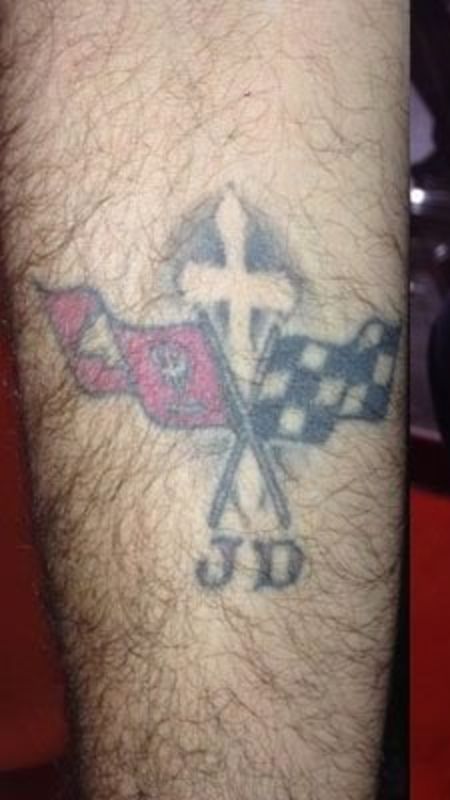 Carson's First Tattoo Was A Corvette Hood Ornament.
Source: Superb Hub
In an interview with Today, Carson revealed, "I actually have the car that it's designed for. I wanted a nice memento to my father without it being too somber."
Curly Sark: Original POPS Whiskey
A modified logo of Cutty Sark Whiskey with Daly's second father's alias name Curly inscribed right below his Leo tattoo is a tribute for his step-dad. Daly believed Richard Caruso was the only reason Cutty Sark survived for 25 years.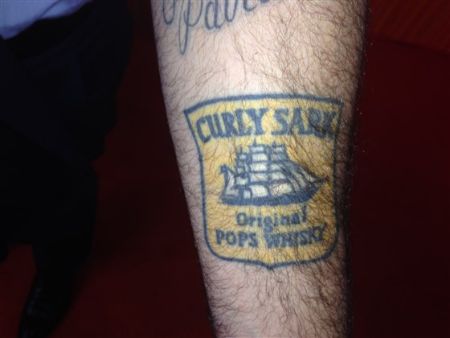 Daly's Ode To His Step-Father Is A Curly Sark Tattoo.
Source: Today
The Voice host reveled that the ode to his step-father often gets called the coolest tattoo by bartenders when he visits a pub.
Leo The Lion With A Rose Mane
This one you've probably seen a lot. Daly has a fierce lion with a red rose entangled in its mane on his lower left arm.
Also See: How Many Tattoos Does Carson Daly Have?
The tattoo pays homage to his grandmother Rose and also adheres to his daughter London Rose's birthday and her sign, who is named after his grandmother. The emblem expresses a powerful message that Carson wants to pass on to his children.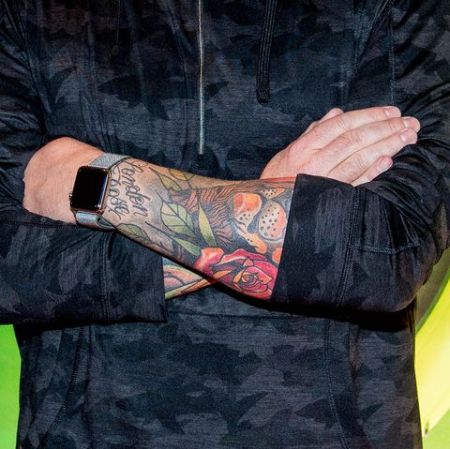 Leo With A Rose Mane For London.
Source: Good House Keeping
Talking about the tattoo in Feherty he said,
I want them to be strong women, so I opted to put an image of the most courageous symbol of strength I could find.
Daly explained the tattoo's origin as a symbol of strength for his daughters.
Second Daughter Etta Jones Represented By Woman Warrior
Similar to the tattoo for his first daughter London, Carson wants to send an identical message to his second daughter Etta Jones Daly with the portrait of a Woman Warrior on his right forearm.
The dedicated tattoo also represents Etta's astrological sign Virgo which kind of looks like Wonder Woman and also has a small Statue of Liberty next to it.
Green Beret For His Grandfather
Daly's grandfather from his mother's side, Bill Jones, was a life long army man. Jones passed on his original Green Beret that he received from United States' 35th President John F. Kennedy, which he still treasures to date.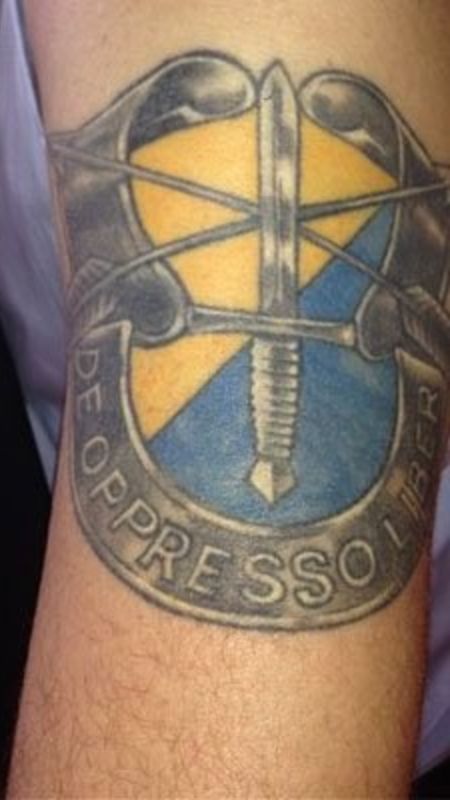 A Green Beret Emblem For His Late Grandfather.
Source: Superb Hub
Carson has the Green Beret emblem with the original Latin motto for the United States Army Special Forces-De oppresso liber, which translates as "To Free the Oppressed."
The Ides Of March Reference For Jack Daly
For his son, Jack Daly born on March 15, 2009, which was The Ides Of March, The Today Show's anchor designed a tattoo by himself.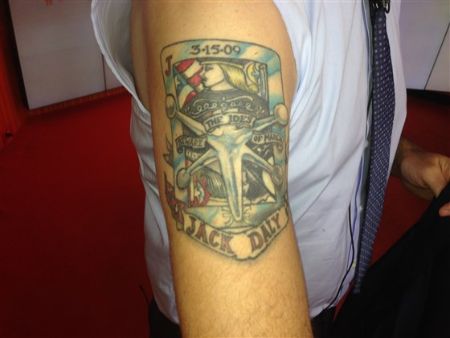 The Ides Of March Tattoo For Jack Daly.
Source: Today
He has a Jack game piece penetrating through a Jack playing card on his upper right arm. The tattoo also carried his son's sign Pieces, the American flag on the top left part, a squiggly ribbon for his beer of choice-Budweiser, and a logo of Corvette for his father. Carson is most proud of this tattoo out of all the others he has on his body.
Jaden Patricia: Yet Another Family Reference
Written in cursive, the name of his sister Jaden and that of his mother Patricia dwells right next to the Cutty Sark logo. Both names combined form the name of his niece Jaden Patricia.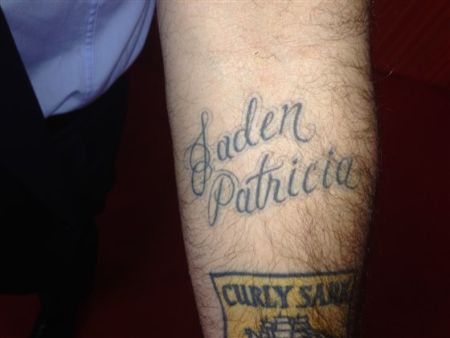 Cursive Jaden Patricia Tattoo For His Niece.
Source: Today
Jaden Patricia's uncle explained that he still owes one to his other niece Catherine.
Patriotic NYC Symbol: 9/11 Reminiscence
Following the aftermaths of September 11, 2001, which Carson witnessed from the window of his apartment, the former MTV's V.J. painted the red, white, and blue NYC letters just a day after the attack.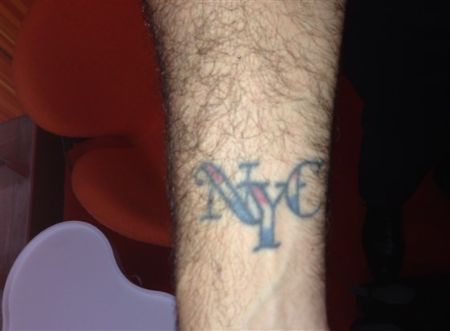 The Red, White, and Blue NYC Letters As 9/11 Reminiscence.
Source: Today
Talking in an interview with Today, he said, "This NYC one I got the day after September 11, here in New York. I went to work at MTV in Times Square, and there was a bomb threat the next day, so we had to evacuate the building. As we were trying to figure out if we'd be on the air, I was kind of aimlessly walking around New York ... it was really weird. So I went to my tattoo shop and sat there listening to music and ended up having him put that on me as a sign of pride for being a New Yorker."
456: The Record Lable
The numbers 456 depicting 456 Enterprise & Entertainment, an independent record label that Carson co-founded alongside Jonathan Rifkind, Jonathan B. Davis, and Bam Margera is etched on his calf.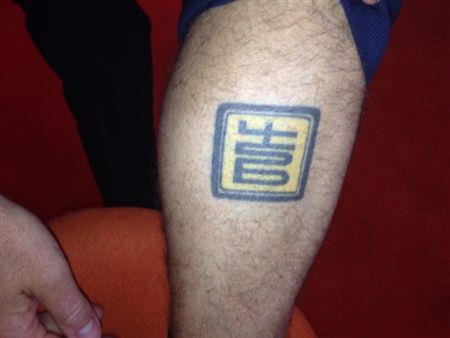 The 456 Hip Hop Record Label Tattoo.
Source: Today
The name for the hip hop record label originated from a New York city hustle called 456, which Curly's son admitted to playing a lot.
Crab Claw Coming Out Of The Pocket Knife
The impromptu crab claw docking out of the pocket knife came as a surprise to Carson himself. Later redesigned, the tattoo initially was the name of then MTV VJ's famous old flame, actress Jennifer Love Hewitt. Imagine Daly's disappointment on his decision when the torch snuffed out.
Also See: Complete Details of Adam Levine Tattoos
The former D.J. for 106.7 KROQ-FM paid the price when his later love interest Tara Reid denied him any more tattoos before he got Jennifer's name covered up.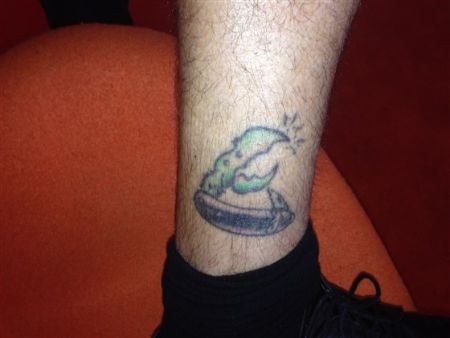 The Re-designed Crab Claw In A Pocket Knife.
Source: Today
Sharing his amusing story behind the fix from his tattoo artist Braino on Faherty, Carson said, "I asked him, 'Can you do something really fast on my ankle or my girl's going to kill me. I had no idea what he's doing, but I could feel him working ... 30 minutes later he goes 'We're done.' I look at it, and I go, 'What is that?' He goes, 'That's a crab claw coming out of a pocket knife.' I went, 'Awesome."
From all the backstories of his symbols, it is clear that the tattoo enthusiast is a family man. That's all we have for you on Carson Daly's tattoos.
For more celebrity gossips, head on to the entertainment section over at Glamour Fame.
-->