Celine Dion Paid An Emotional Tribute To Her Late Husband Rene Angelil As Las Vegas Run Ends
Published Mon Jun 10 2019 By Jessica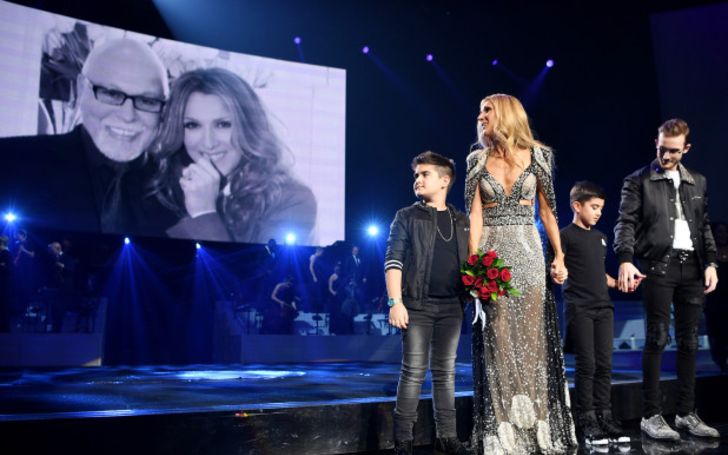 Canadian singer Celine Dion remembered her late husband Rene Angelil at her last Las Vegas residency show.
It's been over three years since the passing away of Celine Dion's late husband René Angelil and sixteen years of the singer's critically-acclaimed long-running Las Vegas residency.
Dion's Las Vegas residency finally came to end on Saturday at the Colosseum at Caesars Palace and bidding farewell to the stage, the Grammy-winning songstress paid an emotional tribute to her husband.
Remembering his beloved husband, the 'I'm Alive' singer bowed the audience as she held hands with all of her children on the stage and turned over the big screen behind her that showcased an image of herself with Rene.
Also see: With A New Game Announcement by CD Projekt Red At E3, Keanu Reeves Immortalizes Himself For Good
Speaking of her late husband Celine said: "I'm both proud and humbled by what we've accomplished at the Colosseum since we began sixteen years ago when René and I first shared this dream,"
Celine Dion paid an emotional tribute to her late husband Rene Angelil at her last Las Vegas Residency show.
SOURCE: Hollywood Reporter
Dion continued: "This entire experience has been a huge part of my show business career…one that I will cherish forever. I have so many people to thank, but the most important 'thank you' goes to my fans, who gave us the opportunity to do what we love,"
Angélil, a throat cancer victim and the father of Dion's three children; René-Charles Angelil, Eddy Angelil, and Nelson Angelil died in Jan 2016 after suffering a heart attack just a couple of days before his 74th birthday.
Rene Angelil was not just Celine's husband but also her manager. The couple met through the singer's brother Michel Dion when Celine was just 12 and Rene was 38.
Don't miss: Reese Witherspoon's Twin Daughter Ava, 19, Is Dating A Boyfriend Who Resembles Her Dad Ryan Phillippe
Dion and Angelil tied the knot in 1994 at the age 26 and 52 prior to their engagement in 1991 and romance that began in 1987 when the 'My Heart Will Go On' singer was in her late teens and her husband was 45.
The couple remained a happily married couple until Angelil's death tore them apart.
Unfortunately, their relationship wasn't all sunshine and rainbow because of their vast age gap. In the beginning, Celine's parents including her mom Thérèse Dion didn't favor their relation.
But, her husband went on to win everyone's heart over time as Celine previously explained in an old interview.
In her words, she said: "When I told her I had some really strong feelings for René she tried everything to kill him and make me snap out of it. I was very frustrated and mad at first but she tried to make me understand that this man tried marriage twice before, he has three children, he's not responsible,"
"She said, 'You're my daughter, you're my baby and I want the perfect Prince Charming for you.' And then it was so strong that my whole family was in love with him and she had no choice," she concluded.
You may also like: The 100 star Bob Morley Marries his co-star Eliza Taylor; Surprising Facts about Eliza Taylor
Celine only shared her married life to René Angélil whilst her husband, a twice-divorced man, was previously married to Anne Renée (1973–1988) and Denyse Duquette (1966–1973).
-->