Charles Barkley Net Worth - Find Out How Rich the Former Professional Basketball Player is
Published Tue May 05 2020 By Bran
Like most of the retired basketball players, Charles Barkley earns his living as an analyst in recent times. Let's get to know how much does that contributes to his net worth.
Basketball player Charles Barkley is one of those athletes who made a successful transition from a playing career to one behind the cameras analyzing the game. The 57-year-old retired way back in 2000, with valuable career highlights and awards to his name such as 1993's Most Valuable Player and 11 times into the NBA All-Star. Interestingly, he was even the Round 1 pick in the 1984 NBA draft, which shows the stature of a player he used to be as Philadelphia 76ers signed him. He spends around eight years at the franchisee, before moving to the likes of Phoenix Suns and Houston Rockets and ultimately hanging up his boots.
Although, the 6 feet 6 inches used to be a bit shorter than the typical power forwards, his strength, aggressiveness, and intelligence made him one of the dominant rebounders in the whole league. Furthermore, when he retired in 2000, he was the fourth player in NBA history to achieve 20,000 points, 10,000 rebounds, and 4,000 assists. Known as 'the Round Mound of Rebound, ' Barkley spends his post-retirement as an analyst on Inside the NBA. So, without wasting much time, let us delve into the net worth details of the veteran.
Charles Barkley's Net Worth Makes Him A Millionaire
Modern audiences might view Barkley as a television pundit, but the streets won't forget Barkley's classic days as a player. He was indeed a rival to the legendary Michael Jordan, and was also referred to in the episode 6f ESPN's 10-part documentary in 'The Last Dance.' From such a legendary career and a post-retirement journey in television, Charles Barkley amasses an estimated net worth of $40 million as of April 2020.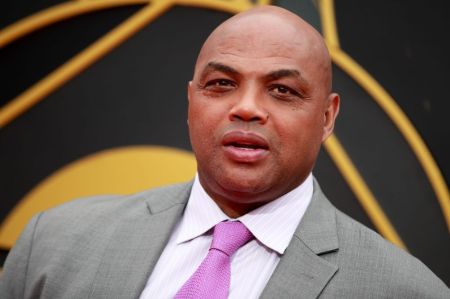 Charles Barkley owns a net worth of $40 million.
Photo Source: Sportskeeda
While the immense contribution of his wealth came from his playing days itself, as his total salary earnings from the NBA was $43.6 million. Currently, the sportsman shares his insight and knowledge about the game as a studio pundit for Turner Network Television. Interestingly, the network writes his paycheck in millions, with a salary of a staggering $1.5 million.
You May Also Like: Toni Kukoc Net Worth in 2020 - Find Out How Rich the Croatian Former Basketball Player is.
The NBA legend went on to become a successful television personality as he created his own show with TNT called 'The Racecard' in 2017. In fact, in TNT, he is accompanied by fellow NBA legends such as Shaquille O'Neal, Kenny Smith, and Ernie Johnson. Barkley further went on to analyze several sporting events such as the NCAA Men's Division I Basketball Tournament, NFL Wild Card, and hosted a unscripted show called 'The Race Card.'
Charles Barkley retired in 2000 after sixteen years in the NBA.
Photo Source: USA Today
Surprisingly, Barkley's net worth would have been far more significant than it is today, as he lost a significant sum of amount through his unresponsive gambling behavior. You would be shocked to know that the retired sportsman lost over $10 million in gambling, which includes losing $2.5 million within six hours.
Barkley's Endorsement Deals
From his playing days itself, Charles Barkley used to be a fan-favorite with millions of fan following all over the world. With such a positive face value, many multi-national companies and brands went to him to promote and advertise their products in return for a lucrative deal and salary. Even after his retirement, he continued the process, as the TNT broadcaster used to promote Coca-Cola and McDonald's in the past.
Charles Barkley and Michael Jordan used to be great friends.
Photo Source: Newsweek
Sporting icon Barkley got himself in trouble as he was arrested for drunk driving in New Year's eve 2008. Shortly after that, he found himself guilty on DUI-related counts and, thus, went to jail for three days. Following the criminal warrant, he took a two-month hiatus from TNT. Similarly, T-Mobile also decided to pull out all the ads that featured Charlie until he returned back in February 2009.
Also See: Rapper Smoove'L Net Worth - Learn the Bands of Green the Rapper Made.
Furthermore, the legendary number 34, also used to be the face of brands like Right Guard and T-Mobile, which contributed big time to his bank balance. Not just that, he also signed for one of Nike's very famous commercial, where he says,'I'm not a role model.' Similarly, he also became a spokesman for 'WeightWatchers' in 2011, promoting their new program 'Lose Like a Man.'
Watch: Charles Barkley featuring in Nike's commercial ad.
With his name inducted into the Naismith Memorial Basketball Hall of Fame twice, many fans were saddened as he retired in 2000. The Philadelphia 76ers star had his number 34 retired by NBA in his honor as well.
Barkley Listed a House at Sugar Land
NBA star, Charles Barkley hit the headlines on the paper in 2018 as his former house at Sugar Land was back in the market. Interestingly, he lived in the house in 1996 and decided to sell it in 2002, with the help of agent Joanna Garcia. The new owners managed the 4,000 square-foot mansion comprising a master suite and a pool quite well. Although the price wasn't mentioned, it is sure that the former celebrity house wasn't going for less than a million, at least.
Charles Barkley lives at a lavish house in Arizona.
Photo Source: Courtesy
Talking about the television presenter's current residence, Barkley lives at another mansion at Scottsdale, Arizona. While he is on the road mostly with his TV shows, he lives at the house whenever he is in the town. It comprises all the amenities you would expect in a million-making sportsman, such as a swimming pool, tennis court, indoor basketball court, and ample parking space. As per the reports, Charles bought the villa for $2.2 million in the late 1990s.
Relatable: Know the Net Worth of YouTube star CoryxKenshin
For more Net Worth articles about your favorite stars,please stay with us at Glamour Fame.
-->