Toni Kukoc Net Worth in 2020 - Find Out How Rich the Croatian Former Basketball Player Is
Toni Kukoč is a Croatian former professional basketball player. The star player is one of few European basketball players to ever play in the National Basketball Association. The pro player who is known for his extraordinary passing skills won the NBA Sixth Man of the Year Award in 1996.
The former Croatian professional basketball player is known to play in all five positions on the court, and the way he shows off his skills is beyond imaginable for the players of his height. The Croatian player stands 6 feet and 11 inches tall, so you can pretty much imagine how hard it's for people of his stature to show the agility and power, all during a game.
It's no doubt the basketball is above par when it comes to his game, which helped him to garner piles of fortune. So, without further ado, let's find out how rich the Croatian former basketball player, Toni Kukoc is.
Toni Kukoc Career in Nutshell
As we mentioned earlier, Toni Kukoc is one of those rare players who made it to the NBA. His journey to the National Basketball Association entails all the ground level works he needed to do before Kukoc made it happen. Toni Kukoc, who was born on September 18, 1968, first played for 'KK Jugoplastika,' his hometown team where he started from the age of 17.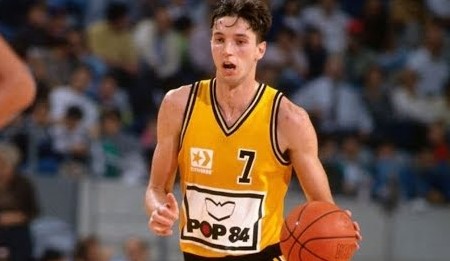 Toni Kukoc first played for 'KK Jugoplastika,' his hometown team, where he started from the age of 17.
Photo Source: Sport Casting
Following three wins by his team, Kukoc was awarded as the 'EuroLeague Final Four MVP' in 1990 and 1991. Later the player moved to 'Benetton Treviso' where the player bagged Italian League Championship in 1992 and the Italian Cup in 1993. His extraordinary play helped him to get names like 'White Magic,' 'The Spider from Split,' 'The Pink Panther,' 'The Waiter,' and 'The Croatian Sensation.'
Also See: Michael Jordan's Ex-Wife Juanita Vanoy - Top 5 Facts!
The player was not only got nicknames but also helped him to be drafted in NBA in 1990, but he continued to play in Europe. It was only in 1993 the Croatian former professional player reported to the Chicago Bulls.
Toni Kukoc Net Worth - Find Out How Rich the Croatian Former Professional Player is
As we know already, the former Croatian pro basketball player, Toni Kukoc, was an integral part of the Chicago Bulls in the 90s. What a great time to play when legends like Michael Jordan and Dennis Rodman were all playing for the same team. Kukoc played three championships alongside these legendary players.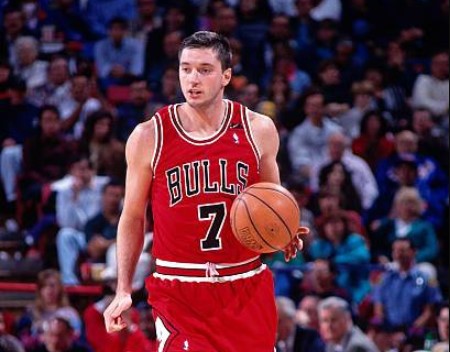 Toni Kukoc has an estimated net worth of $30 million as of 2020.
Photo Source: Sport Casting
But what's surprising is, then manager, Jerry Krause, was so impressed with the Croatian player that he could not stop talking about him, even before Kukoc draft. So, we can pretty much imagine how great of a player he is.
You May Also Like: Scottie Pippen Net Worth - Complete Breakdown of Former American Basketball Player's Income
While we also know, all of those did not come easy for him. His hard work and amazing skills earned him the names. And also helped him garner a massive fortune. According to the reports, Toni Kukoc has a net worth of $30 million.
Toni Kukoc Salary as a Basketball Player
While there's little information on how much he earned as a basketball player prior to joining NBA, but according to the reports, the Croatian former basketball player made more than Scottie Pippen in 97-98 season.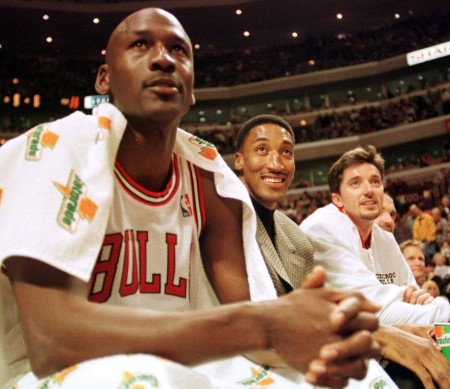 Toni Kukoc (on right) sitting along with Michael Jordan (left) and Scottie Pippen (center).
Photo Source: Sport Casting
All thanks to his previous experience, he could bargain well. During the 97-98 season, it is estimated that Toni Kukoc's salary was at $4.5 million, while Pippen, who was considered Michael Jordan's best ever teammate, was paid only $2.7 million.
Also Read: What is Melody Ehsani Net Worth? All the Facts Here!
For more information on your favorite celebrities' lifestyle, stay tuned to Glamour Fame, and don't forget to sign up for the newsletter.
-->