Chrishell Stause Married G Flip! Know About Chrishell Dating History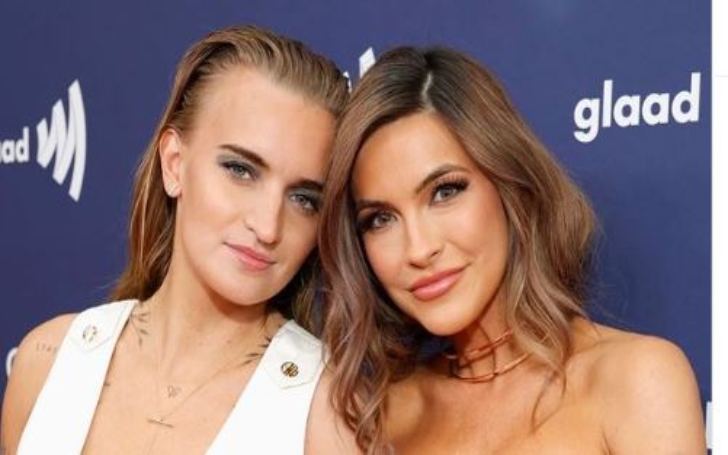 Explore the intriguing romantic journey of Chrishell Stause, as we delve into her dating history and reveal exciting news of her marriage to G Flip.
Chrishell Stause is a well-known name in the world of acting. Born on July 21, 1981, in Draffenville, Kentucky, Chrishell is also a real estate agent. Stause gained fame for her role as Amanda Dillon in the soap opera "All My Children," which she played from 2005 to 2011.
Chrishell later gained even wider recognition as a cast member on the reality TV series "Selling Sunset," which premiered in 2019 on Netflix. Stause's charismatic personality and talent have made her a popular figure in the entertainment industry.
In addition to her acting career, she has also successfully pursued a career in real estate, showcasing her versatility and entrepreneurial spirit.
Exchanged Wedding Vows With Chrishell Stause
Chrishell Stause's romantic involvement with G Flip, an Australian musician known by the real name Georgia Claire Flipo, took everyone by surprise. The duo had been dating since 2022.
The renowned personality from the television series Selling Sunset is now joyfully wedded to G Flip after a delightful year of courtship.
In a heartwarming gesture, the actress shared a captivating reel on Instagram, showcasing some of the most enchanting moments from their wedding ceremony.
"Love doesn't always unfold according to our plans... Sometimes, it surpasses all expectations," expressed Stause in the caption accompanying the post.
Chrishell also expressed her appreciation for Flip's latest composition, titled "I'll Be Your Man," which serves as a heartfelt tribute to their extraordinary love story.
Wedding Moments and Dresses
During the wedding ceremony, Stause donned an elegant floor-length gown in pearlescent white from Gemeli Power, paired with heeled sandals. Along with a beautiful outfit, she brought flowers and looked too much beautiful.
G Flip, on the other hand, sported a suit designed by Melbourne-based designer E Nolan, complete with a tie, sunglasses, and stylish white sneakers.
After the ceremony, the newlyweds captured their happiness in photos taken in front of the iconic Las Vegas Strip sign and a vibrant graffitied wall that showcased the words, "Will you marry me?"
Stause took to Instagram to share their joy, posting a reel featuring snippets of video footage capturing cherished moments shared between her and G Flip.
The pair even got tattoos of their wedding vows. The Selling Sunset star identifies herself as bisexual while her partner Flip identifies as non-binary.
Founding Life Partner
Chrishell Stause and G Flip's love story began on Halloween in 2021 when they first met. At the time, Stause was in a relationship with her Selling Sunset co-star, Jason Oppenheim, while G Flip was also involved with someone else.
Both Stause and G Flip separated from their respective partners, which led them to start talking and connecting on a deeper level. Despite coming from different corners of the world, they discovered numerous similarities that drew them closer.
In May 2022, during the Selling Sunset reunion episode, Stause officially confirmed her relationship with G Flip. She expressed the importance of their connection and introduced them as a talented musician. Stause also highlighted that G Flip identifies as non-binary and uses they/them pronouns.
Their relationship marks a significant chapter in Stause's romantic journey, as she moved on from her previous relationship with Oppenheim and embraced her newfound love with G Flip.
A Brief Detail on Chrishell Stause Dating Journey So Far
Chrishell Stause has experienced a series of intriguing dating headlines throughout her career in Hollywood. During her early days as a soap opera star, she was romantically linked with fellow actor Matthew Morrison.
Eventually, the couple confirmed their relationship and became engaged in 2006. However, they called off the wedding just a year later. Stause later criticized Morrison, stating that his proposal had been pressured and not genuine.
Following the end of her engagement with Matthew, Stause reignited her romance with an old flame, Graham Bunn. Their relationship had its ups and downs throughout her 20s.
Divorced With Ex-Husband, Justin Hartley
In 2013, Stause began dating actor Justin Hartley, and they got engaged in 2016.
After a year of engagement, the couple tied the knot in an intimate wedding with 74 guests in October 2017. Stause cherished the experience, describing it as exceeding her expectations.
However, the marital bliss was short-lived. Justin filed for divorce in November 2019, citing "irreconcilable differences" and revealing that they had already been separated for months. Stause moved on and started dating Dancing with the Stars pro-Keo Motsepe.
Meanwhile, Hartley married actress Sofia Pernas shortly after his divorce from Stause was finalized in February 2022, marking his third marriage.
Before her relationship with G Flip, Stause's most recent high-profile romance was with her boss and Selling Sunset co-star, Jason Oppenheim. However, their relationship quickly fizzled out as they desired different things from their connection.
Who is Chrishell Stause's New Partner, G Flip?
G Flip, an Australian musician, has captured attention with their talent and unique musical style. While information about their personal background is limited, G Flip has made a significant impact in the music industry. Their rise to fame began with their breakout single "About You," which gained widespread recognition and praise.
Known for their captivating performances and distinctive voice, G Flip has become a rising star in the music scene. Their music blends elements of indie pop, alternative, and electronic genres, creating a sound that resonates with audiences worldwide. G Flip's songwriting often delves into personal experiences and emotions, resulting in relatable and heartfelt lyrics.
With a growing fan base and a reputation for energetic live shows, G Flip continues to make waves in the industry, leaving a lasting impression with their musical artistry. As they continue to evolve as an artist, G Flip's contributions to the music landscape are sure to leave an indelible mark.
Visit Glamour Fame.
-->