Who is Chrishell Stause Sister? Some Facts to Know About Her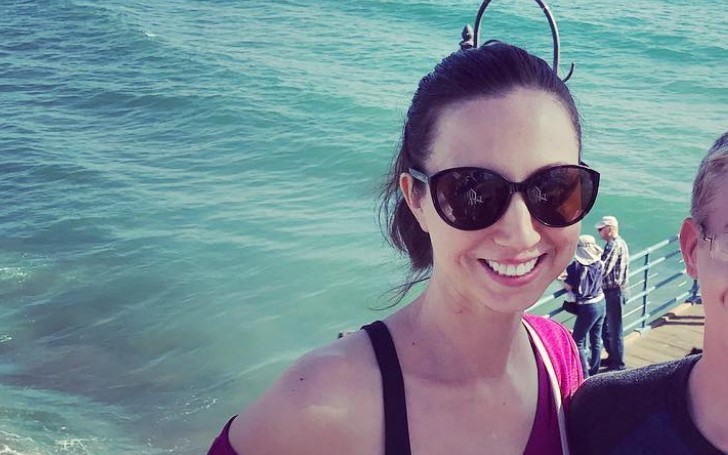 Here's what you should know about Chrishell Stause's sister, Shonda Stause.
Chrishell Stause is an American television personality, real estate agent, and actress who is known for her work on the Netflix reality show 'Selling Sunset.'
Chrishell has tried her hands on acting as well; she has appeared on shows like 'All My Children' as Amanda Dillon, and 'Jordan Ridgeway' on 'Days of Our Lives.'
While talking about her background, Stause was born in Missouri, and the television personality attended Murray State University from which the actress received her B.A. in Theater in 2003.
Chrishell started her acting career from the ABC series, All My Children, in 2005. In April of 2013, Stause got her roles on the NBC series, Days of Our Lives.
We assume you all know about Chrishell's excellent television career, and we also suppose you are aware of her recent divorce with her former husband, Justin Hartley.
Also Read: Why Did Justin Hart File For Divorce? Here's What We Know
There's been news that Chrishell was heartbroken following the split from Justin, but her sister was there to rescue her and take out of that gloomy phase. So, who is Chrishell's sister? Let's find out.
Chrishell Stause Lives With Her Sister Shonda Stause Now
As we all know, Chrishell Stause went through from a rough patch recently following her split with 'This Is Us' star, Justin Hartley. Her divorce was extensively profiled on the third season of 'Selling Sunset.'
For those of you who haven't completed the series yet, whatever we are going to say next may contain some of the spoilers from the third season.
Stause's reality show does a nasty and gut-wrenching work of profiling the experience of Chrishell going through a divorce, and that's so public.
During the interview with the LA Times, Stause, Chrishell said,
"It was a little bit of a struggle for me to decide to go forward and have the cameras there for these really raw moments. But I am really, really, really proud of my second career in real estate. So I thought if I was losing something that I thought was half of my life, how is it going to help me to throw away the other part of my life that I've worked so hard to build? If I walk away from that too, what am I left with?"
Also Read: Who is Chrishell Stause Boyfriend Now? Is There Someone New After Her Split?
The former husband of Chrishell texted the news of their divorce, which was really harsh to see even, how can someone do such a thing! But after the text, she left the house with just a suitcase and moved on to live with her sister, Shonda Stause.
Who is Shonda Stause?
Shonda Stause is the elder sister of Chrishell Stause. The sister of the reality television star is from St. Louis, and we got to know a lot about her when the show profiled a detailed life of Stause following her divorce.
Shonda's family proved to be Chrishell's touchstone to envision her future in a more positive light. During Chrishell's trip, Shonda said,
"Sometimes in L.A., we get too caught up in things that are supposed to matter that really don't and being here, this is exactly what I think really does matter and really is something to be so proud of."
Stause added,
"They have been married so long, and they have this beautiful family. I just think it's really hard to be around because that's what I wanted, and that's what I realized I don't have, but it helps me be inspired to know that it might be out there. It just may take a different path than what I was thinking."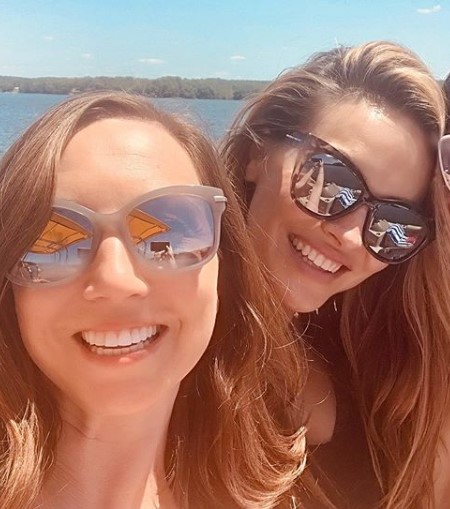 Shonda Stause is the elder sister of Chrishell Stause. She made a brief appearance of Selling Sunset as well.
Photo Source: Chrishell Stause's Instagram
Following Shonda's appearance on the show, people love Chrishell's sister. This is what people are saying,
"Chrishell's sister, Shonda in #SellingSunset is an absolute world treasure. Going to support her small business because she needs to be taken care of too!!"
In fact, and some fans noticed it, Shonda made a brief appearance in season 1 of 'Selling Sunset' when the sisters meet for lunch, and Stause discusses her new job. People just can't get enough of Shonda, and their goodbyes at the airport made many people cry. They hope to see Shonda Stause on season 4 of "Selling Sunset" if they are ever going to make it.
You May Also Like: Who is Justin Hartley's Girlfriend, Sofia Pernas? Here are Some Facts You Should Know
For more information on your favorite celebrities' lifestyle and other news, stay tuned to Glamour Fame.
-->