Christine Bullock and Her Husband Robert Simon Adoption Story
Published Mon Apr 27 2020 By Eric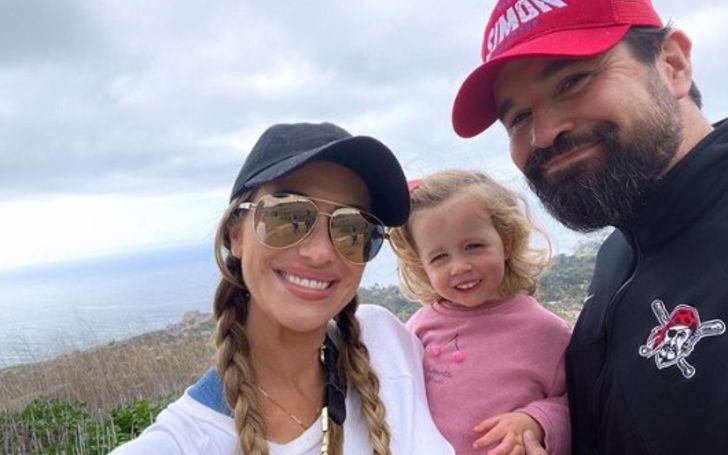 In our previous article on fitness and beauty guru Christine Bullock, we talked about her charming husband, Robert T. Simon, and his lovely family. Further, we also shared some glimpse of the troubles they went through for expanding their family.
If you guys been on that page and read about her, then you might have the idea of what we are talking about? The unbreakable couple, due to some reasons, couldn't give birth to their baby. It created frustration inside them, as it was something that many people do by accident, but even though they were committed and ready to welcome a newborn, they were facing problems.
However, Christine and her beau Robert never gave up and are about to welcome a cute angel in their house. After going through our recent article on Bullock family, you guys might also be aware that it wasn't an easy road for them. They faced a lot of obstacles on the way they tried a lot of things. They even has a baby girl, Remington, in their life who they adopted in their family, but you will gain more insight into the adoption story of the lovebird's Bullock and Simon if you keep on reading. So, stay tuned until the end.
Christine Bullock and Her Husband Robert Simon, Almost Ten Years Fertility Journey
Christine Bullock and Robert Simon, both of them, are quite a celebrity in their field. As we mentioned, Bullock is into fitness and teaches the world to stay healthy; further, she is also an entrepreneur who developed a brilliant product Kayo Body Care. On the other hand, Simon is an attorney and deals with several legal issues.
The beautiful couple Bullock and Simon, have a beautiful family.
Photo Source: Instagram of Christine Bullock
Both of them are pretty much occupied with their professional life; however, they do make time for each other and their family.
Bullock and Simon Life before Adoption
After some time from their happy marriage life, Christine Bullock and Robert Simon decided they were ready to welcome their first newborn. However, they were unaware of what was coming. In one of the Bullock blogs, she shared her experience on continuous failure in conceiving a baby and how those moments made her relationship stronger and increased her faith in God and miracles.
The couple shares a wonderful time as a couple together.
Photo Source: Instagram of Christine Bullock
Fitness educator Bullock and her partner began seeking fertility specialists when they couldn't conceive a baby after marriage. Whenever Christine wasn't getting regular periods, they would visit their doctor for IUI. They put hormones on her body to increase the chances of fertilization, which never worked.
You Might Also Like: Sierra Furtado Boyfriend - Find Out If the Tik Tok Star is Dating Someone Or Still Single
The pair tried the same procedure for about three years; still, there were no results. When the treatment didn't work out, the couple also sought natural remedies and several herbs. Christine visited four different acupuncturists, which all turn down into a disappointment.
KAYO BODY CARE CONCENTRATED FIRMING SERUM
Battling with tons of failure, the lovebirds visited 3rd fertility doctor who disclosed the main reason behind their problem. Bullock has a medical condition hypothyroid, which caused her to have irregular periods and disturbed her body to produce quality eggs to get pregnant.
Recommended: Ansel Elgort Girlfriend - Is the American Actor Dating Someone?
Dealing with daily treatment and no outcome made them tired, and Christine and Robert decided to halt the procedures and save some eggs. They went all-in with IVF implantation, which also didn't give them a happy ending, and the lovers went for adoption.
Bullock and Simon Life During Adoption
Like the quote says, "What doesn't kills you makes you stronger," the ups and downs Christine Bullock and Robert Simon faced as a couple on the way to become a parent provided new insight in their life. Both of them grew up to become better partners to each other.
Even though all of the strategies to get pregnant didn't work, they frequently kept up with IVF. After five years of their fertility journey, the couple decided to fulfill their life long wish by adopting a cute angel Remington aka Remi Rain.
Now, before lifestyle coach Bullock knew she would face such hurdle in her life to enjoy her life as a mother, she always wanted to adopt a child in her future family. It was also one of the reasons she broke-up once in the past with her ex-boyfriend and married her present hubby Robert Simon. The couple both were open about adopting from the beginning of their relationship.
Also See: A Brief Introduction to Jeff Foxworthy Family - Let's Find Out About His Wife and Kids
The lovebirds went to Vista Del Mar began their private adoption process, which was a little daunting and scary, but they just jumped in without thinking much about it. They met several families in the procedure of adoption and told their love story. The process not only helped them to win the heart of their daughter's parents but also assisted them to reassure their love as a couple.
Remington Rain is the cue daughter of Christine Bullock and Robert Simon.
Photo Source: Instagram of Christine Bullock
After couples of rejection, within six months, Bullock and Simon got picked by the birth parents of their daughter Remington Rain, and all of them welcomed her on April 4, 2017. All of them now enjoy a happy life, and the Bullock family is about to welcome a new member in their life.
Bullock and Simon Life After Adoption
Christine Bullock and Robert Simon's first-child, Remi Rain, entered in with tons of surprises, laughter, and peace in their life. She opened a brand new door in their life filled with abundant joy. After some time, they also found their adopted daughter half-sister, who just lived 15 minutes away from their house.
In only one month of their adoption, Bullock finally got pregnant but ended up miscarriage that pregnancy to give their whole time to Remington. However, the pair are now blessed with an infant who is growing in the womb of Bullocks.
You Might Also Want To Know: Kacey Musgraves and Her Husband Ruston Kelly - Find Out About Their Married Life
The fitness queen Christine keeps her followers update with her experiences and share her daily life as a pregnant woman through her Instagram post. Soon their long fight will come to an end, and they will be a happy family of four, which will be pleasing to see for all of their lovers and supporters.
For more details on your favorite celebrities, feel free to visit Glamour Fame.
-->