Who is Colt McCoy's Wife in 2020? Here are Some Facts to Know
Published Tue Dec 22 2020 By Bran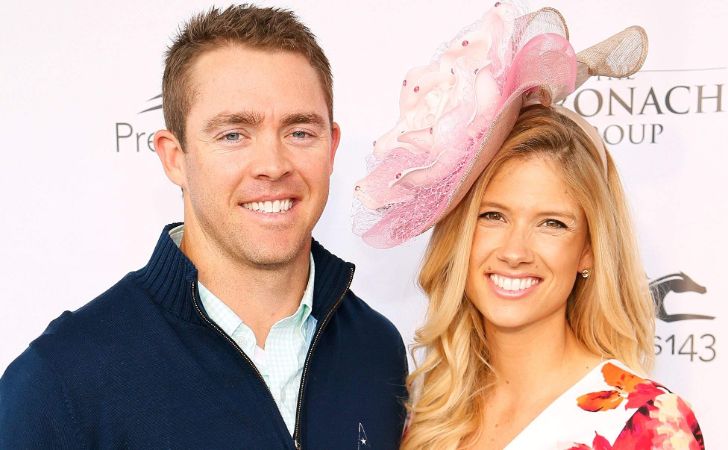 Colt McCoy is one of the NFL's top quarterbacks for the past decade. Know about his married life with his wife.
Colt McCoy was one of the hyped signings for the New York Giants in 2020, and the athlete proved his worth quite right in their last match.
An injury prevented him from making a proper impact, but the athlete was able to make his mark in his second match against the Seattle Seahawks, where he threw for 105 yards and led them to his first win since 2014.
Thirty-four years of age, Colt McCoy doesn't have much to prove, considering how he spent the past decade at the very top in NFL for some top sides like Cleveland Browns, San Francisco 49ers, and the Washington Football Team.
While it's not new for him to switch football teams, he is a loyal man when it comes to marriage and love life. Stay right here as we bring you all about his decade long married life.
Colt McCoy and Wife Rachel McCoy's Romantic Setup To Marriage
Colt McCoy and Rachel McCoy share three adorable kids.
Photo Source: Culturemap Houston
Colt McCoy's personal life is equally intriguing and successful as his footballing career. His dating history with his current wife, Rachel Glandorf McCoy, is no less like a romantic Hollywood blockbuster.
Colt wasn't a big star as he is now at the moment when he first started going out with his partner. Interestingly, destiny did its work as the love birds first met when Rachel worked at a local Austin television station as an intern.
Recommended: Gwyneth Paltrow's "Intimacy Teacher" Backs Her Decision Not To Live With Her Husband Brad Falchuk Full Time
As Colt McCoy and his girlfriend Rachel dated for several years, the connection between them solidified, leading them to get married.
Initially, it was the Texas-based quarterback who went down on one knee to propose Glandorf to a marriage on January 12, 2010, in a video scoreboard at Darrell K Royal-Texas Memorial Stadium. After several months of intense preparations, they eventually tied the knot in an intimate wedding ceremony on July 17, 2010.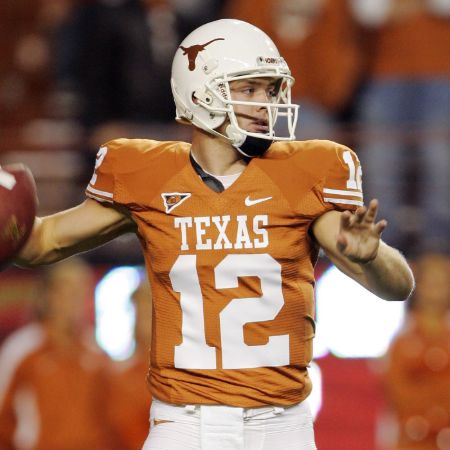 Colt McCoy and Rachel McCoy tied the knot in July 2010.
Photo Source: SB Nation
Colt McCoy and his wife Rachel McCoy celebrated a personal milestone with their tenth marriage anniversary in 2010. To this date, they are blissfully married with three children. Two of them are daughters, and one is a son.
They look perfect for each other, and there is not even a single hint that a divorce might ever come between them. They gave birth to their third child on July 10, 2018.
Colt McCoy's Girlfriend A Former Athlete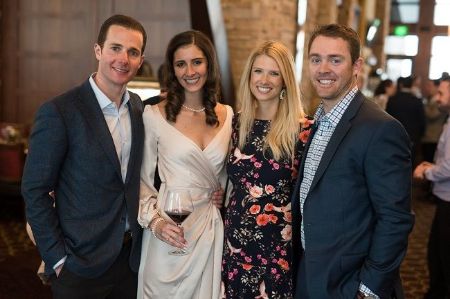 Colt McCoy and his wife celebrated their tenth marriage anniversary in 2020.
Photo Source: Biography Mask
As Colt McCoy grew popular with his endeavors in the NFL, his fan-following started to poise great interest in the life of his partner, Rachel McCoy. His spouse does have a sporting history as she was a distance track and field athlete for Baylor University.
Also See: Grab All The Exciting Facts About The Lowkey Girlfriend of Najee Harris.
As per Dallas News, Colt's wife, Rachel, was born in the city of Pasadena, California. Despite that, her academics I high school was in Vail. In recent times, the pair live at their lavish house in New York, following McCoy's move to the Giants in 2020. Before that, the duo lived in Washington and Texas.
Related: Who Was Cicely Tyson Husband? Is He Alive?
For more news and updates about your favorite stars, please stay connected with us at Glamour Fame.
-->