Comedian Hannah Gadsby Set To Release 'Douglas' Netflix Special in 2020
Published Tue May 14 2019 By Jessica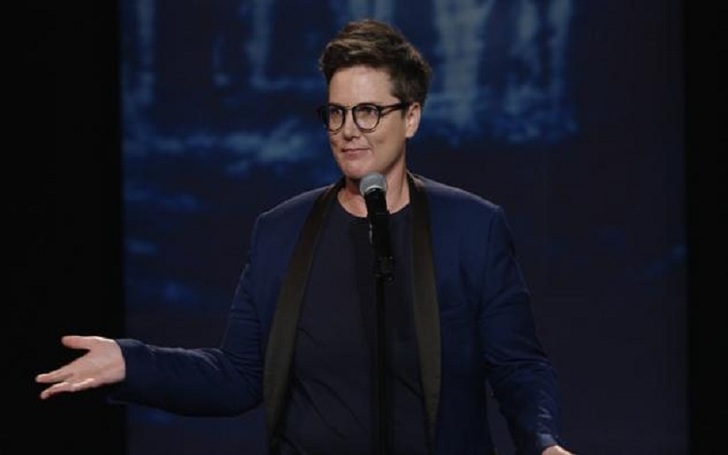 Hannah Gadsby's new Netflix special 'Douglas' set to be released next year.
Award-winning comedienne Hannah Gadsby is all set to make a comeback with a grand new project on Netflix.
Following the success of 'Nanette', a similar stand-up comedy titled 'Douglas' which was premiered at the Melbourne International Comedy Festival in April is bound to be released in 2020.
Recommended: Lego Announces A Harry Potter Advent Calendar
Gadsby who couldn't be more excited to share the news announced at the recent Netflix's FYSEE event where she attended.
Hannah Gadsby announces she is returning to Netflix.
SOURCE: Mashable
In her words, the Aussie star told Variety: ""I'm so excited to announce today that Douglas will be released on Netflix in 2020, I'm really enjoying touring with the live performance, but there will be places in the world that I won't be able to visit, so it's wonderful that Netflix will bring the show to every corner of the globe."
The 41 years old author also spoke on her experience on the set of 'Nanette' which premiered on the largest movie and tv series streaming platform in 2018.
Speaking of her hit comedy Nanette which was filmed at the Sydney Opera House and Douglas, Gadsby doesn't seem to care whether her upcoming special will reach the same height of success in compared to Nanette or not.
Don't miss: Breaking Bad? Todd Chrisley's Son Kyle Arrested For Possession Of Meth!
"'Nanette's' her own beast. I've pretty much just set up camp in 'Nanette's' shadow and this is where I live now. he thing about 'Nanette' is, I've said what I had to say in that moment, so that's what I've done with 'Douglas' and I'm just speaking to where I am in the moment, and a lot of where I'm at, at the moment is in the wake of 'Nanette.' she told Variety.
However, Gadsby wants her fans to stay humble and not expect much from her upcoming special although she simultaneously believes they won't meet any disappointment.
Whilst it's not known yet what 'Douglas' will be all about except for autism diagnosis, Hannah says she will be addressing of all the things she's passionate about, in similar to Nanette.
Hannah previously suffered bullies regarding misogyny, homophobia and her unique ways of story exaggerating technique.
The 'Please Like Me' actor is currently busy on her American tour titled 'Douglas', named after her favorite dog - she regularly updates on her Instagram.
Also see: Children Left Sobbing After Movie Theatre Plays Horror Film Instead Of Detective Pikachu
The tour kicked off on 29th April and will terminate at the Daryl Roth Theater, New York after four weeks run.
-->