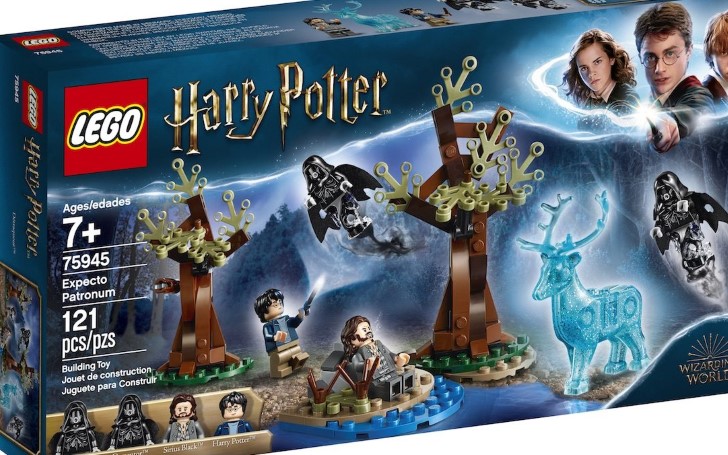 LEGO just revealed a Harry Potter advent calendar.
LEGO recently announced a new "Harry Potter" advent calendar for 2019, and it looks like possibly the best thing from the house of interlocking toys.
Earlier today, the Danish company announced the news through a Facebook post, and people are already going psyched about it.
One of the potter heads said: "Great to get for December but I feel it should have Ron in this set to go with Harry, have Xmas Ron with his R jumper and Harry with his H jumper", while another expressed: "Holy forking shirt balls if I don't have one of these I will cancel Xmas!!! Xxxxx".
LEGO is also classifying the "Gryffindors" from the "Slytherins" with its brand new Harry Potter line for 2019 along with the likes of Star Wars LEGO, as well.
Star wars recently celebrated 20 years of collaboration with LEGO, all while the wizarding world is getting another plastic bricks rendition.
The new lego set also features the figurines for that famous knight bus scene from the movie, Harry Potter and the Prisoner of Azkaban.
In the new set, you can build the likes of "Knight Bus" and "Hogwarts Clock Tower". These five latest collections are based on the movies, Harry Potter and the Prisoner of Azkaban and Harry Potter and the Goblet of fire.
The Expecto Patronum! (£19.99) set themes the iconic Prisoner of Azkaban scene where Harry sees the Stag Patronus. It contains "Sirius Black" from "Dementors"; two trees (with the larger one standing 50inches high, 3-inches wide, and 1-inch deep), Harry (with his wand), and is also the first time the Patronus has been made in LEGO form.
The Expecto Patronum comes at a price of £19.99.
Elsewhere, the "Hungarian Horntail Triwizard Challenge" (2-inches high, 10-inches long, and 13-inches wide, worth £29.99) remembers the famous dragon challenge from The Goblet of Fire and comes with Harry Potter, Viktor Krum, Fleur Delacour, and Cedric Diggory minifigs.
Hungarian Horntail Triwizard Challenge remembers the scene from Harry Potter: The Goblet of Fire.
The feat also includes The Knight Bus (£34.99) from the prisoner of Azkaban. The legendary vehicle is made in a vibrant purple and includes miniature figures for Harry Potter, "Stan Shunpike", and "Ernie Prang". "Hagrid's Hut: Buckbeak's Rescue" (£49.99) laments Buckbeak's execution scene (pumpkins included). The Hagrid's two-section buildable hut measures over 6-inches high, 9-inches wide, and 4-inches deep.
Each set of the Hagrid's two-section Buildable Hut comes with the 496-pieces.
"Hogwarts Clock Tower" (£84.99) boasts an impressive 922 pieces and stands at over 13-inches tall, 13-inches wide, and 7-inches deep. Likewise, the "Hagrid's" two-section buildable hut measures over 6-inches high, 9-inches wide, and 4-inches deep.
The Entrance Hall of Hogwarts Clock Tower also comes with a chest and the Goblet of Fire.

The inside is provided with a desk with a chair, candle, chest, chocolate frog, Daily Prophet newspaper, a spider, two chairs, buildable armchair, chimney with light brick, egg in a bowl, bag, display case, Hagrid's pink umbrella, shovel, teapot, spoon, pan, meat cleaver, lasso, broom and a bucket, lantern, axe, three wands, the Minister of Magic's hat, and a removable chain for Buckbeak.
Last year, LEGO released a 6,000-piece for Hogwarts Castle.
The last iteration of Hogwarts Castle was available for $399.99 in the US, £349.99 in the UK and AU$649.99 in Australia. Some are, of course, criticizing the price, while some claims the simulation is worth every penny.
Recommended: Will 'Harry Potter And The Cursed Child' Movie Happen?
In addition to four mini-figures for "Godric Gryffindor", "Helga Hufflepuff", "Salazar Slytherin", and "Rowena Ravenclaw", there are another 27 micro-figures including the likes of Harry, "Ron", "Hermione", "Draco", and "Dumbledore".
The new supplements are sure to be a hit. In particular, the Hogwarts Clock Tower can relate to existing Harry Potter like the Hogwarts Great Hall and Whomping Willow sets. The big representation of Hogwarts Clock Tower holds the figurines for Harry, Ron, and Hermione, "Fleur Delacour", "Cedric Diggory", "Viktor Krum", "Albus Dumbledore", and "Madame Maxime".
You May Also Like: Harry Potter Star's New Movie Is Already Receiving Great Reviews
All these sets will have their launch date on June 1 and the Advent Calendar will be available on September 1, 2019.
The Advent Calendar comes with 305 piece-set (worth $39.99) and is primarily based on Christmas theme.
The Advent Calendar set comprises of a micro Hogwarts Express train, buildable fireplace featuring Christmas decorations, a Great Hall table with accessories, and a statue pedestal with the four Hogwarts house crests.
-->