Meet 'Harriet' Star Cynthia Erivo; Facts about the Nigerian-Born English Actress
Published Fri Feb 14 2020 By Matthew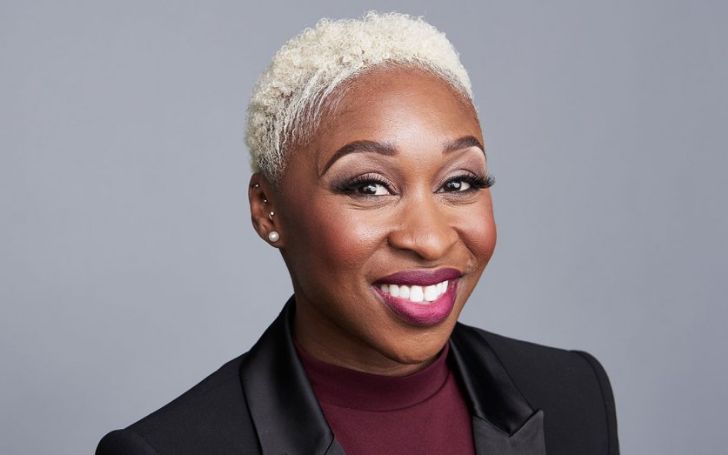 Here are all the facts that you need to brush up on about the Nigerian-English actress Cynthia Erivo!
Cynthia Erivo might just be a name that you've never come across before but it's time that you update yourself about the actress. Cynthia came very close to winning multiple awards for her performance in the biopic 'Harriet' but Renée Zellweger stepped right up and snatched them all. Nevertheless, Erivo's appearance in the 2019 American biographical film hit all the right notes.
Watch: HARRIET | Official Trailer
In all honesty, the actress came up less than a decade ago so it's easy to miss out on all that she's achieved unless you run around the same circle. But right now might be the best time to brush up you intellect with a few Cynthia Erivo facts considering how she's shot across the universe of fame. Here are all the facts about 'Celie' from 'The Color Purple' play.
Cynthia Erivo is of English Nationality
Cynthia Erivo arrived in this world as Cynthia Onyedinmanasu Chinasaokwu Erivo on January 8, 1987 in Stockwell, a district in South West London, England. Born to Nigerian parents, Erivo was raised by her mother, a nurse who always felt it in her guts that her daughter was destined for a life in acting.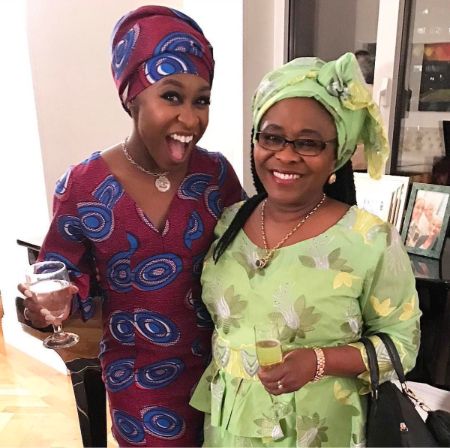 Cynthia Erivo's mother encouraged her to follow her passion.
Source: Twitter
Revealing what her mother said, Erivo told the New York Times,
It was no surprise to her when it did happen because she kind of already knew. And so when I said to her that I was going to be an actress, I was going to sing, she said, 'Good, make sure you work hard.'
Erivo clearly received unparalleled support from her mother in terms of her career.
Cynthia Erivo's Nationality Raised Criticism When She Got Her Part In Harriet
Despite coming from Nigerian decedent, Cynthia lived out most of her childhood in London. This was the very reason she faced backlash for when she set out to play the role of 'Harriet Tubman'. Harriet, America's most iconic civil rights fighter, played by a British woman rose condemnation from a lot of critic.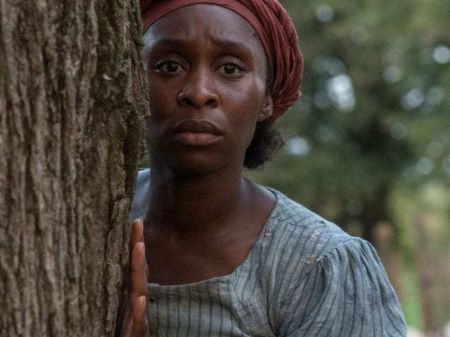 Cynthia Erivo faced backlash when she set out to play the role of 'Harriet Tubman'.
Source: Accelerate TV
Rising above the hate, Cynthia proved her worth as best as she could and ended up receiving nomination for Academy, Golden Globes and Screen Actors Guild Awards. Before the project began Erivo exclaimed in an interview with Deadline that she would rather tell this story well, do it justice, and hopefully some minds would change.
Recommended: American Actress Melissa McCarthy - Top 5 Facts
Needless to point out the fact that the 33 years old actress put her heart and soul in the project and a masterpiece was brought to life.
Cynthia Erivo is Also an Amazing Singer and Songwriter
If you watched the 2019 biographical film Harriet, the you definitely noticed the lead single from the soundtrack; Stand Up. Well the kicker is that the leading lady of the movie not only just sang the song but also co-wrote it alongside Joshuah Brian Campbell.
Watch: "Stand Up" - Official Lyric Video - Performed by Cynthia Erivo
Cynthia Erivo is blessed with a beautiful voice and amazing talent of creating beautiful music and she's for sure made most of it. A very keen music enthusiast, she also draws inspiration from touching lyrics to bring her characters to life. Erivo also confessed that she made used of a song called 'A Good Goodbye' by Lianne La Havas to channel a wide range of emotions for the scene where her character learns that her sister had passed away.
You Might Also Like: Veteran Quarterback Terry Bradshaw Married Four Times; Facts about his personal life
The Stand Up singer also gave out many other monumental musical creations that are well loved by a huge fan base.
Cynthia Erivo Began Acting at The Age of 11
Sure of where her passion truly laid, Cynthia set out on the journey of her professional career as an actress at a very early age. By the age of 11 Erivo got up on U.K. stages which eventually led her to stints doing reality TV. Initially enrolled in music psychology while in college, she moved on to prestigious Royal Academy of Dramatic Art.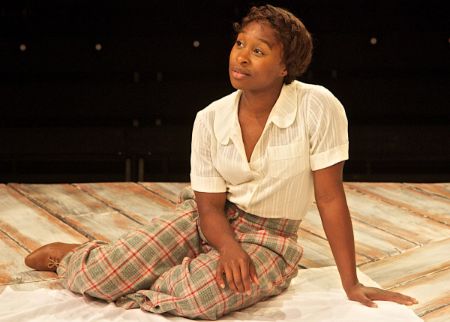 Cynthia Erivo as 'Celie Harris Johnson' in the theater production 'The Color Purple'.
Source: Whats On Stage
Cynthia's next big step came when she turned to Broadway and gained immense success. While in mid touring production of 'Sister Act' she heard the news of 'The Color Purple' premiering in London and turned all her attention to it. Eriov's accomplishment as 'Celie Harris Johnson' in the theater production 'The Color Purple' is a milestone of her career.
Cynthia Erivo Received her Breakout on The Silver Screen From 'Widows'
If you're planning to follow the actress more thoroughly, then you should probably begin with the 2018 heist film 'Widows' directed by Steve McQueen. This was Cynthia's first breakout movie on the big screen. Starring opposite Viola Davis, she was specifically chosen for the role by Steve McQueen himself.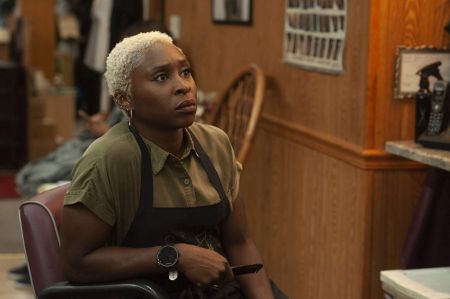 Cynthia Erivo got her silver screen breakout from 2018 heist movie 'Widows'.
Source: IMDb
Cynthia then went on to play the role of Darlene Sweet in the 2018 movie 'Bad Times at the El Royale' before finally bringing the life of Harriet Tubman on screen. The make or break moment of her career proved to be her biggest success yet and now there's no looking back for her.
Also See: Stephen Sondheim Set To Perform With Jason Robert Brown At Town Hall
Tune in to Glamour Fame for more celebrity facts, and don't forget to sign up for the newsletter.
-->