Dancing With The Stars' Christie Brinkley Injury - Is It Real Or Fake?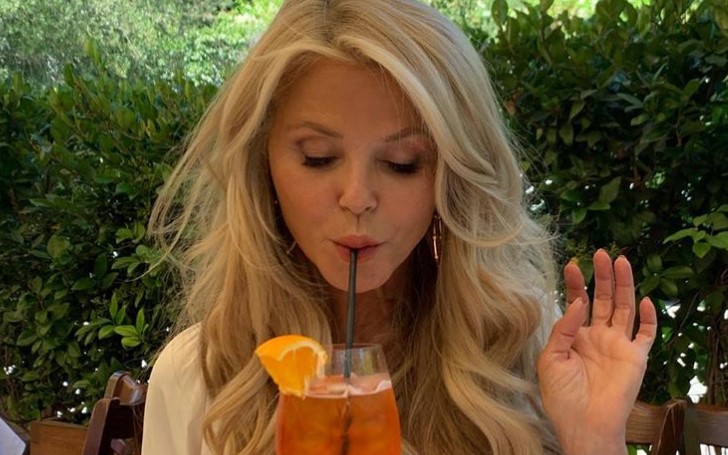 Wendy Williams claims Christie Brinkley's injury is fake.
A very unfortunate turn of events forced Christie Brinkley to leave 'Dancing With The Stars' following injuries on the wrist and a shoulder.
The star fractured her wrist and a shoulder while practicing over the weekend. In the footage aired on the 'Good Morning America,' Christie, 65, is seen thrashing on the floor after a slip.
Watch: Christie Brinkley Breaks Arm in 'DWTS' Rehearsal
This led star to quit the show following multiple fractures, Brinkley said, "I just broke my arm into a 1000 pieces, requiring surgery with a metal plate and screws to hold my arm together."
The star further added, " I'm so sorry if I've disappointed anybody! Only something as bad as this could stop me from continuing to dance with my wonderful coach for @dancingabc … I was having a blast!!!!"
Well, it all looked real to us, and we could see the star was actually in pain, but there's someone who thinks this is all made up stories.
Wendy Williams - who gave her estranged husband a huge pay-off - of the Wendy William Show claimed this whole injury thing was 'fake as hell.' The host of the show criticized there's no way 'Dancing With The Star' contestant would have fractured her shoulder and a wrist.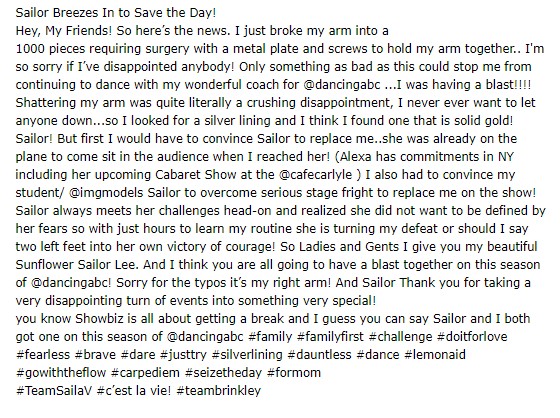 Christie's statement on her Instagram.
Source: ChristieBrinkley/Instagram
Williams - who hires a team to ensure her finances are secured - said, "Let me tell you what I see. What I see is 65-year-old hot stuff which looks like if you were going to fracture anything, you should have said the tailbone. I don't see a wrist and a shoulder being fractured, but that was real cute."
Wendy's claim is not vague at all; she speculated Christie plotted her injuries for a reason which seems pretty convincing to us now. The show right after her departure released a statement where the 65-year-old confirmed her daughter Sailor Brinkley-Cook - who is a model - would replace her on the show.
Wendy Williams thinks the whole injury thing is a plotted.
Source: Too Fab
Brinkley further said she had to convince her 21-year-old daughter to overcome severe stage fright to come in for her.
Brinkley's statement read, "Sailor always meets her challenges head-on and realized she did not want to be defined by her fears. So with just hours to learn my routine."
The Dancing With The Star contestant further added, "she is turning my defeat or should I say two left feats [sic] into her own victory of courage! … And Sailor, thank you for taking a very disappointing turn of events into something extraordinary!"
Sailor took to her Instagram to respond her mother's statement.
Source: SailorBrinkleyCook/Instagram
After the star's statement, Sailor took to her Instagram to respond to her mother's update where she pretended this whole thing came as a shock to her. But she kind of seemed like she always had planned for this as she said, "But all I can say is wish me good luck."
So, this is precisely what Wendy has been pointing out; she claimed the injuries were nothing but a plan to bring Sailor in the competition show. The host of the Wendy William Show even went on to claim the 65-year-old was on the competition show just to put her daughter on the show.
Well, the claims look valid, and we can't really deny what Wendy pointed out. There's no way the star could have fractured her wrist and a shoulder. All we can say is, Wendy is right. However, there's more confirmation yet to come from a hospital to verify the claims.
-->