Danielle Cohn Expresses Concern On Instagram For Her Friend Cody Who's Apparently Gone Missing; Fans Slam Her For An Extremely Inappropriate Picture!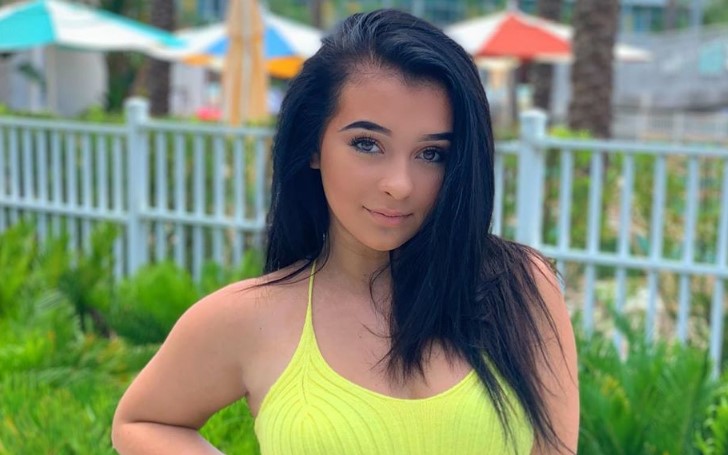 Danielle Cohn showed her concerns for lost friend, Cody Orlove, but fans did not like the manner in which she did.
Danielle Cohn, who once faked her pregnancy, took to her Instagram to show her concern for friend Cody Orlove, who is missing for the last two days.
The 14-year-old internet star on her Instagram post wrote, "We love you, @codyorlove, please pray for him, @zoexlaverne, and his family❣️."
That's completely fine, but what ticked off the people was her choice of picture. Dani, who tends to carry a habit of facing backlash from fans for her uploads on Instagram, posted a photo of herself lying on a bed, and she is seen wearing a red top, which is more than revealing to say the least.
We understand the internet celebrity is concerned about her friend Cody, but the picture seems entirely out of place. In fact, the upload she chose to show to the world is something people seem unable to digest.
Cody Orlove, an aspiring musician, is missing for the last two days. Subsequently, the fans are concerned about his whereabouts but did not like how Dani opted to go about the situation.
The outraged fans took to the comment section of Dani's latest Instagram post and began saying the worst thing possible, which obviously makes sense too.
One fan wrote, "I'm praying. But please, this picture is sinful.."
Another fan said, "not being rude but if ur gonna send prayers to someone it's not really "right" to be posting a picture like this..."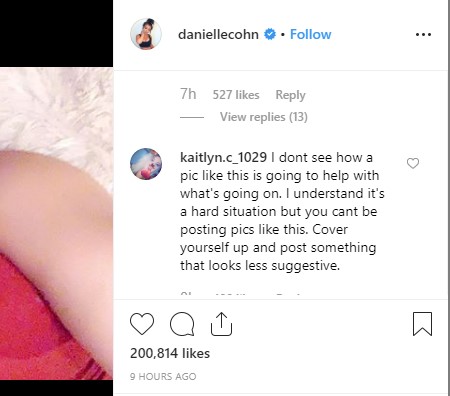 It's quite evident the fans are as worried as Dani, but all the complains appear to revolve around the same thing. Who in their right mind posts a picture as such when someone goes missing?
Here's what a fan said, "The picture doesn't even match the caption I-💀." Exactly our point.
Another fan wrote, "damn, she really can't keep the body covered for anything." This is true, in fact. No one needs to show their boobs when showing concern over something or someone.
And here's what next one said, "YOU'RE POSTING A PICTURE TO SHOW LOVE FOR SOMEONE MISSING AND YOU POST THIS TF."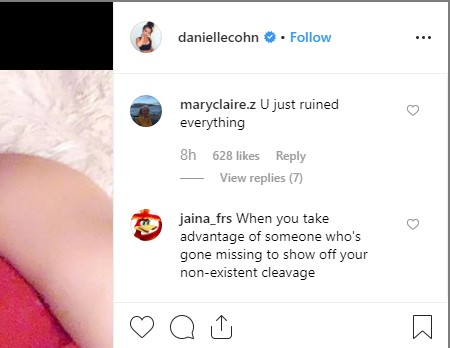 Seriously, why can't Dani understand there will come a time to post her raunchy pictures, and that's after when she turns 18.
We know, this little wretch is doing it on purpose to tick off people; maybe it's one of her strategies to get famous, but pulling bullcraps like this during tough times for someone is not cool at all.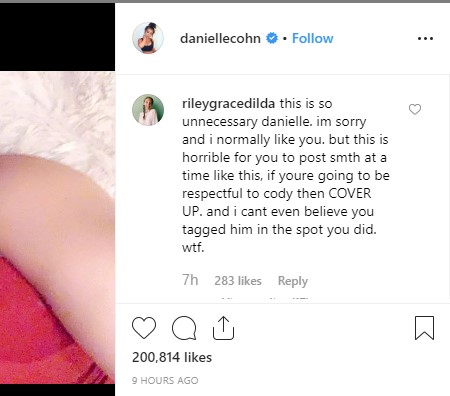 Cohn, who is a sixth-grade drop out, needs to understand the sentiments, and emotional trauma Cody's parents are going through. We know she is just being supportive and showing her concerns, but that's not how it's done.
What's Dani even trying to prove? This is utterly unacceptable for us, and everyone who saw Cohn's post.
-->