Demi Lovato Opens Up About Her "Darkest Moments" Amid Sobriety Battle
Published Thu May 16 2019 By Andrew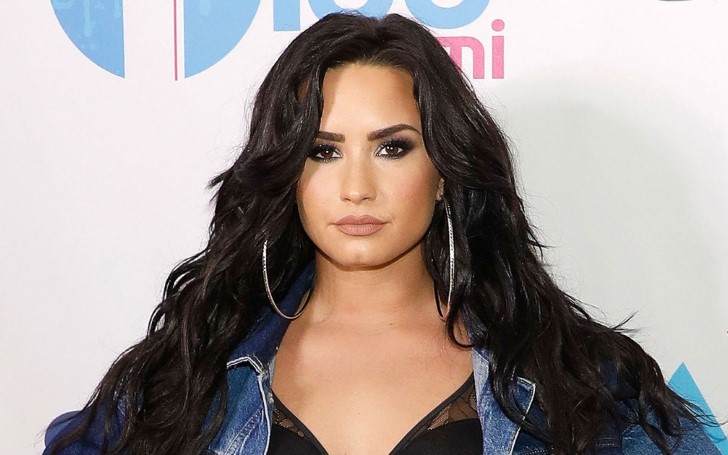 Demi Lovato breaks her silence about "Darkest Moments" following sobriety battle.
Fans were quite shocked and devastated when they heard the news that Demi Lovato checked into a treatment facility earlier this year.
Her best friends were the ones who stuck by her side and helped her through some of her "darkest moments." So in an attempt to thank the immense love and support provided to her, Lovato gave them a great gesture of appreciation.
Demi Lovato opens up about her darkest moments.
SOURCE: People
The 26-year-old singer broke her silence about her Darkest Moments through the process of sobriety and the importance of her friendship, particularly in the trying times following her overdose last July. Moreover, she took it upon herself to address the issues after making her way home from the recent vacation to Bora Bora with pals Sara Elizabeth Mitchell a.k.a. Sirah and Matthew Scott Montgomery.
The Heart Attack hitmaker thanked the pals for "never leaving me in my darkest moments" mostly "when I was going through s—." via an Instagram post on Tuesday.
Accompanying the sentimental address was the recent picture of the trio clicked in Bora Bora.
The singer went on to appreciate the efforts of her friends to shower her with love and support without any type of judgment while others left her side. To add up, the pop star also maintained that she is their greatest fans and that they have been great inspiration for her.
Lovato first let her followers in on the fact that she returned from her tropical vacation on Saturday.
While rocking a leopard-print bikini and stylish sunglasses and providing utter justice to it. Just slaying that pose in front of the South Pacific island beach, the singer looked stunning with her shoulder-length bob hairdo.
The possibility that the trip came as a celebration for Lovato's recent accomplishments is very high. In fact, her accomplishments include the new degree she received in Brazilian jiu-jitsu while also marking six months of sobriety. Furthermore, she went into treatment facilities following her near-fatal overdose in Los Angeles last July.
The entertainer who has had her share of struggles with addiction, mental illness, and an eating disorder, chose social media platforms as her outlook to come out about her journey after her overdose. She shared an update on her Instagram page on Aug. 5 about her health following her hospitalization on social media
Lovato wrote at the time,
"I have always been transparent about my journey with addiction. What I've learned is that this illness is not something that disappears or fades with time. It is something I must continue to overcome and have not done yet,"
She added, before praising her fans for standing by her through the difficult times.
"I want to thank God for keeping me alive and well,"
Back in February, reports were swirling around all over the place that Lovato had relapsed and re-entered a treatment facility.
Also read: Demi Lovato and New Boyfriend Henry Levy Confirmed Their Relationship With Sweet Kiss
Yet, a source close to the singer completely denied the actuality of the claims but did confirm that Lovato chose to check into a treatment facility on her own to continue working on her health.
The source maintained,
"She has not relapsed since she overdosed. She did recently go to a facility, but it was her own decision, it was one trip to a treatment facility for a few weeks outside of Los Angeles."
After making her way back to LA the rocker is taking care of herself and is in a positive place while working out and getting back in the studio to make music.
-->