Demi Lovato's Bora Bora Bikini Is The Hottest Thing This Spring!
Published Sun May 12 2019 By Alice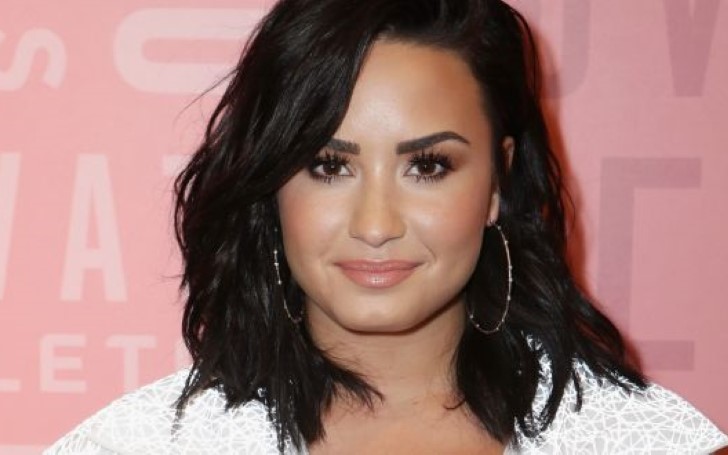 Demi Lovato sizzles in a leopard-print bikini during her getaway in Bora Bora!
Demi Lovato recently returned from a trip to Bora Bora and we're more than ready to see seductive snaps from her getaway.
The 26-year-old singer took to Instagram on Saturday (May 11) to share a couple of photos of herself posing in a high-cut leopard-print bikini during her tropical vacation.
Also Read: Demi Lovato Fires Back at Article Body-Shaming Her
Demi's definitely no stranger to sexy swimsuits, and this latest pick deserves a spot at the front of her collection.
Demi struck a couple of poses on a wooden dock with the gorgeous blue water in the background.
Lovato looked hot and sexy in a leopard-print bikini and stylish sunglasses, showing off her recent shoulder-length bob hairdo while posing in front of the South Pacific island beach.
Demi's high-rise swimsuit features a bandeau top with subtle cutouts, showing off her recent shoulder-length bob hairdo, flattering bottoms, sexy legs and a few of her Roman numeral tattoos.
You Might Also Like: Demi Lovato is Unhappy With Instagram For Allowing Fat-Shaming Ads On Their Feeds
In the first of the series of snaps, the "Sorry Not Sorry" star struck a couple of poses flaunting her curves on a wooden dock with the gorgeous blue water in the background.
The former Disney star stylishly tilted down as she rocks a pair of dark sunglasses with her hand purposely positioned on her head.
Demi Lovato flaunts her curve in a high-cut leopard-print bikini.
In her similar second snap, she looks over her sunglasses, directly into the camera with her hands pulling at the sides of her bikini bottoms.
Demi captioned the sexy photo album: "Just left what's possibly my favorite place on Earth with my best friends. Bora Bora is literal heaven on Earth.. I may be posting a lot of pics in the next few days.. I'm sorry in advance 😂"
This image also earned Demi a lot of attention from her 71.5 million-plus followers, with over 3.2 million likes as well as over 55.5 thousand comments and growing. Popular stars Hailey Bieber, Ashley Graham, and Normani were also among those who commented on the photo as "Hey hottie!" and "yes Gawdd."
The "Confident" singer lived her best sun-kissed life in Bora Bora alongside some of her friends. Demi Lovato aka Ddlovato ventured to Bora Bora with two of her close friends, Matthew Scott Montgomery and Sirah (aka Sarah Mitchell).
Besides sharing envy-inducing photos from her Bora Bora trip, the singer shared major news about her career. She made an announcement on Instagram that she hired Scott Braun as her manager.
Braun's SB Projects is home to a roster of more than two dozen music acts including Justin Bieber, Kanye West, Ariana Grande, Usher, Zac Brown Band, Karlie Kloss, and Tori Kelly, among others.
-->