Derek Hough Girlfriend - Who is the American Professional Dancer Dating?
We assume you are a fan of celebrity dancing reality show, 'Dancing With the Stars,' even if you are not, then at least you have heard of the show and also caught a few of its episodes. Since you already know about the show and its format, we would like you to introduce you, Derek Hough.
Derek Hough, who is also the brother of Julianne Hough, is the professional Latin and Ballroom dancer, who is better for his stint on the show, Dancing With the Stars. However, his talents are not limited to dancing alone; he is also an actor and singer. But if you ask, the choreographer has kept himself busy on the dancing show since 2017.
And certainly, there is an excellent reason why he is known for his stint on the show. The Latin and ballroom dancer won a record six seasons; moreover, the choreographer even won the Emmy Awards for 'Outstanding Choreography."
Also See: Bella Cuomo is TikTok Star - Find Some Intriguing Facts About Chris Cuomo's Daughter
While his career seems rocking from all sides, leaving no doubts, to be honest, there something more we wanted to know. What about his personal life, by personal we mean, is Derek Hough dating someone? let's find out.
Derek Hough is Dating His Girlfriend, Hayley Erbert
For many, people usually don't date or prefer not to date a person of the same career field. Well, if you did not know, it's a preference of many. However, that's not true for all too, though, and we see many celebrities falling in love with the person of their same career field.
Derek Hough is dating his girlfriend, Hayley Erbert. The couple met on the set of 'Dancing With the Stars."
Photo Source: Derek Hough Instagram
Similarly, Derek Hough is also dating someone from his same career field. Both Derek and his girlfriend, Hayley Erbert, are dancers and appear on 'Dancing With the Stars.' In fact, that's how their love story began; the couple met on the set of 'Dancing With the Stars."
More About Derek Hough and Hayley Erbert's Love Story
Hayley Erbert and Derek Hough started dating from 2015, the first time they saw each other on the set of 'Dancing With the Stars.' Things really took off for the two, and two fell hard for each other. As suggested by some reports, the couple has been together since then without any issues.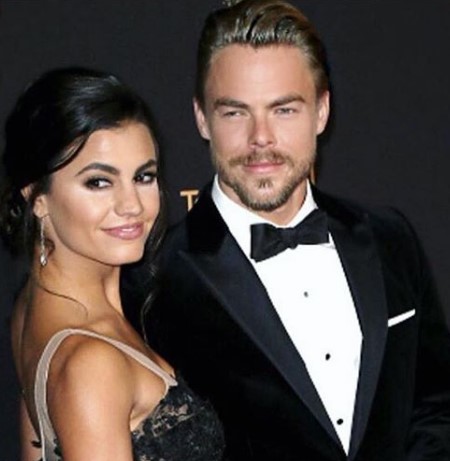 Derek Hough and his girlfriend, Hayley Erbert, are dating since 2015.
Photo Source: Derek Hough Instagram
Talking with one of the media outlets, Derek said, "She is really really grounded. She is just really down to earth, and just has a good heart and beautiful soul."
Well, it's apparent, Derek is genuinely in love with his girlfriend, but when asked how Hayley feels about Hough, her answer was not so different than Derek's. There are, apparently, talks going on the two getting hitched soon.
Well, on marriage too, it's Derek who seems excited. Hough once said, "I want to marry once. I want to be with that person that I love dearly. I want to get to know that person. I feel like, if anything, it's something that I don't feel like should be rushed into doing at all."
You May Also Like: Bhagavan "Doc" Antle - Some Facts to Know About American Big Cat Trainer and Wildlife Park Operator
For more information on your favorite celebrities' lifestyle, stay tuned to Glamour Fame, and don't forget to sign up for the newsletter.
-->