Devin Booker Sister: Who is She? Here's What We Know
Published Mon Feb 15 2021 By Bran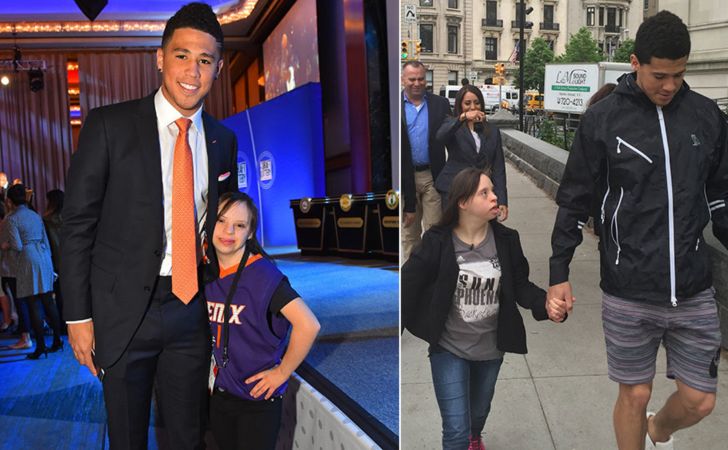 Who is Devin Booker's adorable sister? Know it all here.
Once you are associated with a reputed sports figure, especially in the NBA, there is a high chance that you become one too. Devin Booker is someone who belongs to the exact same category, as one of the aspiring stars in the basketball league for the Phoenix Suns.
The relation that his close ones, be it family or friends, have with him have played a vital role in giving enough fame to others as well. His sister, Mya Powell, became prominent thanks to his stature in the world of sports.
In the most recent times, Devin Booker has been providing regular news in the most attention-grabbing manners to the media, be it through his 36-point spree against the Philadelphia 76ers or his romantic affair with the dashing model, Kendall Jenner.
Despite his best efforts to hide his family and personal life details, his prominence got better of him, and it led his fans to know about his adorable sister, Mya as well. Stay here as we bring you more to it.
Devin Booker's Half-Sister Suffers From A Disorder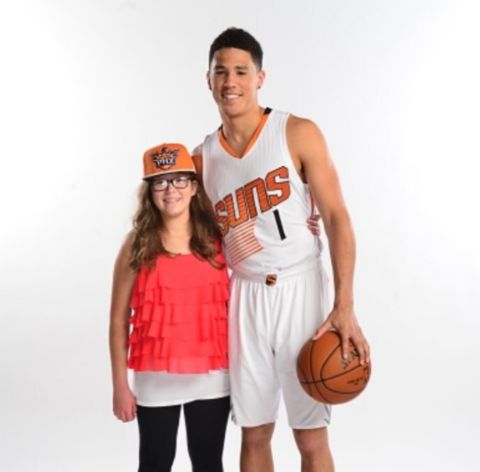 Devin Booker loves his sister Mya Powell, who suffers from chromosomal deletion syndrome a lot.
Photo Source: Gossip Gist
NBA superstar Devin Booker was never a fan of revealing his private life about his background and family to the public, but he couldn't help it when it came to his sister, Mya Powell. In fact, she happens t be his younger half-sister.
The 24-year-old athlete's sporty father, Melvin Booker, actually gave birth to his daughter with another woman, but that didn't let the basketball player love her. Despite not having direct blood ties, the two half-siblings remain extremely close.
Recommended: Is Tennis Player Thanassi Kokkinakis' Dating A Girlfriend In 2021?
Devin Booker pays extra attention to his younger sister, Mya Powell, mainly because she suffers from a disorder. Getting into the precise details, which might be quite sad, the celebrity sister has microdeletion syndrome.
Not many know this, but it is a condition triggered through chromosomal deletion that is smaller than 5 million base pairs, which span several genes. Such a tragic situation results in hampering Powell's physical and intellectual development.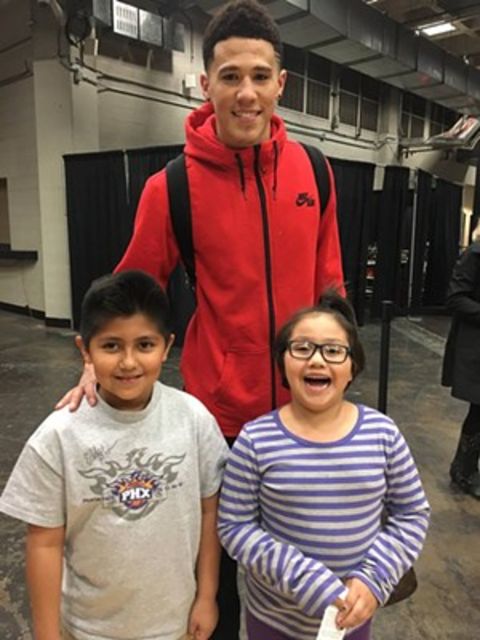 Mya Powell is the younger half-sister of Phoenix Suns' star Devin Booker.
Photo Source: Phoenix New Times
Many kids die at an early age through Chromosomal Deletion, but luckily nothing of such sort has happened to Devin Booker's lovely sister.
The 24-year-old shooting guard of Phoenix Suns owns a whopping net worth of $20 million, which helps him to pay for any treatment that his little sister Mya Powell has to go through. There is no doubt that the NBA player would go any distance to give his sister the best possible life.
Also, See: Who is Spencer Dinwiddie's Girlfriend In 2021?
Booker became a Special Olympics Global Ambassador in 2020, and he did give them credit for that to his sister, Mya Powell.
Devin Booker's Family Ties In Detail
Apart from fame and fortune as a basketball star, Devin Booker also a fair share of sympathy through his sister, Mya Powell's condition. Getting into the background of the 30th highest-paid players in the NBA, Booker is the son of a cosmetologist, Veronica Gutierrez, and Melvin Booker, a former point guard at Missouri.
Interestingly, his parents came from diverse cultures, with his dad as an African-American and his mother being a Puerto Rican. Thanks to his father, who comes from a sports background, Devin learned to play basketball from a young age and burnt the midnight oil to create a career out of it.
Devin Booker's sister Mya Powell is also a fan of the Phoenix Suns.
Photo Source: Sports Illustrated
Devin Booker was the only child that his dad Melvin Booker shared with his mom, Veronica. In fact, his father shared an affair with a mystery woman to give birth to the Suns' shooting guard's sister, Mya Powell. The Michigan-born star, who made his NBA debut in 2015, also has an older half-brother named Davon Wade.
Also, See: Who is Barbie Castro Husband? Here's Everything You Should Know.
For more news and updates about your favorite stars, please stay connected with us at Glamour Fame.
-->