Did Mackenzie McKee Really Abuse And Abandon Her Dog?
Published Thu May 23 2019 By Andrew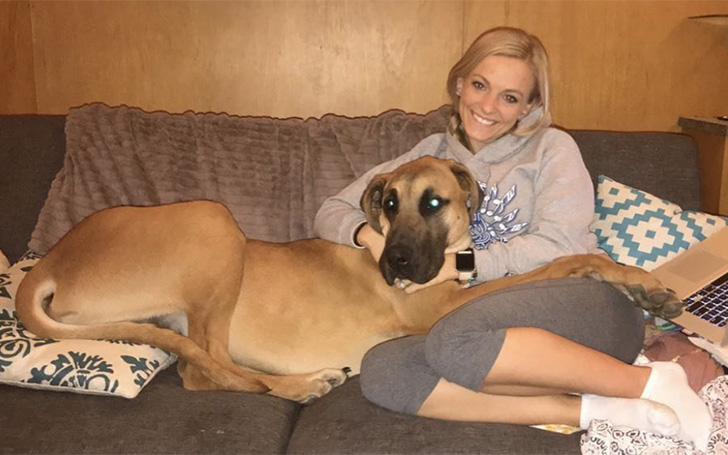 Was the dog really abandoned by Mackenzie McKee?
Another 'Teen Mom' star allegedly mistreated her dog and the criticism is soaring into new heights. Yet, the former "Teen Mom 3" star, Mackenzie McKee bashed the allegations and went on to claim that animal control only stepped in due to the threat of tornadoes.
The reality TV star opened up to TMZ about the actuality of the incident. Mckee maintained that her next-door neighbors in her Miami, OK estate, made an unnecessary report alleging her of leaving Hank, her Harlequin Great Dane, all by itself in the backyard left to face the hardships on its own while she went on a cruise in the Bahamas.

MacKenzie McKee is a prominent member of Teen Mom 3.
SOURCE: Daily Mail
Mackenzie insisted that the claims against her abandoning the dog was "total BS". The 24-year-old teen mom went on to add that her mom and other family members were tending to the dog on a regular basis while also cleaning the pen daily.
Although Mckee denies the allegations completely, the pictures that surfaced has a different story to tell. To add up, the photos showcased dog feces littering the pen thoroughly.
Hank stranded in his pen.
SOURCE: TMZ
However, Mackenzie stood by her claim stating that the picture was taken right after Hank pooped. The neighbors took it upon themselves to call animal control back on Monday, which removed the dog. Nonetheless, Mackenzie maintains that they did so just because there were tornado warnings in the area.
Unsanitary state of the dog's pen.
SOURCE: TMZ
Given all the back and forth arguments there is a heap of confusion building among the fans. Yet, the witness shed a different light on the issue. The neighbors dialed into animal control as a storm hit the city back in Sunday and as Hank was left stranded on the backyard, they felt bad for him. They went on to address the fact that he had been crying for 4 days and whimpering outside while lacking even a decent cover from the rain.
This surely isn't the first case of animal cruelty we've come across when it comes to a 'Teen Mom'. You might be quite familiar with the case of Jenelle Evans' husband, David Eason, in which he fatally shot her French bulldog and now is under investigation for animal cruelty.
-->