Donald Trump Hits Out At 'Fake Melania' Conspiracy Theory
Published Thu Mar 14 2019 By Tess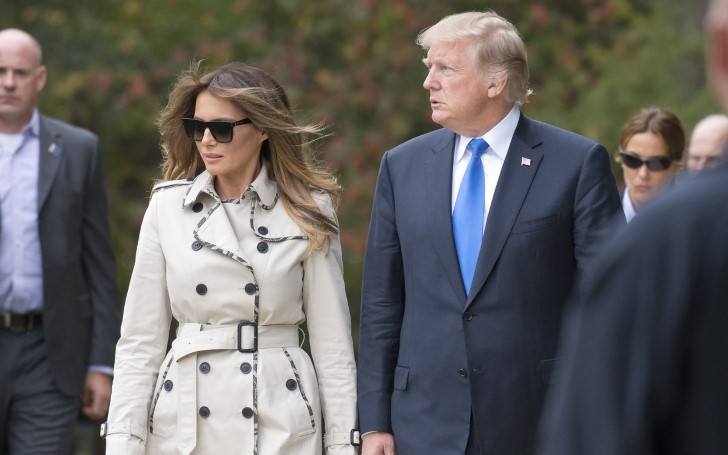 Donald Trump slams the 'Fake Melania' Conspiracy Theory.
On Wednesday morning, American President Donald Trump denounced a conspiracy theory about his wife Melania Trump.
The President took to Twitter to slam those claiming the first lady has a body double or widely known as Fake Melania theory.
Addressing the resurfaced theory following Trump's trip to Alabama last Friday, Trump tweeted, "The Fake News photoshopped pictures of Melania, then propelled conspiracy theories that it's actually not her by my side in Alabama and other places. They are only getting more deranged with time!"
In contrary to what Donald claims to be a photoshopped image, the latest evidence for the fake Melania theory was based on the photo by WSFA 12 News reporter Sally Pitts of the First Couple's visit on Twitter, in which they are holding hands before two of the crosses.
Twitter users soon began noticing something peculiar about Melania in the picture claiming the person beside the trump was, in fact, a body double of the first lady.
Read more: Johnny Depp's Bandmate Alice Cooper Slams Rumors Concerning Actor's Health
Trump first tweeted about "fake Melania" around an hour after Fox & Friends did a segment on the topic which was centered on criticizing The View which was the first to break the news about the newly found evidence of Fake Melania conspiracy theory.
Earlier on Monday, Melania's spokesperson, Stephanie Grisham also tweeted the criticism of The View's coverage.
Fake Melania first surfaced on social media during the fall of 2017, when a Twitter user posted side-by-side photos and video clips claiming the woman who appeared by Trump's side during a public event was not, in fact, Melania.
Don't miss: K-pop Sex Scandal Spreads; Second S. Korean Star Quits
The White House's lack of transparency regarding the disappearance of the first lady for nearly three weeks last year amidst questions about her health and her relationship with her husband further fueled the theory.
-->