Dove Cameron Tattoos - Everything You Need to Know
Published Fri Dec 27 2019 By Travis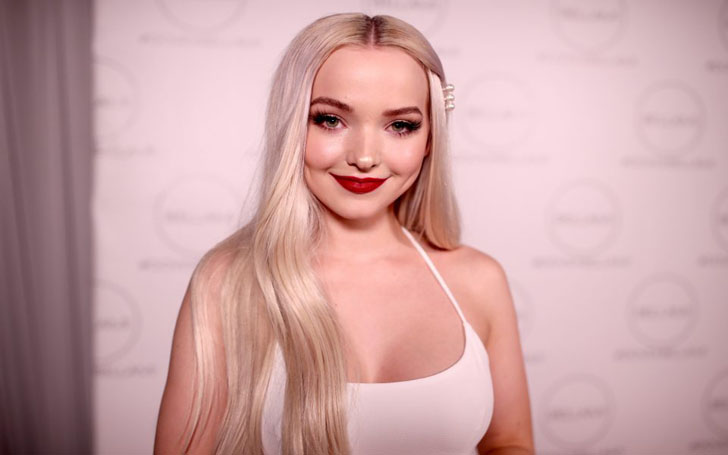 Since 2007 Dove Cameron's been one of the most recognizable stars to come out from the Disney stable. The actress started her career with the channel, and to this day, the image of a little Disney girl is with the actress/singer.
Dove Cameron is also known among fans for her portrayal of 'Mal' in the hit Disney series 'Descendants.' The actress found fame early on, and since then, she's been an exemplary member of the Disney family.
Dove Cameron is an actress who made her career on Disney channel movies and TV shows.
Source: Allure
Still, over the years, she's been an exemplary young influencer who is looked up to by many teenagers. The actress is also all about empowerment and taking back some of the negative symbolism against women. One of the ways she does it is by inking her body; the process of inking is not something she does for fun. Every single drop of ink on her body carries a meaning, and in a recent interview, the actress revealed the meaning behind the tattoos on her body.
Dove Cameron Tattoos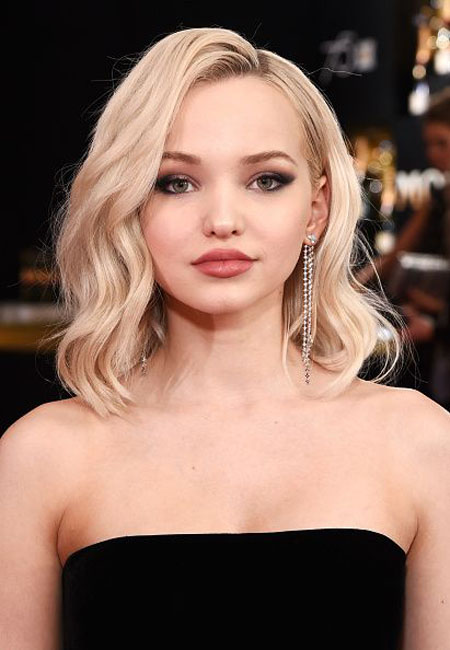 Dove Cameron's got ink all over her body.
Source:Yahoo
The actress is not afraid about inking her body, though it may seem as taboo to some when it comes to inking Dove Cameron started pretty young. The first ink she got was in school while she was only 14 years old. It was something she got from a friend of hers, Dove went to help another friend get a tattoo, and after seeing her scared, she went ahead and got inked herself.
Dove Cameron's tattoos are not extensive, and she seems to be one of those people who subscribe to minimalistic inks with big meaning. Most of the tattoos on her body are either letters or small symbols, and it is one of the reasons why we love them so much.
Dove Cameron's First Tattoo was a Capricorn Symbol on Her Hip
Dove Cameron's got zodiac signs on her hip.
Source: Instagram
Dove Cameron was helping her friend after she got scared of getting a tattoo, in order to make her more confident the actress went first, and for the first tattoo of her life, Dove decided to get her bikini line inked with a Capricorn symbol.
The reason for getting a Capricorn is pretty straightforward, the symbol is her zodiac sign, and she wanted the tattoo to be with her till she got old. There is also a Gemini sign on the other side of her hip, something she got in tandem with her then-boyfriend Ryan McCartan. Gemini was Ryan's zodiac sign, and it seemed like a good idea at the time, but whatever happened between the two, the actress does not regret getting the tattoo.
The Actress Got a Gun with a Rose Tattoo to Commemorate Her Friend Cameron Boyce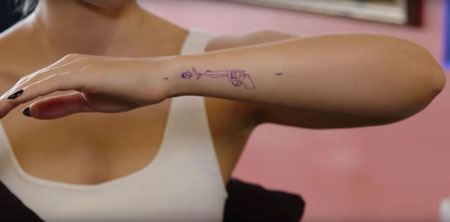 Cameron Boyce got gun and rose tattoo on her arm in honor of Cameron Boyce.
Source: Instagram
Cameron Boyce was a rising star who also made his career with Disney movies and TV shows, and the actor recently died on 6 July 2019. Dove Cameron was close with Cameron, and it was hard losing her friend, but she was also looking to commemorate the life Cameron lived, and one of the ways she thought to keep his memory fresh for her is by getting a gun with a rose tattoo on her arm.
The actress told Refinery 29, "My friend Cameron passed away a few months ago, and he was starting this organization called 'Wielding Peace.' He wanted to get influential people holding things that looked like they were in the shape a gun, but then it would be something artistic or peaceful. He did it with a bouquet of flowers, actually, and I think that that's really beautiful. I've been trying to think of a tattoo to get for him since he passed, and I just felt that this one was really appropriate."
Getting Double Wrist Tattoos During Her 23rd Birthday Party
The actress got some tattoos on her wrist during her birthday.
Source: Instagram
About a year ago, the actress was celebrating her 23rd birthday on 15 January, where she hired a tattoo artist to come to her party so the guests could be inked. Eleven of her friends got tattoos, and the actress also added to her impressive collection by getting two tattoos on her wrists.
The actress got a "IMMORTEL" tattoo on her right wrist and "À NAÎTRE" on her left wrists. The one on her right is a French word, which means immortal, and the one on her left is also French lettering, which means unborn.
Dove Cameron got both her wrists inked on her 23rd birthday.
Source: Instagram
In the same interview, the actress said, "I hired a tattoo artist to come to my 23rd birthday party in New York, and 11 people got tattoos at the bar. I got 'À NAÎTRE' and 'IMMORTAL' on my wrists, which means 'to be born, to never die' in French. It's based on a Buddhist saying that means 'unborn, undying, eternal.' It's a reminder that this life is temporary, but you are eternal, and this too shall pass."
Another Tattoo with Her Recent Boyfriend
The actress got matching tattoo of a sun with her boyfriend.
Source: Instagram
Dove Cameron is not one of those ladies who are deterred by one bad experience as the actress who got a tattoo with her previous boyfriend decided to go down the same route again, but this time the guy she got the matching tattoo with wasn't even her boyfriend.
Dove and Thomas Doherty were working together in 2016 when they decided to get matching sun on their fingers, and the actress explained it was pretty "risqué" to be getting matching inks with a guy she barely knew, but in the end, it all worked out as the couple started dating about a month later.
Getting "Matière d'étoiles" with Her Mother and Sister
Dove Cameron got matching ankle tattoos with her mother and sister.
Source: Instagram
Almost all the tattoos the actress got on her body are in conjunction with someone else. The tattoos she got are either done in collaboration or in a matching format. The actress got another tattoo, and this time it was with her mother and sister.
Dove Cameron got "Matière d'étoiles" on her ankle along with her mother and sister. Her sister took a lot of convincing, but she eventually got the phrase, which means "Star matter." The phrase is a reference to a book her mother wrote but never published, called 'Star Stuff.'
The actress said the tattoo idea came about during her mother's 50th birthday, "For my mom's 50th birthday I was like, 'We are getting a tattoo!' She agreed, but it took me ages to convince my older sister to get her first tattoo. We all three ended up got matching ones on our ankles."
Reclaiming the Snake with a Middle Finger Snake Tattoo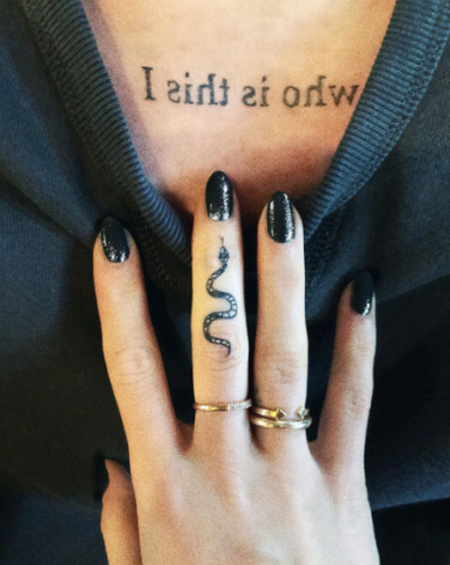 Reclaiming the snake by getting a snake tattoo on her middle finger.
Source: Instagram
Snake is not seen in a good light, because they make menacing noise and the whole poison is a big no-no. But the reptile is also associated with females and the destructive property of women in a relationship. The common phrase thrown around is "she was a snake," saying the women destroyed all the other relationship by getting in someone else's life.
So, the snake is considered to be bad with the huge implication going towards the female gender, and the actress decided to take back the symbolism of Snake by getting it inked on her middle finger. "The snake is sexy, and it represents new life — shedding the old image, rebirth, transformation, and two worlds — so I put it on my middle finger. Call me a snake? I am a snake!" the actress said.
The "Do It For Aphrodite" Tattoo on Her Arm
"Do It For Aphrodite" on her arm for empowerment.
Source: Instagram
The actress got a "Do It For Aphrodite" tattoo on her arm, and there is a deep, empowering meaning behind the whole thing. The idea of getting the tattoo was based on instinct, and the actress decided to get it because it was a rallying cry for the actress.
Dove explained, "If you do research on Aphrodite, you'll find she is portrayed as a sexual entity not bound by gender — with the body of a woman but often depicted with facial hair — and she became objectified."
"I always used to say to myself, 'F**k it, b***h! Get up, do this difficult day, do it for Aphrodite!' Then I had a day off in London and got it on my body, because to do something for the raw, sexual, female natural energy of the world — and do it on behalf of that, instead of doing it from a diminished, demure P.O.V. — is both powerful and what we need right now," the actress continued.
One Half of "XO" on Her Pinky Finger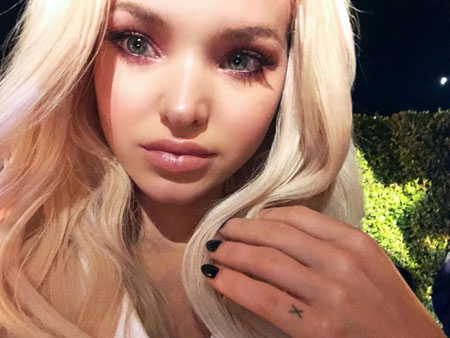 Getting one half of the "XO" tattoo along with the actress Kiersey Clemons.
Source: Instagram
Another tattoo incident on her birthday took place in 2017 when the actress turned 21. She was with Kiersey Clemons in Las Vegas, where the two got hammered with booze, and then under the influence of alcohol, both the Disney actresses decided to get tattoos.
Then after they got to the tattoo parlor, the two actresses decided to get "XO" tattoo, but instead of getting similar ones, they broke the "XO" down with Dove getting "X" on her pinky finger and Kiersey getting a "O" on her pinky.
Dove explained the thinking behind the tattoo, "Kiersey was like, 'Let's get an X and an O, so we're X and O and bonded! Pinky swear!' It was pretty cute. She wanted the O for wholeness, and I wanted the X because it was at a crossroads in my life — or whatever figurative s**t we came up with that night."
The Actress is also Planning to get Candy Is Dandy Tattoo to Remind of Her Dad
Dove Cameron is thinking of getting Candy Is Dandy tattoo for her father.
Source: Refinery29
Dove Cameron's father died when she was only 15 years old, and he was extremely close to Dove. The actress explained her father taught her the phrase "Candy Is Dandy," which was an extension of the phrase "candy is dandy, but liquor is quicker." Her father used to ask her to tell the phrase to people she met, and she also explained the whole thing was maddening to her grandparents.
The actress explained how much of her father's nature was explained by the single phrase. Dove does not have any inks about her father, and she said, getting "Candy Is Dandy" tattoo in the future will be for the memory of her father.
Also Read: Full Details on Dove Cameron Plastic Surgery
As you can see above, almost all the tattoos are singular in their look and the meaning behind them. They are minimalistic, but every single piece of art done on her body holds some deep-lying meaning for the actress. This is one of the best ways of getting tattoos, no overpowering and blinding mess of art; instead, clean-cut symbols and phrases which make people wonder what they really mean to you.
Before you leave, make sure to visit Glamour Fame to be in the know of all the happenings in the world of show business.
-->