Endgame Directors The Russo Brothers Think Moon Knight Would Be The Perfect Character For Keanu Reeves
Published Tue Jul 30 2019 By Travis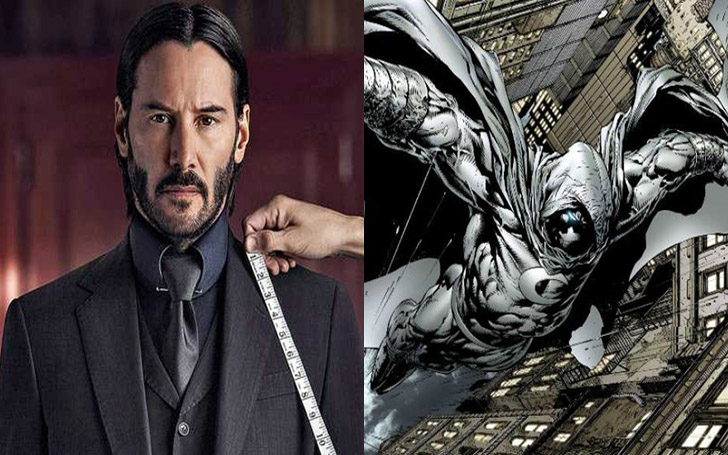 Endgame directors are fan casting Keanu Reeves as the Moon Knight.
Marvel Cinematic Universe is in flux right now as Avengers: Endgame gave the Marvel studio a satisfying ending and also a potential jumping board for future movies. We saw Spider-Man: Far from Home take full advantage of the ending of Endgame to further its own plot and agenda, but that was the end of Phase 3. Phase 4 it seems is shedding its identity and going on a new direction as only two of the five movies announced as part of the fourth phase is going to be based on sequels from past films. Three of the film are introducing a new character into the universe with Eternals and Shang Chi and the Legend of the Ten Rings introducing new heroes and Black Widow introducing new characters as well as giving 'Natasha' a sending off.
This all means Marvel is searching for a new identity and new leaders to come forth and fill the massive shoes left by Captain America and Iron Man. Right this moment, there is no other person best suited to be the leader and bring some star power into the already massive MCU than Keanu Reeves. Kevin Feige said before they are trying to get Keanu for each and every character, they try to bring to the big screen. Multiple problems resulted in the actor not joining the MCU, but it seems the actor coming to the MCU is not about if he will, it is more like when he will join the MCU.
Marvel made no secret of their desire to bring 'Marc Spector' aka 'Moon Knight' to the big screen in his own solo movie. Moon Knight is one of the favorite characters for Marvel fans, and he is seen as Marvel's answer to Batman, there is no need for an answer to Batman, but they both share similar origins so there are some comparisons which can be drawn. Moon Knight is a dark and brooding character, and if you ask the directors of Avengers: Endgame who is best suited to play the character Keanu is their answer.
During their trip to SDCC the duo directors, Joe and Anthony Russo stopped to talk to IMDb where the host Kevin Smith asked the directors which fan-favorite actor they'd like to cast in the MCU. There was much thinking done as Joe said "it's limitless," a diplomatic answer by the guys but then the host, Kevin, suggested Keanu Reeves for Moon Knight and they seem to be pretty open to that idea as both came on board and said, "a good call."
Moon Knight was a mercenary, and when he is about to die, Egyptian god, 'Khonshu' appears to him and gives him another chance if he agrees to become his avatar on earth. He returns to America and builds a fortune and fights crime in the cities wearing a silver cloak. Moon Knight is a brooding hero who fights with his hands, and the role would fit perfectly for Keanu who portrayed a similar role in 'John Wick'.
Keanu would fit the role perfectly, but it would be a reach to get the actor to play the character. Marvel is notorious for asking its actors to sign a multiple movie contract which spans 5-10 years, and Keanu is 54 years old. Most of the old actors in MCU who appear in multiple movies are actors who don't need to do many actions, but that won't be the case for Keanu who will need to be front and center during multiple fights, and we really don't want to see Marvel forcing a 62-year-old Keanu to fight against big dudes in the Moon Night movies. Stunt doubles will be used, but still, it is asking too much from an actor who is reaching retirement age.
Editor's Choice: Ku Klux Klan: Formation, Bloody History, Hierarchy, And Immortality!
The multiple movie deal will probably be the stumbling block for the actor as he is not likely to commit to a franchise for over ten years. A villain role would suit perfectly for Keanu, come in for a movie and be the villain for a single film and then be done with it. We fans will get a movie with Keanu, and Marvel gets their wish to bring Keanu into the MCU. Moon Knight feels like a tailor-made role for Keanu, but we really doubt he is going to take the job if offered.
-->