Check Out The Full Slate Of Upcoming MCU Films In 'Phase 4' - Title, Release Date, Cast, Schedule, Everything You Need To Know!
Published Mon Jul 22 2019 By Travis
With probably the most breathtaking reveal in comic con history, Marvel showed the whole movie industry; they have the biggest stick. The type of lineup which was presented on stage was something we would never have expected to see ten years ago when the Avengers were four white guys and women. We get they needed to do that to get their footing in the first place, but as a result of that, we had one of the most diverse groups of cast and crew in the history of blockbuster film making.
Marvel made some huge announcements relating to Phase 4, but all their announcements were only till 2021, and only two were sequels as Marvel is using two movies to establish new characters and one movie to show us in-depth about the character we have grown to love. There was no mention of Spider-Man, and there were some confirmations that 'Guardians 3', 'Black Panther 2' and 'Captain Marvel 2' are in the works but with no set release date. We also got some television revelations like Loki's presence and other various shows coming to Disney+, but that is a discussion for another day.
Watch: The comic con panel of Marvel at SDCC
So, without further ado, let's dive into the scheduled releases of Phase 4 of the new look MCU.
1st May 2020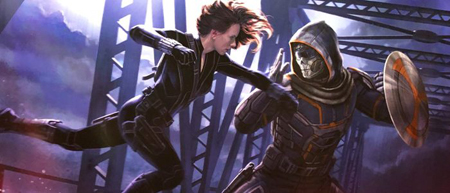 To kick things off with the first film of Phase 4, we have semi prequel ish type of story with one of the most deserving characters in the MCU, Black Widow. People were clamoring for a female-led superhero movie for a long time, and they wanted Black Widow to get a solo film, but it was to no avail. Finally, Kevin Feige listened to scores and scores of fans, and after her selfless sacrifice in Endgame, Black Widow and Scarlett Johansson reached peak fame, and we are getting a Black Widow movie finally! What a great way to start Phase 4. Scarlett is reprising her role in the solo film with Florence Pugh playing a sister figure to 'Natasha'. David Harbour is on a roll as he is jumping from one beloved franchise like Stranger Things to now Marvel movie, he is playing 'Alexei' (should've been 'Smirnoff') but still we love David. Rachel Weisz and O-T Fagbenle are also joining the star-studded cast.
6th November 2020
Another female-directed flick as Chloe Zhao is taking the reins of one of the most unknown characters in the MCU, The Eternals. Like we said above, Marvel is showing the whole movie industry they hold the biggest stick, and this announcement proves it. We can say with a guarantee that 99% of the world doesn't even know what Eternals are, and still for Marvel to announce it as a pivotal movie in the new look MCU was the show of their strength. They made Guardians, who most people didn't even know, a success back in 2014 and we are expecting the same thing from The Eternals. Also, the cast is also one of the most diverse groups of people in a superhero movie we have ever seen. Angelina Jolie is headlining, with Richard Madden and Kumail Nanjiani too along for the ride. Lauren Ridloff is the first deaf actress to play a superhero character in a movie, and Brian Tyree Henry of 'Atlanta' fame is also making his superhero movie debut. Salma Hayek is playing the leader of the Eternals, and Lia McHugh is the youngest person to play a superhero character. Also, South Korea's most bankable superstar Don Lee is making his presence felt as Gilgamesh.
12th February 2021
The coveted February date where Deadpool broke records and where Black Panther started its run to get to $1.3 billion worldwide was given to probably the most anticipated movie in Phase 4, 'Shang-Chi and the Legend of the Ten Rings'. Even since rumors started circulating Marvel wanted to make a Shang-Chi movie, since then this announcement was highly anticipated. Marvel is not slouching for this movie either as they hired a Japanese-American director in Destin Daniel Cretton to direct the film with a primarily Chinese born cast which includes Simu Liu as the titular character of Shang-Chi. Also, playing the villain is one of the most celebrated Asian actors, Tony Leung, who is set to play Mandarin, no not the fake one again like Sir Ben Kingsley, this is the real Mandarin, and he is pissed. By the way, Marvel was giving us easter eggs throughout so many movies with the Ten Rings symbol, and we didn't even notice. This one is going to be a fun ride.
7th May 2021
For the first time in the MCU, a horror superhero movie, we are not great fans of the horror genre, but we are down for a Doctor Strange sequel. On 7th May 2021 'Doctor Strange in the Multiverse of Madness' (hope they change the name) is coming to theatres with Scott Derrickson coming back as the director. This movie is being dubbed as "the first scary MCU film," and we got confirmation Benedict Cumberbatch and Benedict Wong are reprising their roles as well as Elizabeth Olsen coming along for the ride with the Doctor gang. Also, the movie will tie in directly with the story that takes place in the Disney+ series WandaVision as this is the first time the movie series is acknowledging any TV series set in the MCU. Doctor Strange established himself as one of the fan favorites with his cameo appearance in Thor: Ragnarok as well his pivotal role in Avengers: Infinity War, so we are excited to see the 'Sorcerer Supreme' fight some otherworld beings.
5th November 2021
To cap off Phase 4 Marvel is making the first 4th film, 'Thor Love and Thunder,' for a character as Thor went from being a bore in Avengers to now one of the most funniest and beloved characters in the whole MCU and for his turn as the hurt and broken Thor in Endgame, he is getting another run at the movies. Taika Waititi was brought in to direct for the second time, and Tessa Thompson is reprising her role as Valkyrie. It was all generic announcement for the movie, but then a massive surprise as Natalie Portman was brought on stage and she was introduced as the female Thor. This will be the first time Jane is returning to Thor after Thor sequel and that uncredited cameo in Endgame.
These were the five films along with five other series which Marvel announced as being in Phase 4. We got a mention of Blade with Mahershala Ali attached to star as the 'Daywalker', but they are currently without a release date, and we will update the list if any changes are made or Spider-Man 3 is added to the Phase 4.
-->