Why Didn't Marvel Reveal Spider-Man Plans At SDCC 2019?
Published Sun Jul 21 2019 By Travis
Marvel made some huge reveals at the SDCC but one character was missing from the action in Hall H, Spider-Man. Find out why!
It was a legendary performance by Marvel inside Hall H, as this was the most tired and excited we felt from the news coming from the comic con in a long-long time. Kevin Feige put on a hell of a show of strength as he made it clear to any competing brand or studio; the fanfare generated by Marvel movies is something no one, not even Star Wars can replicate. Just imagine a studio trying to make a movie about thousands of years old beings which majority of the audience doesn't know anything about. Marvel flexed their muscles, and we got some great content in return.
There were some familiar announcements, but there were some surprises as well, as Mahershala Ali was hired to play the character Blade and Natalie Portman is coming back to the MCU as she is reprising her role as Jane Foster and the new Thor. But one thing was sorely missing from the Marvel's one-hour thirty-minute long panel as there was no sign of everyone's favorite web-slinger at the SDCC. Marvel made a lot of announcement, but there was not even a single mention of Spider-Man.
Spider-Man is the most recognizable Marvel-comics character, but you probably know the character was licensed to Sony pictures back when Marvel was not making any movies. Marvel is currently only loaning the character from Sony with a contract they negotiated before Captain America: Civil War made its way to the theatre. Sony still owns the character, but Marvel is allowed to produce movies with the character.
Watch: The first appearance of Spider-Man in MCU
The contract those two companies signed stipulates Marvel will produce the movies, but Sony is responsible for the marketing and distribution of Spider-Man. So, Marvel may know where they are taking the character, but they are no position to share that info. The whole burden lies with Sony as to how they want to introduce the future of Spider-Man.
All Marvel actors sign a six-movie deal with the studio and the studio can use the character in whichever movies they seem fit. As of now, Spider-Man is only seen in five Marvel movies, and he is still obligated to appear in one more film before his contract, and the deal between Marvel and Sony is up. So, we are getting Spider-Man 3 but where the character goes from there is a mystery, the feeling is the two studios will renegotiate the contract and allow Spider-Man to appear in future movies, but we cannot be sure until the ink is dry on the new agreement.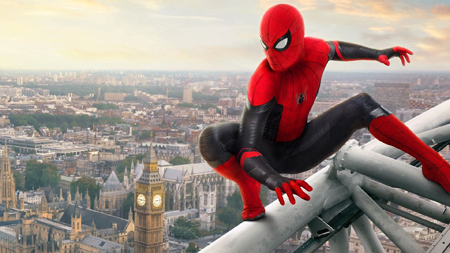 The last time we saw Spider-Man was in the mid-credit scene of Spider-Man: Far from Home as he was swinging with 'MJ' (played by Zendaya) in New York. But then the massive reveal by J. Jonah Jameson seems like it changed the world of Spider-Man in a significant way. That story will play a vital role in Spider-Man 3, and we can probably guess the release date of the Spider-Man flick as there an ocean-sized hole between 'Doctor Strange in the Multiverse of Madness' and 'Thor: Love and Thunder' which are currently slated for release on May and November of 2021 respectively. A six months gap between Marvel movies during the prime real estate of summer movie season is something unlikely to happen so expect Sony to announce the release date of Spider-Man 3.
Watch: The Spider-Man: Far from Home trailer
With Far from Home on its way to raking in over $1 billion, being the first Spider-Man to do so, it is inevitable we will get Spider-Man pretty soon. So, keep your ears peeled and eyes open as we will probably get some information about Spider-Man 3 at 'D3' or when Sony decides it's time to reveal the date.
-->