Eva Rossovich and her married life with Tog Gun actor Rick Rossovich!
Eva Rossovich is an American woman best known for appearing in the 1995 film Black Scorpion. Apart from that movie, she rose to prominence as the wife of the American actor Rick Rossovich.
Rossovich is best recognized for portraying Ron Kerner in the film Top Gun. Also, Rick has appeared in the movies like The Terminator, Spellbinder, Navy SEALs, Baywatch, and many more. Here is everything you need to know about the Rossovich family.
Eva Rossovich and her Married Life With Top Gun Actor, Rick Rossovich
Eva Rossovich and Rick Rossovich are a happily married couple! But Eva and her husband love to keep it low-key. The duo started the wonderful romance back in the early 1980s. In 1985, after enjoying dating life for more than two years, they accepted one another as lifelong partners.
Rick and Eva tied the wedding knot in an intimate ceremony with the limited guest. Several actors and directors were also present at the event to congratulate the newly wedded couple. For the grand occasion, Bride went full white wedding gown.
Also, See Maverick star Glen Powell and Girlfriend Gigi Paris are Currently Dating Detail About their Affairs and Relationship!
Eva had blonde and short hair that enhanced her beauty for the special moment. Meanwhile, the groom is dressed in a black tuxedo with a matching bow tie. The pair looked too perfect during the wedding and celebrated the day.
Rick Rossovich Shares Two Kids With Eva Rossovich, His Wife!
Mr. and Mrs. Rossovich were bounded in nuptial vows for almost four decades. Eva and Rick share a great romance throughout the journey. Along with that, the pair are blessed with two beautiful children.
In 1986, Eva gave birth to their first child, son, Roy Rossovich. After five years, the duo announced the birth of their second child, daughter Isabel Rossovich in 1991.
Roy and Isabel are now in their thirties. Like every parent, the Rossovich duo has cared for their children. Roy and Isabel are now full-fledged adults and are pursuing their careers. However, all the family love to keep their personal life private and far from media attention.
Rick Rossovich Didn't Cast in Top Gun: Maverick
In 1986, Rick Rossovich played the Lieutenant Junior Grade Slider role in the popular American film Top Gun. Rick's mesmerizing appearance in that particular movie was loved and well-appreciated by the fans. Well, many thought he would be cast in Top Gun: Maverick.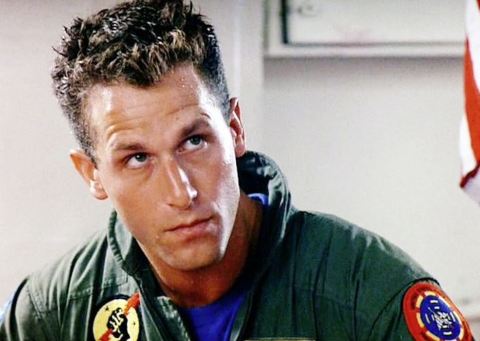 Val Kilmer returns as Iceman in the sequel. Although Val reunited with Tom Cruise in the limited scenes, at least he returned. Several media raised questions about the Slider character. In response, the actor said after leaving the navy, Slider became a commercial pilot and went to the Dreamliners.
I think he's had a great life ahead. Will Rick have a chance to return to the third Top Gun movie? Well, it is still a mystery.
Rick Rossovich Movies and TV Shows
Rick Rossovich proudly memorizes his epic roles in blockbuster movies and series. Also, he is one of the prolific 70s actors with great hits. In 1978 he made his television debut by appearing in B.J. and the Bear and Fantasy Island in a small role. Rossovich found his big break in The Lords of Discipline as Lieutenant Dante Pignetti.
In 1984, he starred as Matt in the popular American science fiction film, The Terminator alongside Arnold Schwarzenegger. After two years, he portrayed himself as Slider in Top Gun and doubled his popularity. Rossovich played in the movies like Artworks, Cover Me, Navy Seals, Black Scorpion, Tales From the Crypt Mad About You, ER, and more.
In total, Rosssovich starred in over fifty movies and series combined. His latest appearance was in Miracle in Lane 2, where he played the role of Myron Yoder.
Net Worth of Rick Rossovich in 2023
The former talented star, Rick Rossovich, is one of the most successful American actors with a great career. With his acting style and dedication, he has secured roles in several blockbuster movies and series. As of 2023, he is enjoying a net worth of $4 Million, which he amassed through his incredible career.
The Lord of Discipline star, Rick, is part of over fifty movies and series. During the peak of his career, he used to secure over $100,000 per episode. Rossovic's 1986 released film, Top Gun, earned a total of $357.3 Million under a budget of $15 Million.
Similarly, his other star movie, The Roommate, collected $52.5 Million under a budget of $16 Million. Being one of the experienced and hardworking actors, he used to make a good amount of earnings from his presence.
Find Out: What is Val Kilmer's Net Worth in 2020? Here's the Breakdown
Rick Rossovich and Eva Rossovich Sold Malibu Home in 2020
Rick and Eva Rossovich live lavishly with their family in the United States. For several years, the Rossovich family owned Malibu Home. In 2020 they finally sold that particular home for $4 Million to an unknown buyer.
Before that, they rented the house for $12,000 a month. In the early 1990s, the actor bought a 5-acre property in Ojai, California, forking up a whopping $600,000, which they sold for $2 Million in the late 2000s. The Top Gun star owns several homes in the United States, currently worth millions in the market.
For More Related Content, Visit Glamour Fame
-->