Evelyn McGee-Colbert - Wife of Stephen Colbert, Facts to Know About Her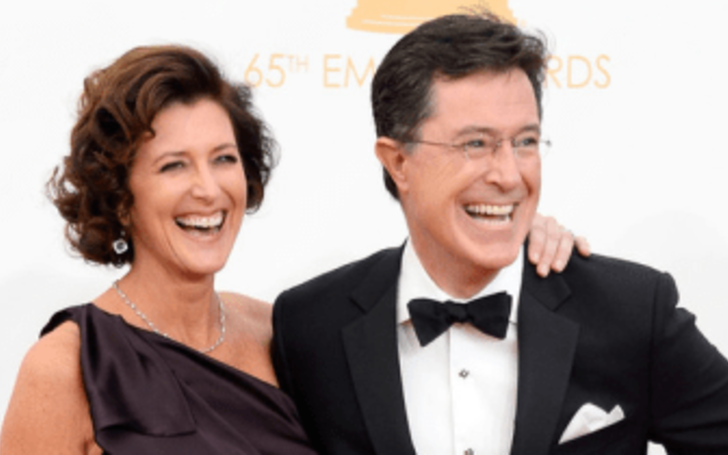 The late show host Stephen Tyrone Colbert, a remarkable comedian, political commentator, producer, and writer, has got the love life people to envy for. Married to the actress Evelyn McGee, the couple's been together for 26 years.
Wife, Evelyn McGee, is the wife of popular figure Stephen Colbert best known for her role in The Hobbit: The Desolation of Smaug, Strangers with Candy and Strangers with Candy. Though currently, she's a loving housewife, the former actress has her own success story.
Here are some facts unfolded about writer Colbert's lovely wife, McGee.
Born to a renowned Charleston Civil Litigator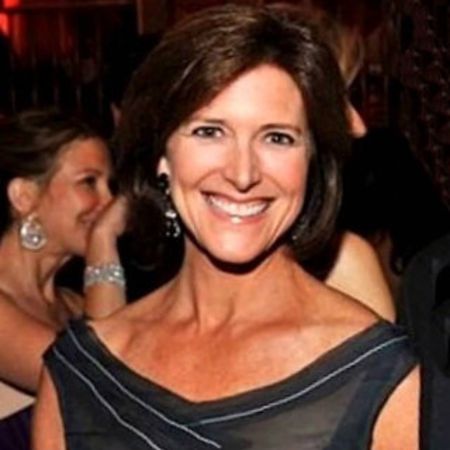 The Stunning Actress McGee in An Award Show Supporting Husand Colbert.
Source: Just Richest
Evelyn Brabham McGee was born on 23rd July 1963 in Charleston, South Carolina, USA. Eve is the daughter of a well known civil litigator named Joseph McGee. He was the owner of the legal firm, Buist Moore Smythe McGee, who was also served as a representative of Charleston County, in the statehouse rep from 1963 to 1968.
Information about Eve's background, mother and siblings have been hidden from the public. Though, we know that she graduated from the University of Virginia's College of Arts and Science in 1985, studying Drama and English double major.
Evelyn's entertainment journey
The Hit 'Strangers With Candy' Actress McGee.
Source: Just Richest
The lovely actress appeared in several films, and TV series, one of her first breaks was in TV series,' Strangers with Candy' where she played Nurse Chestnut that became a cult hit.
You may also like:Rocky Johnson, Dwayne Johnson's father passes away 75
Later on, McGee performed in a prequel of the film published in 2005 with her husband, Stephen Colbert. In 2012 She starred in the hit movie,'The Hobbit: The desolation of Smaug'.
Grew Up Just Two Blocks Away from Husband Stephen Colbert, Didn't Meet Until 1990.
The Adorable Couple Are Still Strong As Ever.
Source:huffpost
The couple grew all their lives separately while living just two blocks away. Of course, their parents knew each other, but the kids had no idea about one another. Growing up, Steph studied in an all-boys school and the same for Eve. Who knew, years later, they would find love in the same streets they grew on.
Colbert 55, met McGee 56, on a musical 'Hydrogen Jukebox' by Philip Glass and Allen Ginsberg when he was getting on a line to get food. The actor says it was instant love at first sight and he knew right at the moment that he was looking at his future wife.
Love at first site and married for 26 years.
The Talk Show Host Accompanied by His Gorgeous Wife.
Source: thenetline
Colbert was smitten by McGee at his first sight and couldn't get her off his mind. After their encounter at the festival, the couple dated for a brief while and married in 1993. They have three children named Madeleine, Peter, and John, and the family resides in Montclair, New Jersey.
About Husband, Stephen Colbert
In Action: Hosting His Show, The Late Show with Stephen Colbert.
Source:thewrap
Best known for hosting the satirical Comedy Central program The Colbert Report from 2005 to 2015 husband Steph has been an important name in the industry. He is currently involved in The Late Show with Stephen Colbert.
The political commentator has won nine Primetime Emmy Awards, two Grammy Awards, and two Peabody Awards. In 2006 and 2012, he was named one of Time's 100 Most Influential People.
Stay tuned to Glamour Fame for interesting news related to Entertainment, Lifestyle, Beauty.
-->