F1 Legend Dead AT 70; Niki Lauda Cause Of Death Explained!
Published Tue May 21 2019 By Andrew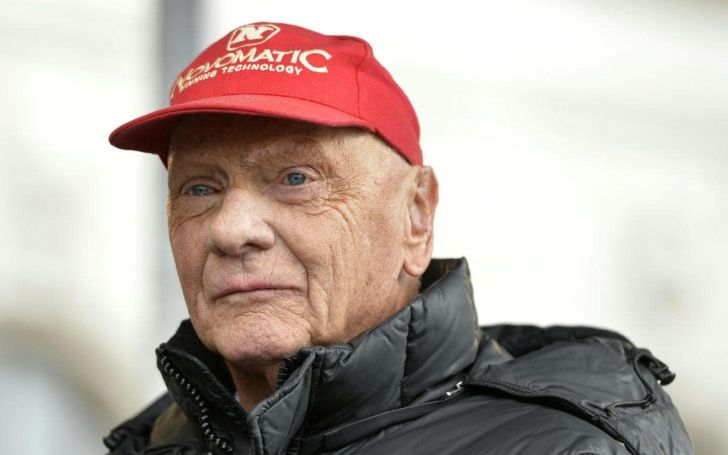 The Cause of death of Niki Lauda, 70, the F1 legend explained.
After reports from his native country, Austria surfaced out, the world came to know of Niki Lauda's passing at the age of 70 which emerged somewhere around the early hours of Tuesday morning.
Lauda peacefully died, while he was enjoying the quaint family time on Monday night following a series of health issues.
Niki Lauda dead aged 70.
SOURCE: Autosport
The former race car driver's family went on to confirm his death via a statement:
"With deep sadness, we announce that our beloved Niki has peacefully passed away with his family on Monday, May 20, 2019. His unique achievements as an athlete and entrepreneur are and will remain unforgettable, his tireless zest for action, his straightforwardness and his courage remain. A role model and a benchmark for all of us, he was a loving and caring husband, father and grandfather away from the public, and he will be missed."
The native of Austria enjoyed a prolific racing career with 25 Grands Prix en route title wins in his name ranging from 1975, 1977 and 1984. Nonetheless, he had battled numerous health implications over the recent years and also underwent a double lung transplant somewhere around last August.
Also read: Maisie Williams Set To Be Guest Judge On RuPaul's Drag Race UK
Lauda went through two major kidney transplants back in 1997 and 2005. Moreover, he was kept in close observation by doctors after suffering flu in January but it was hoped he would soon return to the paddock. In recent times, he was undergoing dialysis treatment in a private medical clinic in Switzerland.
Check out: Glimpse of Niki Lauda's racing talents.
Lauda's story is in most cases seen as the most iconic one in F1 history. Moreover, his story following the horrific crash at the German Grand Prix at the Nurburgring in 1976 just was so captivating.
During the gruesome accident, the Ferrari he was riding just engulfed in flames and left the prolific driver with severe burns while also causing significant damage to his lungs. He also suffered extensive scarring. However, the world was taken by shock when he miraculously recovered and made an astounding return to the grid just six weeks later. The racecar driver further stunned his fans when he finished fourth in Italy.
You Might Wanto To Read: Chloe Grace Moretz's 'Greta' Stumbles at the Box-Office While 'Apollo 11' Exceeds Expectations
According to reports, Lauda was seen getting blood-soaked bandages off his head after the race in which he sought to beat James Hunt. As a matter of fact, there was an iconic rivalry to the drivers' championship that year.
Check Out: Niki Lauda Crash 1976
Although he suffered the near-death experience, Lauda went on to win two more world titles, including one with Ferrari not retiring until 1979. He returned in the next rendition of the race to claim another title with McLaren but remained a prominent figure within the sport upon his second and final retirement.
Don't miss: Slipknot's M. Shawn Crahan's 22-Year-Old Daughter Passed Away; Learn Gabrielle Crahan Cause Of Death!
Lauda's former team McLaren paid tribute to the late racing phenomenon via Twitter and so did many others.
RIP Niki Lauda, the shining star of the racing world!
-->