Fans Slam Nicole Nafziger For Starring In A Weight Loss Product Ad
Published Sun Aug 11 2019 By Chester
Nicole Nafziger is constantly dodging with backlash from her recent weight loss promotion.
This time, the 90 Day Fiance star Nicole Nafziger is facing some direct criticisms. You might be wondering what the actress did this time. Well, this time Nicole had to go through some problems for promoting weight loss ad.
The product helps you to lose weight if you consume it in a prescripted time. But most of them are unproductive and fake whereas some might show some side effects later.
Nicole is one of the popular 90 Day Fiance celebrities with a staggering 405,000 followers but the reality star was slammed for promoting the fake weight loss product Boom Bod.
'90 Day Fiance: Happily Ever After?' Star Nicole Nafziger Was Rumored To Have Been Dumped By Azan Tefou After Running Out Of Money >>>
Fans came with backlash for the product claiming it fake and unreal and citing her words from the video which reads,
A few days into my @boombod 7 day challenge and I have to say I'm SUPER impressed!" Don't worry. Normally I'm so busy I find being consistent with programs a bit tricky But these shots are super easy & tasty
Nicole writes. "And they're paying off! My cravings have been going away." She is, of course, referring to cravings for food that the human body needs to live.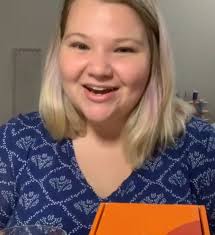 But the result came contrary as expected, drawing tons of disgraced comments. "These weight loss ads are sad, Nicole," warned one follower.
Nicole Nafziger Reveals She's Not Azan Tefou's Sugar Mama Anymore! >>>
One person pointed out,
It doesn't work. It's a scam. I would never advertise this stuff.
Another follower suggested,
A healthy diet and exercise works wonders. Not all these quick fix weight loss products.
Well, we often see these kind of fake products coming with false promises for making weight loss but on the reality applying and inhaling such shortcut product to lose weight will only create health problems in the future. To be real, if you guys are intending to lose weight then we prefer to go the natural way.
Exercise for about an hour at least, any physical activities such as jogging, yoga, skipping can help you reduce your weight as well as make you healthy. Maintaining a proper diet and oil-free food also helps you to stay healthy.
90 Day Fiance: Azan Tefou Rumored To Have Officially Dumped Nicole Nafziger >>>
Stay tuned and connected to find out more intriguing articles on glamour fame.
-->