Former Disney Star Bella Thorne Is Taking Her Talents To Behind The Camera To Direct A Porn Film
Published Thu Aug 15 2019 By Travis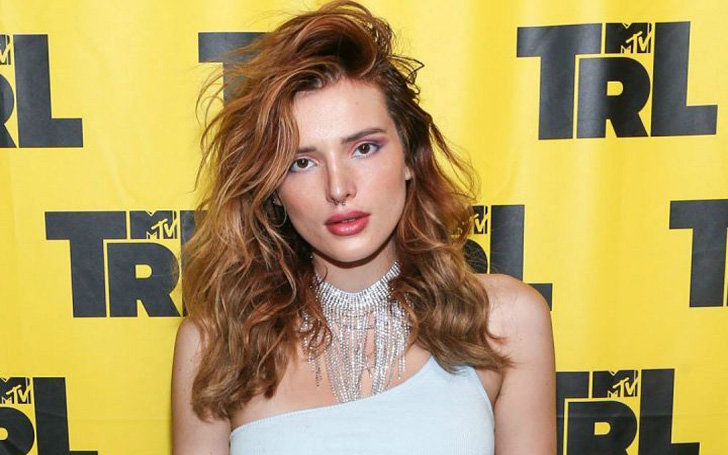 Bella Throne is getting behind the camera, well, to direct a porn.
Well, this is new! Disney and Porn are two things people never say in the same sentence unless it is a porn parody of a Disney movie. Disney never stops any other entity from parodying or making a cheap version of the film, just ask "The Asylum" studio who will tell you, Disney is the only major studio to never sue the company for copying their movies. So, you can see the only connection Disney and Porn sites share is parodies based on the Disney movies, but this new story is breaking a whole new ground between the two entities.
Bella Thorne, the former Disney teen star who played CeCe Jones opposite Zendaya in the hit Disney sit-com Shake It Up is taking her talents to the porn industry. The actress, model, singer, author and musician is working with Pornhub to create an adult movie for the site titled, 'Her & Him'
The movie will be a retelling of the 'Romeo & Juliet' story for the modern time (if that wasn't done enough times already). The story will be about two star crossed lovers whose reckless and dangerous love "transcends time and space" according to Corey Price (whatever that's supposed to mean). How do you make a porn movie which transcends space and time? We get the artists trying to be artistic about things, but this whole thing is getting out of hand (kidding) gone are the days when pizza delivery boys get payment in sex or a plumber comes to a call and gets laid instead (simpler times). Now, we need to worry about what symbolism the director meant for us to see when a woman and a man are having sex (to put it mildly, that is not why people watch porn).
Like every artistic form of expression, porn is also trying to spread its wings, and we appreciate it and Bella also experimenting with her career is nice. She was recently mired in nude photo controversy where Whoopi Goldberg shamed her for sharing nudes. It seems Bella is moving away from the controversy and dabbling with porn as a way to release her artistic brilliance. The movie will debut at The Odenburg Film Festival in Germany which runs from 11 to 15 September. The adult film will follow rapper Young M.A. and rapper Brooker Candy as part of the Pornhub's Visionaries Director's Series.
To be honest, this can be a great career choice for the actress considering the way Hollywood treats its female directors. Porn isn't something which comes to mind when equality is concerned because most of the time women are being dominated, and men are the ones who come from the power of authority, but over the years a real change is happening when it concerns the people stepping behind the camera to direct a porn film.
In 2019, eight out of the 15 porn directors nominated for the XBIZ Director of the Year award were women. In complete contrast to the Hollywood where no women were nominated for the Best Director award and only five women nominated for the Best Director award in the entire Oscars history.
It is apparent Hollywood is not fair to the ladies, and if making adult content makes Bella happy, then it is exactly what she should pursue. Considering the trend porn is moving in with studies suggesting women watch more porn then men do, Bella's choice, even though it seems weird at first glance, to try her hand in directing porn seems to be a good one.
-->