FRIENDS Star Courteney Cox Displays Her Support To Kaley Cuoco As She Cries At The Final Big Bang Theory Table Reading
Published Sat Apr 27 2019 By Andrew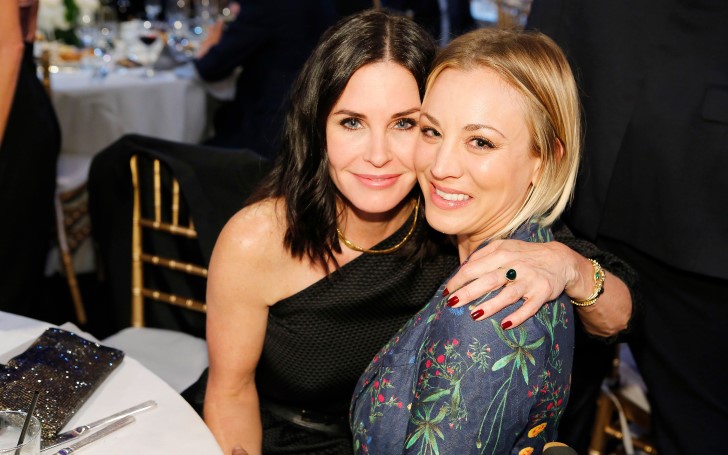 Kaley Cuoco cries at the final big bang theory final table reading. So Friend's star Courteney Cox displays her support.
Courteney Cox is totally feeling the pain that Kaley Cuoco is going through right now. The journey and exit of a long run of sit-com can really take its toll on you and who better understands this than the Friends star.
The Big Bang Theory star took to her Instagram this week sharing a crying photo of herself intuned with the last table reading for the widely acclaimed CBS series. One of the people who stood out in the hundreds of thousands of followers who liked or commented on the image was Cox, 54, who extends her love and support to Cuoco, 33.
Accompanied by three emojis: a crying face, a red heart, and clapping hands Cox wrote,
"Awwww I remember that feeling … and you guys have been together even longer,"
Cox spent a decade of her productive years on a television comedy and in the process formed unbreakable bonds with the cast and crew much like Cuoco. Cox was a prominent cast of Friends, the fan heartthrob 10-seasoned sitcom that aired from 1994 to 2004.
Cox revealed to PEOPLE this past fall that she thoroughly would enjoy another ride in the shoes of Monica Geller on the small screen once more but the possibilities seem to be at the bare minimum if none.
While attending the Through Her Lens: The Tribeca Chanel Women's Filmmaker Program Luncheon in New York Cox told the outlet,
"People ask us all the time, 'Will we ever do a remake?' That was a story about these group of people that are friends in their 30s who are finding themselves. I don't know if there's a way to redo it,"
The 54-year-old added,
"I just don't see it happening. Even though I would do anything to be in a room with all of those people acting and having a great time. But I don't see it happening."
Given that only a few are able to acknowledge the deep sentiments surrounding a series coming to an end, both Cox and Cuoco certainly share that in common. Cuoco, portraying the confident and bubbly, Penny on the CBS sitcom, posted on Instagram featuring emotional set of posts on Wednesday on the occasion of the series' very last table read before it comes to an end in May.
Along with a flick of her holding the script in her arms while tearing up. In addition, a third one showed off many tissues she required to make it through the read.
As reported by the EW news, CBS tried it's very best to squeeze in two more seasons, but the prominent star of the show, Jim Parsons was not keen on continuing with the sitcom. There certainly cannot be a show without beloved Dr. Sheldon Cooper.
You may also like: The Big Bang Theory: Why Sheldon & Amy SHOULDN'T Win the Nobel Prize!
The Emmy-winning made its debut in 2007 when Cuoco was just at a tender age of 20 and the show will come to an end in May at the conclusion of season 12.
The Big Bang Theory airs on CBS Thursdays at 8 p.m. ET.
-->