Friends Vs. How I Met Your Mother - Which Show Is Better?
Published Tue May 28 2019 By David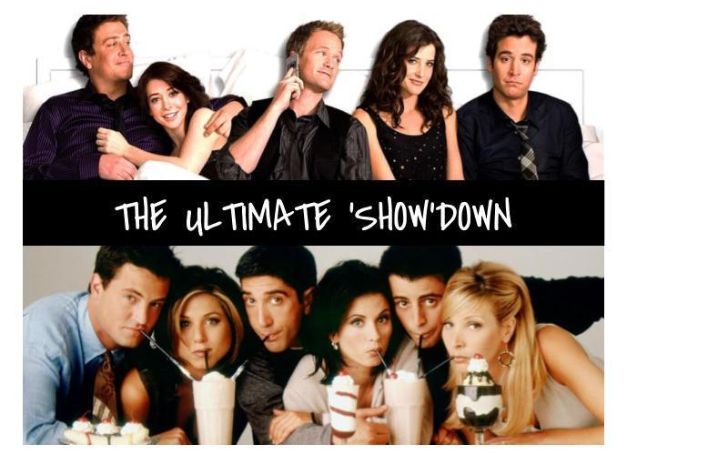 Friends Vs. How I Met Your Mother, the debate rages on!
Both NBC's "Friends" and CBS' "How I Met Your Mother" had lovable characters, gut-busting comedy, and occasional tears. If we went back and watched one of the favorite episodes from each series, it's honestly so difficult to decide which of these situational comedies was better than the other.
"Friends" ended May 2004, 10 years after its pilot episode, and "HIMYM" began September 2005 until 2014.
For starters, Friends and HIMYM have a lot in common; but there are still some differences between them that actually stands out the one from the other – the story-telling techniques and the studio audience.
Both Friends and How I Met Your Mother follows a gang of friends in their daily life adventures.
SOURCE: The Paw Print
There's an episode of "HIMYM" in Season 2 that pokes fun at "Friends" when "Ted" (Josh Radnor), "Barney" (Neil Patrick Harris) and "Marshall" (Jason Segel) hang out in a coffee shop in the middle of the day.
See More: FRIENDS Star Courteney Cox Displays Her Support To Kaley Cuoco As She Cries At The Final Big Bang Theory Table Reading
After a few awkward seconds of being there, Barney finally says, "Hanging out in a coffee place, not nearly as much fun as hanging out in a bar," something of a mockery to guys who had a strong relation to Central Perk cafeteria.
"Friends" followed a fair formula every week with one "A" plot and two "B" plots that used to team up two friends together in each plot. It allowed for all six actors to equally have their spotlight from the story and all the leads get their chances to grow in the "A" storyline over 10 seasons.
The amount of precision that went into writing the script was necessary because the show was filmed in front of a live studio audience. The actors had to get in, say their lines, and get out; that ultimately made the show funnier.
"Friends" was shot in front of a live audience whereas "How I Met Your Mother" was filmed through multiple camera cuts.
SOURCE: Like Share Tweet
The laugh track, on the other hand, was added to "How I Met Your Mother" episodes after they finished filming. It allowed more creative story-telling techniques since the series was always narrated from Ted Mosby's first-person point of view. Doing in the absence of the live studio audience helped "HIMYM" feel cinematic, whereas "Friends" felt theatrical.
That sure was an advantage for "HIMYM;" the writers had time to create more memorable, thematic episodes.
Also Read: FRIENDS' Chandler Bing Actor Matthew Perry's Young Pictures Which Will Make You Fall In Love With Him All Over Again!
Barney's "Perfect Week" episode in Season 6 can very well serve as an example. The writers used Barney's imaginary interview with sports broadcaster Jim Nantz to narrate the tale of Barney successfully hooking up with seven different women in seven consecutive nights and taking it like a baseball accomplishment.
The director used an array of camera cuts to different sets, scenes, flashbacks and character dialogue that would have been ridiculously difficult to film in front of a live studio audience. On top of it all, there were three "B" plots dispersed within Barney's perfect week.
"Friends" would have struggled to put in the amount of pre-production necessary to make "Perfect Week" a success.
Because of the "HIMYM" story-telling chaos, however, not every episode was a success. Sometimes the show felt like it had a little too much to drink and fell into misery. There's nothing wrong with challenging emotions, but a handful of episodes were so insincere that it often used to leave the viewers with a bit sadistic feeling.
Recommended: Friends Fans Discover Hidden Meaning Behind Ross' T-Shirt
"Friends," too messed with viewers' feelings on occasion, but every episode ended with something funny so the fans always had something to cheer for when turning off the televisions. The producers often gave us something to laugh at just before the end credits, whether it was "Chandler" (Matthew Perry) speaking the audience's mind with "Could we be any more white trash?" or "Joey" (Matt LeBlanc) inventing the rules to Ultimate Fireball, the producers gave us something to laugh at just before the end credits.
The Finales
"Friends" will always be remembered for its satisfying and hilarious final episode that ultimately got Ross and Rachel together using classic rom-com climax. "Monica" and Chandler finally got their wish of being parents with their adopted twins, Joey got a new chick and duck, and Phoebe's arc was wrapped up a few episodes earlier when she married "Mike" (Paul Rudd). And the writers perfectly used Phoebe as a plot device in the finale to get "Ross" and "Rachel" together in perhaps Lisa Kudrow's funniest performance.
You May Also Like: Are Fans Still Mad At How I Met Your Mother Ending Five Years Later?
The moments, however, is not provided by the finale of "How I Met Your Mother." The story direction was fine, but fans hardly turned off their television feeling satisfied like they did after "Friends" ended.
The verdict for these two shows contrasts from fans to fans and cults to cults. It's not a black-and-white case of one being clearly better than the other. Both have their own strengths and weaknesses. Truth is these sitcoms together frivolously allude to fairy tales of some adults during their most vulnerable period of life and famously show there is always something to figure out for the apparently conflicted emotions.
-->