From Nelly's Shadow to Spotlight: The Story of Chanelle Haynes!
Chanelle Haynes, also known as Nana, is a popular figure on social media. She's famous for being the daughter of the well-known American rapper Nelly. Nelly is a successful artist who has won many awards and sold a lot of albums, with one of his albums selling over 8.4 million copies in the US.
Chanelle, or Nana, is trying to make a name for herself in the music world. She wants to be a singer, songwriter, and background vocalist. You might have seen her on the reality TV show called Nellyville, where she appears. Even though her dad is rich and famous, there are more things to know about Chanelle.
Is Nelly's Daughter, Chanelle Haynes Dating Anyone? Know About Chanelle's Husband and Boyfriend
Chanelle Haynes is not in a relationship right now, but she used to date a guy named Mario. They were a loving couple and had plans to get married. Unfortunately, something really sad happened.
Mario, also known as Rio, lost his life in a shooting while they were at a park together. This was a terrible act of violence where people were hurt. Chanelle was there too, and she was trying to find her younger brother in the chaos.
Shockingly, she didn't realize that her boyfriend was there too until she saw that he had been killed. This tragic event deeply affected Chanelle. It made her very emotionally upset, and she had a hard time dealing with it for a long while.
Get to Know Chanelle Haynes's Mom and Dad
Chanel Haynes, 29, was born on February 27, 1994, in Austin, Texas to rapper Nelly (Cornell Iral Haynes Jr.) and Channetta Valentine. She's American with African-American heritage. Nelly, 48, is a renowned rapper with three Grammys and nine Billboard Music Awards.
Chanelle grew up with her brother Cornell Haynes, raised by her father and Nelly's longtime partner Shantel Jackson. It's unclear if her parents married. Her brother, born March 2, 1999, keeps a private life. Chanelle attended local schools before earning a Business Administration bachelor's degree from Columbia College, Chicago.
Who is Chanelle Haynes's Mother?
Nelly has never revealed the identities of his children's mothers. However, reports suggest that he dated them in the past but kept their pregnancies and births private.
There's speculation that Chanelle might be the result of Nelly's relationship with his former partner, Channetta Valentine. They were together for about ten years, beginning around September 1990.
They kept their relationship mostly secret, which could explain the assumption. Despite their separation in 1999, they never explained why they broke up, though some believe Nelly's growing fame might have strained their relationship.
Wonderful Relationship With the Siblings
Chanelle Haynes isn't Nelly's only child. She grew up alongside her younger brother, Cornell Haynes III, who is known as Trizzle. He was born on March 2, 1999, making him five years younger than Chanelle.
While in school, Trizzle was active in varsity football, but he didn't pursue it professionally. There's speculation that he might be involved in the music industry with his father.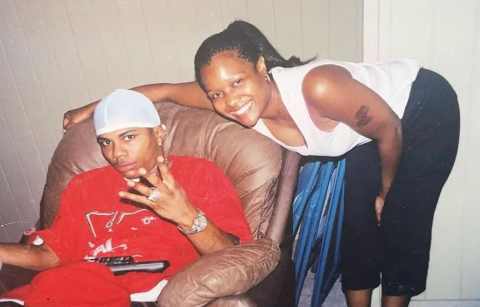 Nelly, besides his biological children, also took care of four other kids. His half-sister Jackie Donahue's children, Sidney and Shawn Jr. (Tab), became part of his family after she passed away from leukemia in 2005.
Nelly raised them as his own, making them Chanelle's cousins. Chanelle supports them openly on her social media accounts, as she had the privilege of growing up with them.
Chanelle Haynes Movies and TV Shows
Chanelle Haynes appeared in "She's Not Our Sister," a four-part follow-up to GMC's popular gospel play production. The series focuses on the challenges faced by the Walker sisters, who discover that the millions they inherited after their father's passing can't bring them happiness.
She's also associated with the TV series "Motown Live," which includes notable names like Robert Townsend, Kevin Alexander Stea, and Lisa Thompson. These shows highlight Chanelle's involvement in the entertainment industry.
Chanelle Haynes is a Singer! Know About Her Songs
Chanelle takes after her father's talent and is on her way to becoming a music sensation. She released her first single in July 2020 and is busy creating more music. She appeared on Nelly's reality TV show "Nellyville," which was shown on BET.
Initially, she started as a backup singer for the show. Despite being born into a famous family, the 29-year-old has her own dreams. She aims to build a lasting legacy that goes beyond her father's name and becomes a part of her personal identity.
She is active on Instagram
Chanelle can be found on Instagram as @iamchanelhaynes. She has gained a following of more than 13.3k fans and has shared 2656 posts. In comparison, her father has an impressive three million followers on the same platform as of January 2023.
Chanelle Haynes Age
Chanelle Haynes is 29 years old as of 2023, having been born on February 27, 1994. In a reality TV show, she mentioned that she went to her local elementary school.
After finishing high school, she pursued a bachelor's degree in Business Administration from Columbia College in Chicago.
Stick With Glamour Fame
-->