Who Was I_O Girlfriend? Find Out About the Musician Relationship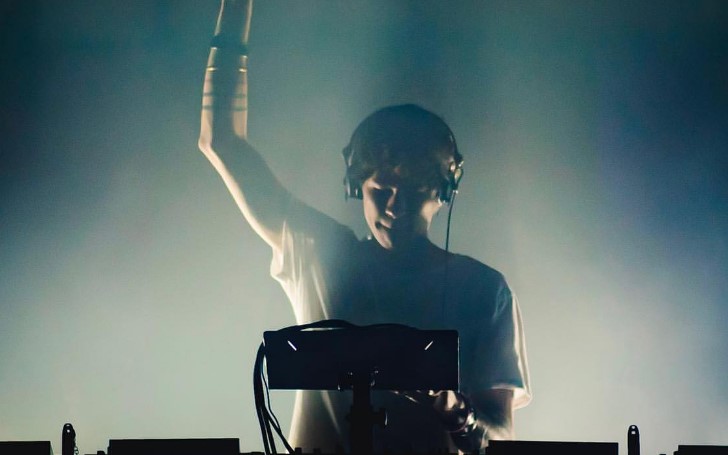 Here's what you should know about I_O's girlfriend, did he have one?
DJ and Music producer, Garrethh Lockhart, also known for his stage name, I_O, was a Washington native who worked under the pseudonym Fawks.
According to the reports, Gareth is best known for collaborating with artists like Grimes on the 2019 track "Violence." Moreover, I_O is also known for his tracks "Low," "Death By Techno," and "Don't Stop."
Recently, it was confirmed that the DJ and music producer, I_O, died at the age of 30. The announcement came as a huge shock for his fans, as many of his fans and friends noted he was doing just fine a day earlier than his death.
Also Read: Who is Spencer Rattler Dating in 2020? Find Out About His Girlfriend
Following his death, a massive question has been raised; What was the cause of his death? Well, that's there, but his death has put his management team and "girlfriend" in question.
Who was I_O Girlfriend?
Ever since the news was confirmed, people are wondering what really happened to Garrett Lockhart. But some fans have involved his management and girlfriend in the whole thing, but no one knows the truth.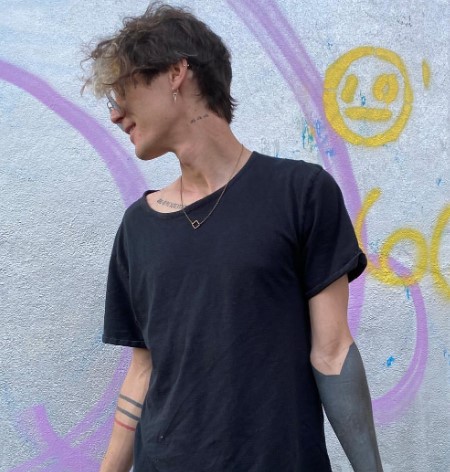 i_o was single.
Photo Source: Instagram
Some people, or should we say, some media outlets stressed I_O girlfriend and his management team deleted some posts on his social media, but when we last checked, all the posts were there.
And coming to his girlfriend, I_O, as far as we know, was single. He had joked about his girlfriend in the past, but there has been no confirmation about his girlfriend yet. Moreover, when we stalked his Instagram profile, we concluded he was single.
Also Read: Who is Caeleb Dressel's Girlfriend in 2020? Find Out About His Relationship
This brings to our other question, why some media outlet stressed his "girlfriend" deleted posts on Instagram? Well, all we can say is, they just threw words on their article. Following the news, many people are looking for I_O's girlfriend deleted posts, but there's nothing to look for.
I_O's Cause of Death is Still Unkown
The news has caused a massive stir on the internet; many fans refused to believe the news at first until even the verified news source started to confirm. The announcement first came on I_O's Instagram.
Garrett's management team wrote,
"On Monday, November 23rd, the world lost a beautiful soul, Garrett Falls Lockhart, also known as I_O. This extremely talented spirit taught us that even if nothing matters, you can still lead with love."
The statement added,
"Garrett's truth and soul lives on through the music he shared. Rest in peace, Garrett. We love you."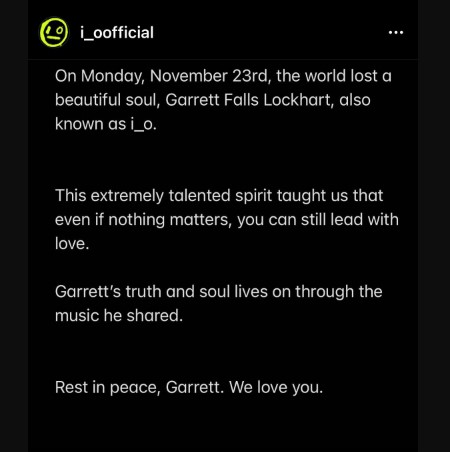 Garrett's team posted this message on his Instagram.
Photo Source: Instagram
That was the post by his management team on his Instagram account; however, they didn't give out the cause of his death.
Following the news, many fans took to their social media to post a tribute to the artist.
One fan wrote,
"Going to miss you, my dude; it was a real pleasure working with you and watching you succeed... may you find rest and let your music live on into eternity."
Another one wrote,
"F*ck no, this isn't fair. RIP midnight runner; your music is beautiful, and your soul was pure. I can't actually believe this. This will hit me hard."
The next one wrote,
"Young legend lost far too soon, the horde will remember for eternity. Rest In Peace, Garrett."
You May Also Like: Who is Cooper Kupp Girlfriend? Find Out About His Relationship
For more information on your favorite celebrities' lifestyle and other news, stay tuned to Glamour Fame, and don't forget to sign up for the newsletter.
-->